»
Go to news main
Grad profiles: Leading in the face of adversity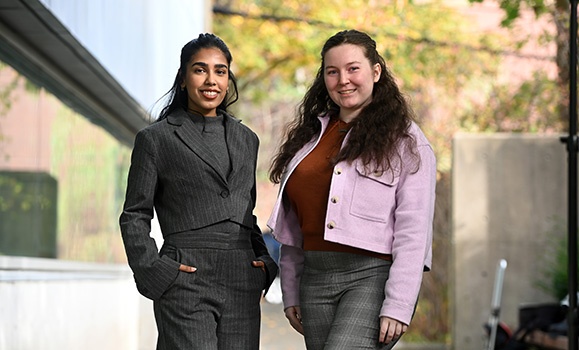 Leading a student society alongside other roles and responsibilities isn't an easy feat for any busy undergraduate, never mind during a global pandemic. 
When COVID-19 hit in March 2020, computer science students Olivia Handspiker and Zaaheda Islam were the newly elected president and vice-president external of the Women in Technology Society (WiTS). As they both graduate this week, they reflect on adapting in the face of adversity and the power they found in collaboration to build a stronger student society.
As a "put a plan in place kind of person," Olivia went straight into execution mode as the society's new president. 
"I knew that we had people who were counting on us,," she says. "For a lot of people, if they had nothing to do outside of their classes it would have been really miserable for them — so trying to be able to navigate what we can do to keep everything going at a somewhat normal pace was really important for us."
Zaaheda echoes this as she looks back on their less-than-usual university experience, defined in many ways by the shift to online and then eventually back to in-person activities. 
"We had to figure out how to create an experience that was in-person but also not uncomfortable or exclusionary," she explains. 
There were a lot of conversations around what members would be comfortable with, what was allowed, what the provincial COVID mandates meant, says Zaaheda. And while this proved challenging in some ways, she and Olivia saw the value WiTS brought to students.
"Even with situations being so uncertain, people were still trying to engage," she says. "We just wanted to be that bridge for students."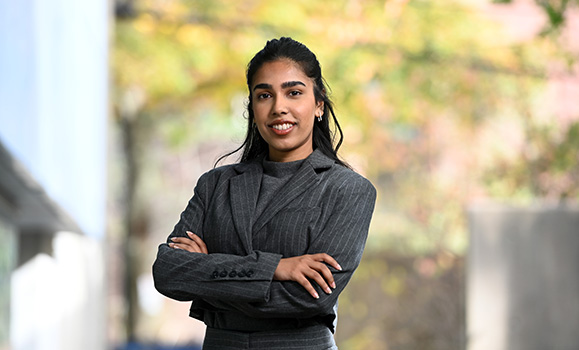 Thriving through collaboration and community

Despite these challenges, WiTS continued to thrive under the leadership of Olivia and Zaaheda. 
During a time where many activities came to a halt, they found new ways to deliver programming and engage with students. Stand-out moments included moving flagship initiatives like the society's peer-mentorship program for first year women in technology to an online mentorship platform, EnPoint, and moving the annual We Talk Tech student-industry event online. 
For both Zaaheda and Olivia, this experience really highlighted the importance of collaboration, community and leading by example, lessons they are taking with them after graduation.
"When we were faced with this challenge, we as executives were also struggling with our studies, doing our first co-op online. That's where collaboration came in, figuring out who can give us resources," says Zaaheda, noting the support they received from their Faculty during their tenure.
At one point, Zaaheda was in Bangladesh, Olivia in Halifax, and other members of the WiTS exec in other places, yet they still managed to find new ways to collaborate and build their society.
"Our ability to be innovative even though things were uncertain did help us introduce new solutions that the society is still using, it's opened a lot of doors," she says. "It also had a domino effect of encouraging more students to participate in WiTS."
Recommended reading: Computer Science student secures dream role at Google
Lessons learned

Now that they are graduating, Olivia and Zaaheda cannot stress enough the impact their experience leading WiTS has had on them personally as they begin their careers. It's even helped them secure job opportunities.
As Olivia has navigated her professional journey — completing three co-op terms at three different organizations alongside two internships and now joining full-service, healthcare marketing agency, bMod Communications in Montreal as a digital associate — what has really stood out is how interested employers have been in her extra-curricular experience.
"Nothing was talked about more than me being involved with WiTS and other extra curriculars," she says. "Being involved in activity at more than the showing up and attending meetings level is one of the biggest things that has gotten me into positions that I'm not sure I would have got otherwise."
She says the experience continues to motivate her. 
"I now want to continue to better myself in any environment. For anyone who isn't sure if they should get involved or have the time for it, it's one thousand percent worth it."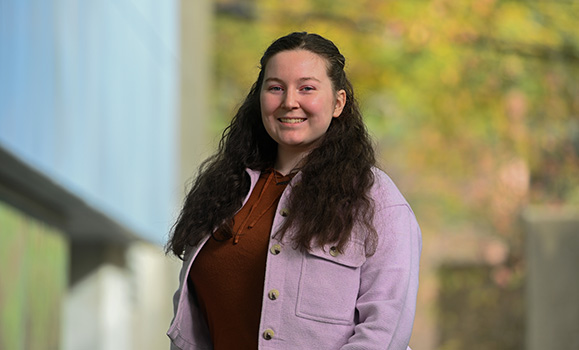 Zaaheda agrees that being able to demonstrate commitment to community has been instrumental in her journey with her graduate employer, AXIS Capital. After completing three co-op terms with the specialty insurance and global reinsurance firm, she has recently stepped into a graduate role as a Data Engineer in their Halifax office.
"Community and societal impact in general is a huge topic in interviews as it says so much about you as a person and what you believe in. It has given me the confidence to nudge for change and engagement, if you want to do something, you say it out loud and you communicate. Recognize opportunities and make the most of them and if you identify that opportunities are missing, find ways to bring that up."
Safer spaces

Reflecting on their journey and witnessing the ongoing efforts and engagement spearheaded by WiTS, Olivia ends with stressing just how impactful groups and initiatives for underrepresented students are within the context of the university experience — not only in an immediate sense, but also in helping prepare students for their future.
"If you're giving people the opportunity to speak up in an environment like that, they are going to feel more comfortable to speak up in their classes, jobs and lives," she says. "And if we can foster their confidence to be outspoken and have their opinions heard then they are able to grow as people and become bolder and less likely to sit back."