»
Go to news main
Making the metaverse: Dal researcher tapped to help shape the next step in internet evolution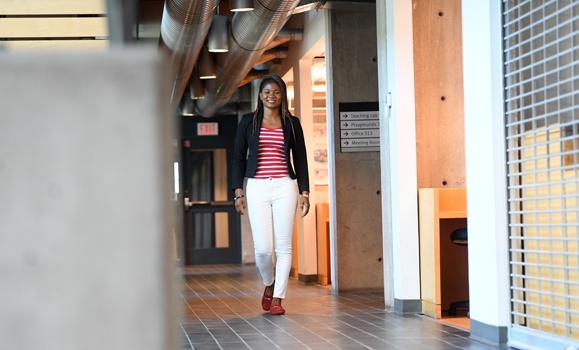 Back in October, Meta — the company that owns Facebook and Instagram — outlined its vision for the next evolution in social technologies, otherwise known as the metaverse. Since the announcement, it has been difficult to avoid debate as to how this merging of the physical and digital world will play out and affect our day to day lives.

While it is early days for the conceptualization of the metaverse, at its core it will use emerging technologies such as virtual and augmented reality to create digital spaces where we can work, live and play in a way that will disrupt how we interact with and use technology.

To advance the innovations and insights needed to develop the metaverse, Meta recently announced $510,000 in unrestricted grants to 17 Canadian research labs including the Dalhousie-based Persuasive Computing Lab led by Rita Orji.
Narrowing the digital divide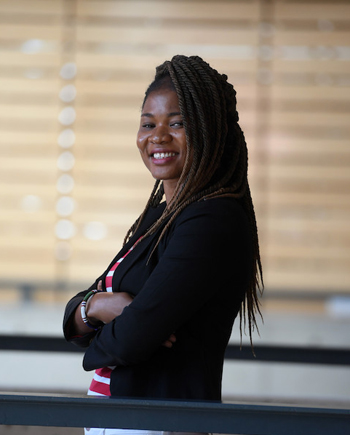 For Dr. Orji, the grant provides opportunities to not only enhance her own research but also positively impact the development of the metaverse, ensuring it is inclusive, responsive and beneficial for all.

"When new technologies are released, one of the things that needs to be handled carefully is to make sure we don't increase the digital divide than already exists," Dr. Orji says.

"So, how do we design for different people, different diversities, etc.? Our line of research and our focus on serving underserved populations will contribute to ensuring we design the metaverse so that it is inclusive and accommodating of those from different cultures, abilities, ethnicities. People creating content should not just be computer scientists or people who can speak English or who can read and write. This is going to be huge in making this the world's leading technology. The more diverse views we get at the beginning of design, the better."

The Persuasive Computing Lab focuses on developing technologies to empower people, improve lives, and contribute to solving societal problems. Dr. Orji and her team apply their work to tackle real-life challenges in various domains related to health and wellness, including mental health, healthy eating, physical activity, smoking cessation, sexual and other health risk behaviours.
Integrating the physical and virtual world

The blurring of the boundaries between the physical and virtual world promised by the metaverse is exciting for Dr. Orji as it presents opportunities to increase the immersive experience that users have when interacting with the tools her lab develops.

An area where she sees this integration making a big difference is physical and mental wellbeing, something that has come to the forefront in the Persuasive Computing Lab's work during the pandemic.

"A project we have conceptualized takes the idea of virtual tourism to promote exercising in the confines of your home, and we see this translating perfectly to the metaverse," explains Dr. Orji.

"A user will be able to use virtual reality to choose anywhere in the world to tour. So, say you choose to tour the UK in that virtual environment, you can meet friends and visit places of interest through your actual physical activity, through moving around in your home, in the physical world."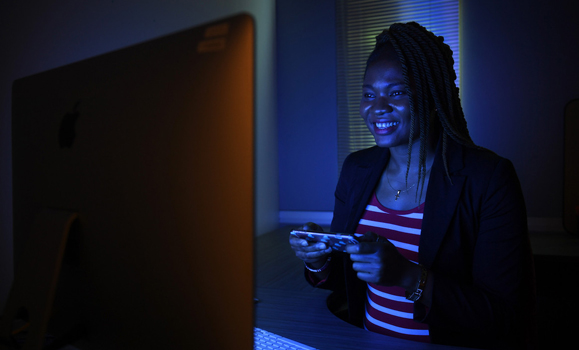 This lends itself well to one of the key features proposed for the metaverse — customizable avatars or digital representations of the user that will interact with people and content in the virtual space.

"When the metaverse arrives, people can live virtually through a digital identity that is an embodiment of yourself, who you want to be," says Dr. Orji. "In our research, one of the big things is giving people a voice, personalizing the experience to individuals by getting them involved in the creation. Through the metaverse, people should be able to incorporate their own self through their digital identity, bringing attributes of their local culture etc. This is very much aligned with our research objectives."

Dr. Orji argues that these tools and the data generated will help researchers and creators better understand the human experience and as a result develop interventions that improve users' lives.

"People are going to be able to do basically everything they can do in the real world in the metaverse. It's exciting to think about the data we can collect around people's activity and then create applications to help people with their health goals and then connect them with the right people. This could be a real step forward in overcoming the digital divide."