»
Go to news main
Leadership program helps female‑identifying Computer Science students realize potential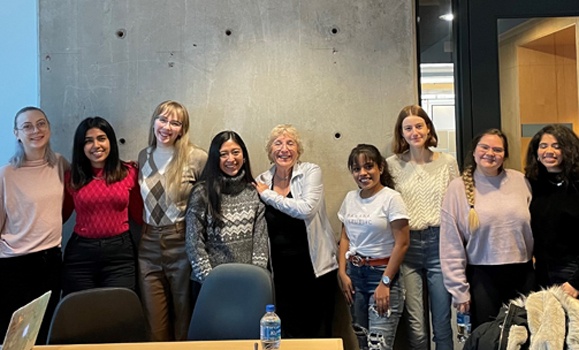 Computer science undergraduate student Anaik Chacon feels strongly about being part of a community that strives to empower those from underrepresented groups.
"I try to be involved in anything that relates to empowering women in STEM fields and this program focuses on the problems, challenges, and biases that women face. I want to always keep educating myself with these issues and I want to be part of the driving force that aims to solve these issues."  
Anaik has had the opportunity to do just that through an emerging program in the Faculty of Computer Science.
Over the past two years, the Leacross Foundation has gifted more than $200,000 to the Faculty's WeAreAllCS initiative to increase diversity in computer science through scholarships and programming to support the attraction and progression of female-identifying students. The Leacross Foundation is a not-for-profit committed to educating women and children in society with a focus on providing opportunities for training at accredited institutions in the STEM fields.
"It fascinates me that when computers began to be integrated in our society, the idea of technology didn't have a gender bias. Programs like WeAreAllCS would have been unnecessary, but somehow talented girls and women were passed over, due to biases and lack of supports," says Roslyn Bern, president of the Leacross Foundation.
"As we talk about supply chains, it is necessary to focus on the education of youth to secure a vibrant and interactive diverse engagement in the programming of our technology. It is with this in mind that our foundation looks at the supports necessary to ensure the success of all candidates, and to move the needle on the number of female students in computer science and leadership. We are proud to have worked with Dalhousie to develop programs that support female identifying students by providing mentorship support, leadership skills, and opportunities for engagement in the industry.
Wrap-around supports

Alongside entrance scholarships, funding has supported scholarships for female-identifying students in their third and fourth years, industry mentorship, part time work opportunities for current students, and new professional growth opportunities through workshops facilitated by the Canadian Centre for Women in Science, Engineering, Trades and Technology (WinSETT). In total, 80 female students have benefitted from this enhanced support and opportunities.
Anaik feels fortunate to be part of a program that provides her with a support network and important connections.
"I think programs like these are important because of the different types of support they provide," she says. "Any financial help during these times of need is always extremely helpful and should not be overlooked. Additionally, having the support your mentor provides can give you so much confidence and will help you through your student life and future career. Leadership is such an important skill to cultivate and share, so having a program that is almost wholly dedicated to it is very significant."
Collaborators CGI and RBC have provided mentors to the program over the past two years — something that aligns with both organization's broader Equity, Diversity, Inclusion and Accessibility (EDIA) commitments.
RBC's Amplify program is a key example of how it provides students from all backgrounds and walks of life with crucial skills and experience.
"Striving for gender balance is critical to building a future-focused team - our Amplify program provides unique mentorship and training opportunities to students while creating an inclusive environment for women in tech to grow and accelerate their careers," says Jamie Holman, senior manager if the Amplify Program. "In 2021, 48% of program participants were women, and 91% of those women received job offers to return to RBC for future employment."
For Dorah Jonah, vice president, consulting – delivery at CGI engagement with the WeAreAllCS initiative has not only provided an opportunity to give back but also tap into a diverse digital talent pool.
"Since CGI has been taking part in these programs, we've increased our co-op program which was embarrassingly next to nothing to a very robust Co-op and New Grad Strategy," she says. "Over the last 12 months, we have brought in over 32 Computer Science Co-ops and hired 27 new graduates with another 18 new graduate hires forecasted in 2022. And, even more exciting our May 2022 co-op intake is all female."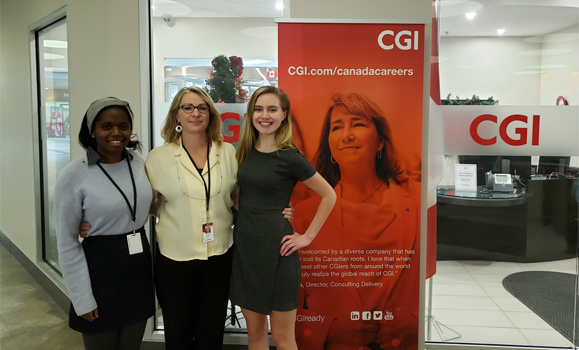 Dorah Jonah (CGI), centre, with two previous WeAreAllCS student mentees.
Growing the program

Julia Embrett, a Bachelor of Applied Computer Science student, is the mentorship coordinator for the program. Thanks to the funding provided by the Leacross Foundation, she is paid to do this alongside her studies. Like Anaik, she recognizes how important programming like this can be in empowering those who may not have historically seen themselves in computer science.
"The program demonstrates a commitment to helping women realize their full potential. Students will be able to carry what they have gained from these learning experiences with them beyond graduation and go on to represent themselves well in the workplace," Julia says.
"Personally, as someone who came from an arts background, I was worried that there wouldn't be a place for me when I began my undergrad in a completely different discipline. I was pleasantly surprised at how broadly the computer science industry reaches, and that creativity is just as valued as logical problem solving. I felt very encouraged by the Faculty's efforts to promote the WeAreAllCS initiative, because I not only get to share my own ideas, but I get to work with and hear ideas from other people from all walks of life."
Jonah echoes the importance of dedicated efforts in moving the needle and providing the support needed to help underrepresented groups succeed in the growing digital industry.
"Programs like this are important cornerstones within our academic community to help aid female students on their journey. Women in tech have struggled far too long with bridging the gap between academia and industry and these programs provide a level of support and guidance that allow students to navigate a not so clear path plus the mentor and mentee get to learn from each other."
Following the success of the Leacross Leadership Program for female-identifying students, The Faculty of Computer Science is using this model to increase supports for students from other groups that have been historically underrepresented in computing.
New for 2022, the Leadership Program for Indigenous and African Nova Scotian students will provide financial support, mentorship and professional development opportunities to current students from these groups. It is hoped that by the end of 2022, more than 100 students will have engaged with diversity Leadership Programs in the Faculty.