»
Go to news main
Making sense of a complicated world: Meet Dal's 2022 OpenThinkers
Now entering its third year, the OpenThink Initiative continues to grow with the unveiling of its newest cohort of 15 PhD student researchers from across Dalhousie.
The new crop of OpenThinkers have received training from communications experts from within and outside of Dalhousie to sharpen their knowledge translation skills, as well as a platform in which to share their research-based opinions in the OpenThink blog. The 15 students represent seven different faculties, as well as the Interdisciplinary PhD program. Having members from a wide range of research areas allows for OpenThinkers to tackle a variety of subjects in their monthly posts, from AI-human interactions to zombies.
"The OpenThink program truly showcases the high-quality work being done by our PhD students," says Marty Leonard, dean of the Faculty of Graduate Studies. "Whether they are shining a spotlight on the technological innovations that will shape our future or offering a unique perspective on current events, we are proud to give them a platform on which to share their knowledge."
Beyond Dalhousie
OpenThinkers are also encouraged to explore opportunities to share their ideas beyond Dalhousie by presenting at conferences and events, providing expert perspectives for the media, and publishing op-eds and opinion pieces in national and local publications. Five members of the 2021 cohort wrote articles for The Conversation Canada, which were often republished in other outlets, including Dal News and SaltWire publications. So far in 2022, four OpenThinkers have had pitches accepted by The Conversation, with three articles having been published:
English PhD student Krista Collier-Jarvis often delves into pop culture in her work, typically while exploring zombie narratives, and wrote about the most valuable commodity to both the "freedom convoy" protesters and the protagonists of the 2015 film Mad Max: Fury Road: fuel.


In her piece, Grace McNutt, a History PhD student whose research focuses on our complicated relationship with statues, described the outrage felt by many Canadians when the statue of Terry Fox near Parliament Hill in Ottawa was defaced by protesters.


 Medical Research Graduate Program PhD student Jasmine Mah used her background as a figure skater and a physician to explore the potential performance-enhancing effects of the substances found in the positive drug test of 15-year-old Russian figure skater Kamila Valieva that was revealed during the recent Winter Olympics in Beijing.
A fourth article, from Philosophy PhD student Lara Millman on the ethics of cancel culture, will be published in March.
Helping decode the world
"Ahead of the launch of last year's cohort, I noted the polarized media landscape we were in that was rife with fake news," says Lynne Robinson, OpenThink's academic director and a Dalhousie professor. "Unfortunately, there's still no shortage of misinformation, but our OpenThinkers strive to share their evidence-based opinions and help us all make sense of the world around us.
"I'm proud that four of them have already had articles accepted by The Conversation Canada, and I'm excited to see what's ahead."
Meet this year's OpenThinkers and see how to read their work:
Chinenye Ndulue, Computer Science PhD ('23)
"Call me the Technical Advocate for Positive Attitude and Behaviour (TAPAB). I advocate for the development of digital apps and games to influence positive attitudes and behaviors."
Read his blog and follow him on Twitter
Christopher Holland, Experimental Psychology and Neuroscience PhD ('24)
"With the world becoming more automated by the day, there is a need to better understand how humans and artificial intelligence technology will interact and cooperate to complete complex tasks."
Read his blog and follow him on Twitter

 
Colin McCormick, Experimental Psychology and Neuroscience PhD ('23)
"My research is centered around better understanding how human attention works, what factors influence performance on tasks that assess attention, and how to make different aspects of attention work more efficiently under varying conditions."
Read his blog and follow him on Twitter
 
Daniel Martinez Calderon, Interdisciplinary PhD ('24)
"I want to advance understanding of how to enable and equip stakeholders and residents of local communities to be meaningfully involved in planning processes for sustainable use of their coastal and marine spaces."
Read his blog and follow him on Twitter


 
Grace McNutt, History PhD ('22)
"I study the history of the emotional connection we have with statues, what statues symbolize to us, and why we react so intensely when they are torn down."
Read her blog and follow her on Twitter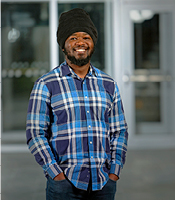 Humphrey Maambo, Agricultural Sciences PhD ('24)
"Environmental concerns related to pesticide pollution extend to organisms such as non-target plants, aquatic life, wildlife and crops. Precise pesticide application will enhance environmental protection."
Read his blog and follow him on Twitter
 
Ines Hamam, Materials Engineering PhD ('23)
"Our relationship with energy and our consumption of it is presently unsound — particularly in the first world. I hope my research will lead us to develop better, more sustainable energy systems."
Read her blog and follow her on Twitter
 

Janet Music, Social Anthropology PhD ('24)
"Food is a right to life, but also plays a big role in our lives as celebration, financial burden, emotional crutch and employment."
Read her blog and follow her on Twitter
Jasmine Mah, Medical Research Graduate Program PhD ('24)
"We will grow old, acquire chronic diseases and become immunocompromised. I wish for us all to remember this; treat the elderly with the respect and dignity we hope to receive as each day brings us closer to becoming the aged. My research examines the gaps in health and social care services for Canadian senior citizens and proposes individual and community solutions to promote ageing with dignity."
Read her blog and follow her on Twitter
Kaitlin Sibbald, PhD in Health ('24)
"I want to change healthcare provider education so that the experiences, strengths, worldviews and ideas of diverse students are validated during education and become part of the foundation of healthcare practice."
Read her blog and follow her on Twitter
Krista Collier-Jarvis, English PhD ('23)

"The inclusion of Indigenous culture, such as Sharing Circle methodologies, Netukulimk, and Two-Eyed Seeing, within academia is one way to ensure a continuation of Indigenous knowledge."
Read her blog and follow her on Twitter

 
Lara Millman, Philosophy PhD ('24)

"If we can't understand why problematic beliefs persist despite evidence to the contrary, we are not well-equipped to further our aims of social justice."
Read her blog and follow her on Twitter
Sarah Nersesian, Microbiology and Immunology PhD ('25)

"My research supports that natural killer cells can influence the outcome of ovarian cancer patients — including their response to treatment and survival."
Read her blog and follow her on Twitter
 
Weishan Wang, Interdisciplinary PhD ('23)
"Shipping in the Canadian Arctic needs to and could be better governed. Marine Spatial Planning (MSP) is an appropriate framework that can facilitate the governance of Arctic shipping by incorporating both science and Indigenous perspectives."
Read her blog and follow her on Twitter
Zoya Tyabji, Biology PhD ('25)

"As scientists or researchers, we often only see one side where we feel passionately about protecting the species we love. We often forget that local communities look at the same resources differently."
Read her blog and follow her on Twitter