»
Go to news main
Rising star: Award‑winning Dal Computer Science researcher focused on improving our connectivity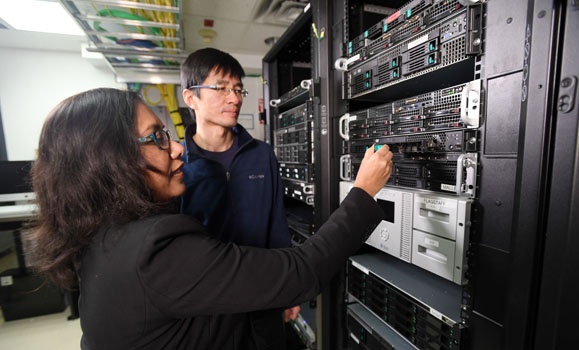 Digital networks enable many of our personal and professional activities, but few of us look very closely into how they work or how they might be improved.
For Israat Haque, however, the topic is both fascinating and essential, shaping her research in network design and optimization and leading to recognition.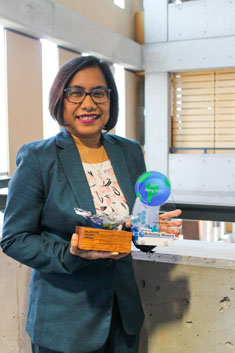 In 2021 alone, Dr. Haque has received the Dalhousie President's Excellence Award for Emerging Investigators, the Faculty of Computer Science Dean's Research Excellence Award, and was listed as an N2Women Rising Star in Computer Networking and Communications.
Critical applications

Through her Programmable and Intelligent Networking (PINet) lab, Dr. Haque and her students focus on designing and implementing systems and networking solutions to support emerging applications such as smart homes, smart cities, surveillance, environmental monitoring, and video analytics.
"The United Nations estimates that more than half of the world's population is connected to the Internet today. Such connectivity is becoming an essential part of our everyday lives, affecting the cars we drive, the pills we take, and how we work and consume information," says Dr. Haque.
"To support such critical applications, the underlying communication network should never go wrong irrespective of any unexpected event (e.g., a storm, a failing link, or a misconfigured router). In practice, though, we often experience failures that disrupt our ongoing services. My team and I have created solutions that prevent, detect, and quickly recover from such failures."
Her team collaborates with researchers across Dalhousie, industry and internationally with partnerships spanning organizations including General Dynamics, Ericsson, Cisco, Defence Research and Development Canada (DRDC), and the University of California, Riverside and Brown University from the United States. Together, they create solutions to tackle some of the challenges posed by the ever-expanding use of the Internet.
Reimagining the cloud

In a recent project, Dr. Haque and her team were the only Canadian group recognized by Facebook Research as finalists through their 2020 Networking request for proposals. Their project explores a shift away from "the cloud" as we know it, opening a new field with new opportunities for providing a better-quality experience for users.
"The proliferation of latency and safety-critical applications such as Augmented Reality/Virtual Reality, surveillance, autonomous vehicles, and health monitoring has forced service providers to move from the distant cloud closer to their users; namely, to edge," explains Dr. Haque.
"The rationale is simple: network devices like routes are closer to users than any servers. One of our recently developed systems, NetPixel, has shown it is possible to use network switches to classify images with accuracy comparable to traditional servers, all without even reaching out to the latter. In the near future, we envision using NetPixel for complex network functions like encrypted traffic classification."
A bright future

In a letter of support provided to N2Women, Dr Raouf Boutaba from the David R. Cheriton School of Computer Science at the University of Waterloo describes Dr. Haque as, "A talented young faculty member, leading impactful research on network programmability and data-driven IoT applications. Israat is a dedicated mentor striving to build an inclusive and positive environment for her students. I am confident she has an outstanding career ahead."
Dr. Haque plans to use her rising profile to make her research lab, PINet, a hub for high-impact research and innovation across the world. She is currently looking to expand PINet and has open positions for PhD students looking to work on innovative new research projects.