»
Go to news main
2021 Discovery Awards celebrate the career of a Dal research icon and a new generation of leaders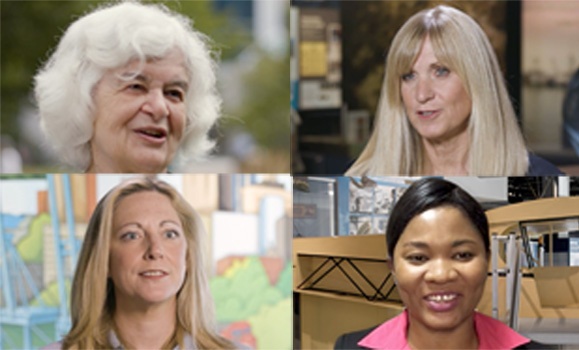 Dalhousie University STEM researchers took centre stage last night at the 19th annual Discovery Awards hosted virtually by Halifax's Discovery Centre. The awards, co-presented by Dalhousie and Saint Mary's University, celebrated outstanding innovators who make Nova Scotia a leader in scientific discovery.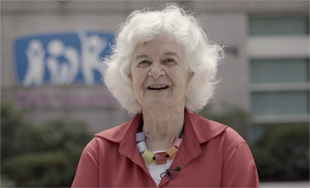 Along with winners in the categories of Professional of Distinction, Emerging Professional, and Science Champion, one of Dalhousie's most esteemed researchers, Dr. Noni MacDonald was celebrated as this year's inductee to the Discovery Centre's Science Hall of Fame.
Dr. MacDonald is a renowned global health advocate and researcher. She was the first pediatrician to be certified in pediatric infectious diseases in Canada and became the country's first female dean of medicine when she assumed the role at Dalhousie from 1999 to 2004. She made significant advancements working with cystic fibrosis patients and on the frontlines fighting infectious diseases like HIV.
Dr. MacDonald has been appointed to both the Order of Nova Scotia and the Order of Canada, and her achievements were featured in August 2020 in a rare profile in the esteemed medical journal The Lancet titled, "Noni MacDonald: inspirational leader in Canadian and global health." She continues to work as a member of the WHO's Strategic Advisory Group of Experts on Immunization and with MicroResearch, the non-profit organization she helped establish to train local health researchers in sub-Saharan Africa.
Get to know Dalhousie's other awardees and finalists honoured at the Discovery Awards.
Awardees
 
Professional of Distinction
Dr. Gail Tomblin Murphy
Vice President of Research, Innovation and Discovery, and Chief Nurse Executive, Nova Scotia Health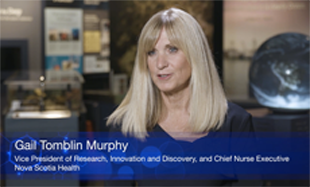 Dr. Tomblin Murphy is a renowned expert in population needs-based approaches to health systems and workforce planning, evaluation and research. She completed her Bachelor of Nursing and Master of Nursing at Dalhousie and went on to a role as a faculty member at Dal after completing a PhD at the University of Toronto. At Dal, she served as the Director of the School of Nursing and Assistant Dean Research in the Faculty of Health and currently directs the WHO/PAHO Collaborating Centre on Health Workforce Planning and Research at the university. Her impact resonates locally, nationally and on the global stage, which was recognized with her induction this year as a Fellow of Canadian Academy of Health Sciences (CAHS), one of the highest honours for members of the country's health sciences community.
Emerging Professional
Dr. Rita Orji – Faculty of Computer Science
Associate Professor and Canada Research Chair in Persuasive Technologies, Dalhousie University\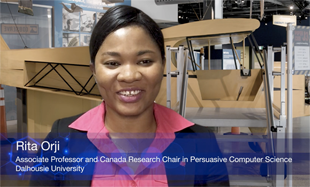 Dr. Orji's research investigates how to design and evaluate interactive systems, such as games and apps, to promote social wellness. Drawing on multiple disciplines, including health, behavioural and computer science, she aims to use technology to motivate positive behaviour, from safe sexual activity to early interventions for mental health. She has recently focused on using apps and artificial technology to determine the impacts of social isolation during the pandemic. Her work earned her CS-Can|Info-Can's Outstanding Early Career Researcher Award earlier this year, a first for a faculty member in Atlantic Canada.
Science Champion
Dr. Lisa Barrett – Faculty of Medicine
Assistant Professor, Division of Infectious Diseases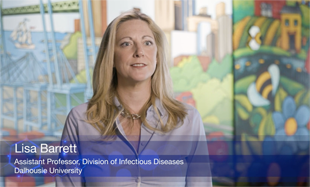 Dr. Barrett is an expert in infectious diseases and a clinician scientist at Dalhousie University and Nova Scotia Health. She is leading a team of experts in frailty research, immunology, virology and clinical infectious disease to investigate vaccine effectiveness in Canada's elderly population. Their work, which received $1.9 million in support from the Government of Canada COVID-19 Immunity Task Force (CITF), is aimed at determining which health factors cause long-term care residents to experience severe COVID-19 outcomes, including death. In addition to examining the immunologic changes associated with COVID-19, their study will help provide an understanding of immunology in an older population, which will be important for vaccine development and healthy aging.
Finalists
Emerging Professional
Dr. Shashi Gujar – Faculty of Medicine
Assistant Professor and Head, Laboratory for Cancer Metabolism, Cell Biology & Immunotherapies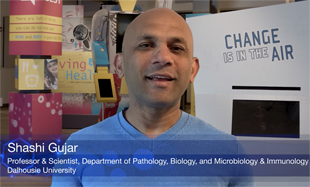 Dr. Gujar's research focuses on cancer immunotherapy, a type of cancer treatment that helps our immune systems fight cancer. He is also exploring how cancer killing viruses could potentially be used to treat and cure lung cancer. Recognized for his ground-breaking work in the field, Dr. Gujar received the Canadian Cancer Society's Emerging Scholar Award this year. Although his work specifically focuses on lung cancer, his discoveries promise to have broader impact in the fight to reduce cancer-related deaths in Canada.
Science Champion
Alexandra Fenton
Executive Director of SuperNOVA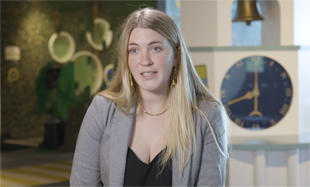 Alexandra Fenton is Executive Director of SuperNOVA, the Dalhousie-led not-for-profit focused on providing youth in Atlantic Canada with fun, educational and inspiring STEM experiences. This year Alexandra was recognized for her leadership with the Award for Excellence from Actua, Canada's largert STEM education and outreach organization. Over the past five years with SuperNOVA, Alexandra has successfully developed and delivered a variety of programs and initiatives that have benefited communities in the Halifax Regional Municipality, as well as communities across the Atlantic provinces.
Innovation
Adaptiiv Medical Technologies Inc.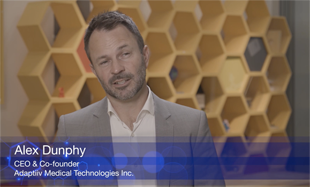 Adaptiiv Medical Technologies Inc. was co-founded by Dr. James Robar, Professor and Chief of Medical Physics at Dalhousie's Faculty of Medicine, and Dalhousie Computer Science alumnus Alex Dunphy. Built with radiation oncology research originating at Dalhousie's Department of Radiation Technology, the start-up specializes in software that helps clinicians improve radiation treatment accuracy and patient care. To ensure cancer patients receive precise dosing during their radiation treatment, Adaptiiv has developed software that allows for the 3D printing of personalized accessories used to support patients during external beam radiotherapy or high dose-rate brachytherapy.
Graphite Innovation Technologies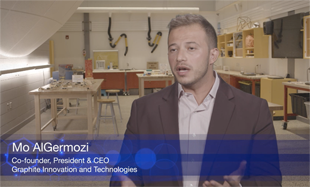 Graphite Innovation Technologies (GIT) was founded by Dalhousie University engineering alumni Dr. Marciel Gaier and Mo AlGermozi. Their company produces revolutionary eco-friendly protective coatings for ships that reduce fuel consumption and greenhouse gas emissions. They also develop coatings to minimizes underwater noise pollution. Last year, GIT was awarded a $2.4-million Transport Canada contract to work on a project that has shown initial results of a 20 per cent reduction in fuel consumption and a four to six decibel reduction in noise pollution. The company is also leading a $4.6-million Ocean Supercluster project aimed at further developing and commercializing smart protective coatings.