»
Go to news main
New partnership opens doors to post‑secondary computer science education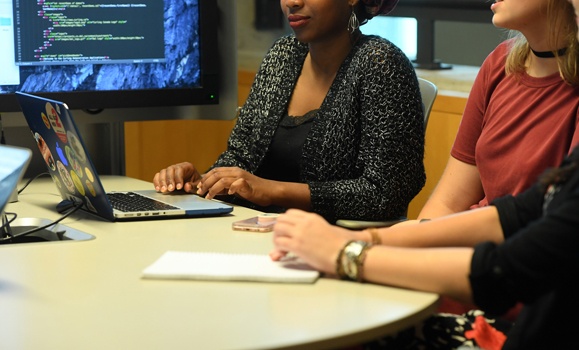 A new partnership between Dalhousie and the Nova Scotia Department of Education and Early Childhood Development (EECD) opens doors for high school students from across the province to explore computer science and post-secondary education options.

This week, 50 grade 12 students from across the province will begin an online course through the Nova Scotia Virtual School that not only teaches them the foundations of computer science but will also give them an optional credit towards the first-year course, CSCI 1105 Introduction to Computer Programming, which is a core first year course in the Faculty of Computer Science.

This pilot dual-credential opportunity is a collaboration between EECD, the Faculty of Computer Science and the College of Continuing Education and builds on the existing high school-level Computer Programming 12 course.

"This pilot through Nova Scotia Virtual School is an exciting opportunity for our students at a time when they are planning their transition from high school," says Zach Churchill, Minister of Education and Early Childhood Development. "It gives first-hand exposure to university-level coursework, provides high-school students with university credit, and lets those with a passion for computer science explore the field even further. We are pleased to partner with Dalhousie University, and I wish everyone a successful and rewarding semester."
Increasing access

Inspired to provide access to computer science education to students who may not usually have this through their regular school programming, the initiative aims to not only teach students how to code but learn what computer science really is and what they can do with it.

"This is really personal for me, not only because I get to be a part of it but also because I came from a more rural region with less access and exposure like this changed my life, it's why I'm here," says Dr. Angela Siegel an instructor in the Faculty of Computer Science and collaborator on this initiative. "For me it's about creating access to university, exposure to opportunities, creating relationships that tear down any misconceptions about what a university is or what computer science is, and building and shaping new ideas of what this field could be for them."
Andrew Rau-Chaplin, dean of the Faculty of Computer Science echoes, "We are excited about this collaboration really giving high school students from across the province the opportunity to get a taste for first year computer science content, and a better sense of if this is a discipline, they can thrive in."  

Dr. Siegel has worked closely with the course teacher Tavis Bragg, who is based out of West Kings District High School, to develop course content that will really help students understand the basics of computer science and also what they can do with it in the long run.
"Computer technology has become such an integral part of our everyday life – at home, work, and the classroom," says Bragg. "Computer Programming 12 was developed because of this rapid evolution and gives students a broad introduction to computer science with a focus on coding, problem solving, and digital citizenship. With this pilot, we're looking to bridge the gap between high school and university level computer science courses and help smooth the transition for students between high school and university."
New pathways

The course is one of many opportunities provided by the College of Continuing Education for students to access university learning prior to making decisions about post-secondary education.

It is hoped that courses such as this can support high school students in seeing that they can succeed at the university level, helping them to build confidence and self-esteem.

"The College of Continuing Education has been a provider of virtual, flexible and accessible learning for many years," says Dr. Dianne Tyers, dean of the College of Continuing Education. "We are delighted to work in partnership with our Faculty peers and government colleagues to introduce an innovative online course that will provide an introductory university learning experience and a new pathway to post-secondary studies for these students."
Opportunities in digital

As we live in an increasingly digitally driven world, Dr. Rau-Chaplin argues there couldn't be a better time for students to take a program like this.

"We are in this incredible period of transition. Partly because of COVID-19 but all of these forces have been at play for some time around digitization and we are seeing a transformation of our economy. Whether you're intended destination is humanities, sciences, business, early exposure to technology is going to open your pathways to exciting and economically rewarding careers.

This program presents a chance for Nova Scotian students, particularly students from outside of HRM who may not have access to the same range of experiences, to receive exposure to the digitally focused opportunities that post-secondary education can lead to. There really are extraordinary economic opportunities in tech right now in whatever area you're passionate about."