»
Go to news main
Dalhousie joins world‑leading computer science diversity initiative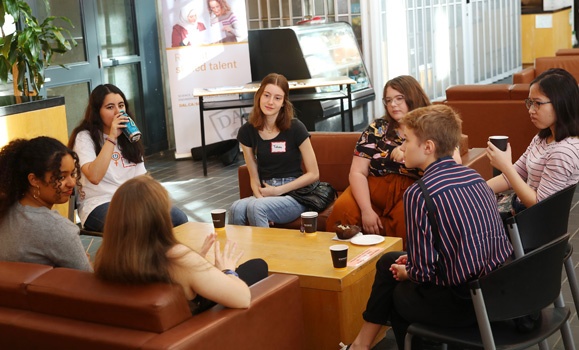 Dalhousie has been announced as a 2020 affiliate of a world-leading diversity and inclusion initiative.

The Faculty of Computer Science will spend the next year collaborating with institutions from across the globe to further its equity, diversity and inclusion agenda, particularly focusing on women in technology, through the BRAID Affiliates program.

The BRAID initiative (Building, Recruiting, And Inclusion for Diversity) is an initiative co-led by AnitaB.org and Harvey Mudd College. Launched in 2014 in partnership with 15 US institutions and funded by Intel, Microsoft, Qualcomm, and IBM, BRAID is committed to efforts to increase the participation of students from underrepresented groups — racial/ethnic minorities and women — in their undergraduate Computer Science programs.

"BRAID is one of our Project 365 programs having an impact all year long and we appreciate the Affiliate institutions that are committed to increasing diversity in their computing departments," says Brenda Darden Wilkerson, President and CEO of AnitaB.org.

A more inclusive student body

"We have been committed to a more inclusive student body in computer science for a long time," says Andrew Rau-Chaplin, dean of the Faculty of Computer Science. "Our work to increase the number of female students entering our programs is one example of this but we have a long way to go until we have a truly representative discipline. Through participating in the BRAID Affiliates program, we hope to learn from other institutions who have really moved the needle and identify ways in which we can truly make computing accessible for all."

The Faculty launched its WeAreAllCS initiative in 2016 to initially address gender balance and support for female-identifying students in the classroom. The initiative has brought together leaders from education, industry, government and the student body to provide scholarships, launch a peer mentorship scheme and increase recruitment efforts. The Faculty hopes to expand the WeAreAllCS initiative to increase representation from other groups that have been historically underrepresented in technology.
An opportunity to learn

Joining the likes of Northwestern University, The Australian National University, and York University, Dalhousie has been selected as one of eight institutions globally to partake in the 2020 BRAID Affiliates program.

BRAID Affiliates benefit from a community of computer science department chairs with a proven dedication to underrepresented groups; access to leading technology companies interested in sharing training and career opportunities with students; and, attendance at the annual BRAID Summit and the Grace Hopper Celebration, the world's largest gathering of women in computing, both of which will be virtual this year.

The Faculty of Computer Science will also benefit from insights from BRAID's dedicated research team, which is now in it's sixth year of a longitudinal study of computer science departmental changes within the core BRAID Schools.

"What is so impressive about some of the institutions involved in BRAID is how they have made such huge gains in their statistics relating to the number of women entering computer science," says Rau-Chaplin.

"Partnerships and collaboration have been essential in making our WeAreAllCS initiative possible. We are constantly looking to educate ourselves so that we can become more inclusive, and we know that other institutions and industry face the same challenges as us and hope to achieve similar progress. I am looking forward to using the next year as an opportunity to learn and take our commitment to equity, diversity and inclusion in technology to the next level."