»
Go to news main
Allscripts partnership enables students to architect healthcare's future
Allscripts International Solutions Specialist Dr. Mohamad Kassem earned a medical degree in Egypt in 2012, then finished his internal medicine residency in Lebanon in 2017.
Tony Wang, an Allscripts product manager and business analyst, finished business school in China, then studied in Hong Kong before moving to Canada.
Their curiosity and drive to try something new led them to Dalhousie University in Nova Scotia, Canada. Dalhousie's interdisciplinary Master of Health Informatics program is designed with the vision of health as the focus and technology as the enabler.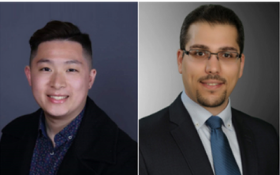 For both Dr. Kassem and Wang, Dalhousie's academic rigor followed by an internship with Allscripts makes possible a rewarding career in Canadian healthcare.
Kassem joined Allscripts as a full-time employee in September 2019. After speaking with others from his academic cohort, Kassem is convinced that the breadth of experience he's gained already at Allscripts outpaces most others. He said he joined Allscripts after the internship because he felt that his clinical experience and knowledge of healthcare in the Middle East were highly valued by the company.
 "When I applied for the Allscripts internship, I was already interviewing elsewhere. I felt that the structure at Allscripts and the range of projects here are more comprehensive and more relevant to me as a health informatics student.
 "I think my current role is really related to what I did in my internship. During my internship, I worked identifying new market segments for Allscripts to enter and what kinds of solutions we would want to promote. I also used my clinical expertise as a physician to provide demos," he said.
Wang agrees that the nature of work at Allscripts will make a difference in the delivery of healthcare worldwide. That's why he joined the company in 2018.
"This internship was really focused more on strategic work compared to most other internships," he said. "I feel that there are so many things you can do here at Allscripts. You aren't restricted to one role. And, in a of couple years, you can change your role and gain more experience. I couldn't find that anywhere else.
"As an intern here, you're always working with the Canadian sales team or the International sales and operations group, and you get a chance to work on some of the biggest deals in the international market," Wang said.
Dr. Andrew Rau-Chaplin, dean of Dalhousie's Faculty of Computer Science, said the program brings a mix of computer science faculty and medicine faculty together to deliver effective health informatics experts to the industry, health systems, and government agencies. The Faculty of Computer Science now has 1,750 students.
"There are other programs in Canada, but I'm not aware of any that deliver as strong a computer science component as we do," Rau-Chaplin said. "Many of the students coming into the program are already robust builders and designers of new technology. It is our interdisciplinary mix that attracts people with very strong medical backgrounds and very strong technology backgrounds.
"Our students reflect the reality that these systems are highly complex and solving problems for something as complex as a health system really means bringing expertise together from many disciplines," he said.
Dalhousie students have gone on to work at world class HIT companies like Allscripts as well as government health authorities, research, operations and hospital and health systems looking to harness technology in service to their main mission, health.
"Our students graduate with the technical background needed and with deep understanding of the challenges and language of healthcare. They are able to serve as translators at the intersection of these different domains and bring together people to harness the technology in service to healthcare," said Rau-Chaplin.
Visit our careers page if you are interested in an internship with Allscripts.