In fall 2018, thirty-two incoming female computer science undergraduate students and two current female students received the first Faculty of Computer Science Women in Technology Scholarships.
Sponsored by both the Faculty and industry partners, this new scholarship was launched as part of the Faculty's WeAreAllCS initiative to increase the number of females entering computer science programs and will continue to support female students for years to come.
Current industry partners include CGI, TD, MOBIA Technology Innovations, Analyze Re, Gogii Games, REIN, T4G, and not-for-profits Techsploration, Women in Communications and Technology (WCT), and the Leacross Foundation.
Learning from leaders in industry
As well as financial support, the scholarship offers many female students with mentorship from female tech leaders.  
Back in September, the Faculty hosted the first annual WeAreAllCS Partner Day. This day, hosted in collaboration with the Women in Technology Society (WiTS) and WeAreAllCS industry partners, provided female students with a host of social and professional development opportunities.
One panel discussion brought together female mentees with their industry mentors where they discussed the benefits and opportunities presented by the Women in Technology Scholarships and the importance of mentorship.
We caught up with some of them to find out more.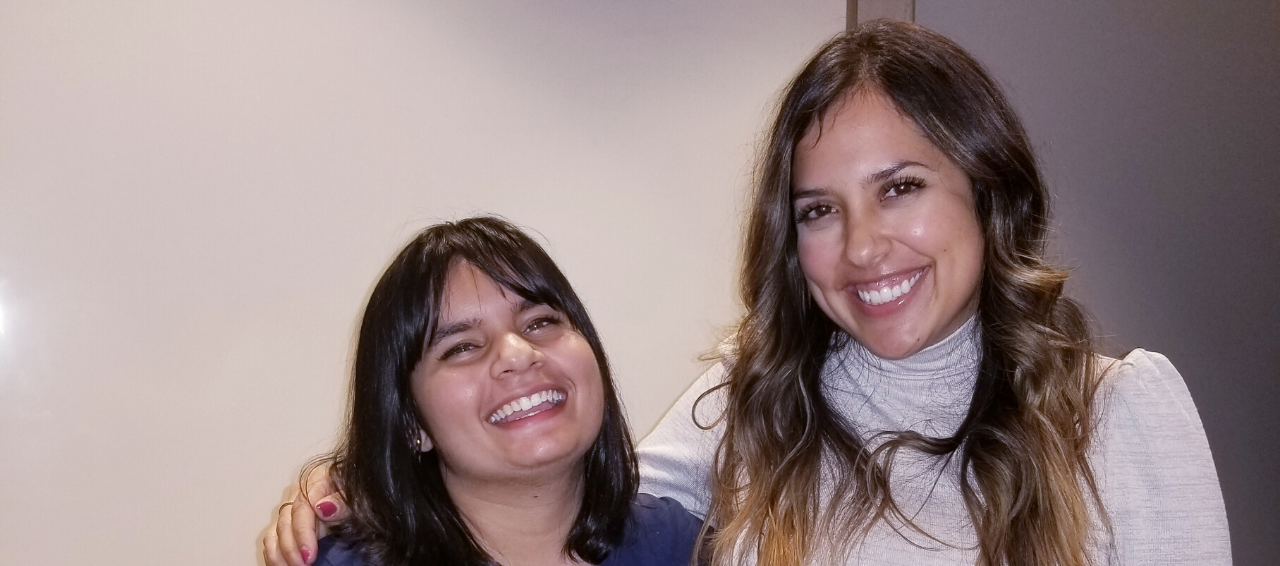 Sanju Swami and Aleysha Mullen (MOBIA Technology Innovations)
Aleysha Mullen is not only a software developer with partner MOBIA Technology Innovations, she is a Dalhousie alum having graduated from the Bachelor of Informatics program in 2017. She is sharing her expertise in and out of the classroom with Bachelor of Computer Science student Sanju Swami.
Describe your industry mentorship?
Sanju – "What I have gained out of my mentorship up to now has been a lot of industry exposure and just understanding how the classes that I am in in university relate to what I'm going to do in the future or how it works in a company and how those skills can be applied in different places plus we have monthly meetings and I have met the whole team, I understand how the company works and how the structure works."
What is something that you've learned from your mentee?
Aleysha – "Sanju is the student that I wish that I was when I was going through the CS program at Dal.  Some of the advice that I usually give to my co-op students is to get more involved and participate in technical community events at Dalhousie and in Halifax to grow their networks. Sanju already did that before she met me, she's in WITS, she participates in hackathons, she has her own technical projects on the side, the list goes on and on. Her passion and enthusiasm is very motivating for me, and I appreciate that."
Why do you see mentorship as a valuable relationship particularly for female identifying students in the tech industry?
Aleysha – "One of the things I struggled with when I started my career after graduation, was not being able to see myself represented anywhere. I think something that this mentorship program offers is an opportunity to connect with at least one person like you so you can see yourself represented in the career that you are moving towards. You can see yourself having a similar role or position -- not necessarily that a mentee would want to have the same role as their mentor, but just to be able to see someone else like you succeeding in industry is important."
Sanju – "If you look into the future if I as a person go into a company where I don't have anybody on my team that's female I'm going to look back at my experience with Aleysha because I know she also doesn't have a female on her team but how she handles herself, how she handles her situation and the problems that she may go through – that helps me and will help me in my future decide how I want to act in those situations."

Samara Burton, Courtney Pick and Dora Jonah (CGI)
Dorah Jonah, Director Consulting Delivery at CGI, mentors not one but four Women in Technology Scholarship recipients. Fourth year Bachelor of Applied Computer Science student Samara Burton and third year Bachelor of Computer Science student Courtney Pick, were awarded two special Women in Technology Scholarships for current students through a collaboration with TD Bank and CGI.
Describe your industry mentorship?
Courtney – "My mentorship has been particularly interesting because CGI is a technical consulting company working with financial data. I'm a computer scientist, with a minor in business, so it's interesting to see how my interests can combine in a technical role. I am so fortunate to have learned about this industry and its opportunities so early in my career."
Samara – "My mentorship has been really valuable so far. I'm currently in my last co-op term at CGI and it's actually a completely different experience from any other work opportunities I've had before so it's been really helpful to have Dorah explain what it's like to work there and show me the ropes in a larger company because it's something I'd never experienced before."
What is something that you've learned from your mentees?
Dora – "How energetic they are quite honestly, and really passionate about where they want to go with their careers and just so super smart and that's the students today, they're more advanced than my generation and they have well thought out plans and goals which is fantastic. Having a plan in place is half the battle even though your plan may take you several years to execute having that path and knowing what you need to do is a lot easier to navigate."
What is something that you've learned from your mentor?
Courtney – "Dora and I often discuss more than just the technical aspects of CGI and the mentorship. Dora offers a lot of advice around how to establish your career, what types of education and opportunities you should pursue, the different projects you should work on, different roles within an organization, and a lot of information particular to CGI. What I've really valued from this mentorship is something I haven't been able to learn at Dal yet. Dora has offered invaluable insight, from a first-hand experience, on what it's like to navigate large organizations, especially as a woman in CS. She often encourages me to be an advocate for myself and for what I want to do."
Why do you see mentorship as a valuable relationship particularly for female identifying students in the tech industry?
Dora – "It's actually key…We struggle as women getting visibility into industry and having that connection to bring women from computer science, masters programs and engineering and having advocates and allies to help them navigate and bridge the gap between their academic career and crossing over into industry is key, in my opinion that is the importance of the mentor relationship."
Samara – "When I first came to Dal and started off my computer science journey, I very much had an attitude of ok, I'm going to put my nose down and work really hard and get to where I need to go and I quickly realized that that wasn't going to be the case. In joining things like WiTS in my second year and having those informal kinds of mentor relationships, it really helped me see different paths for myself, meet different people, and make that network that helped me so much. Before going on my first co-op, I was terrified and speaking to older students about their experience really comforted me and prepared me."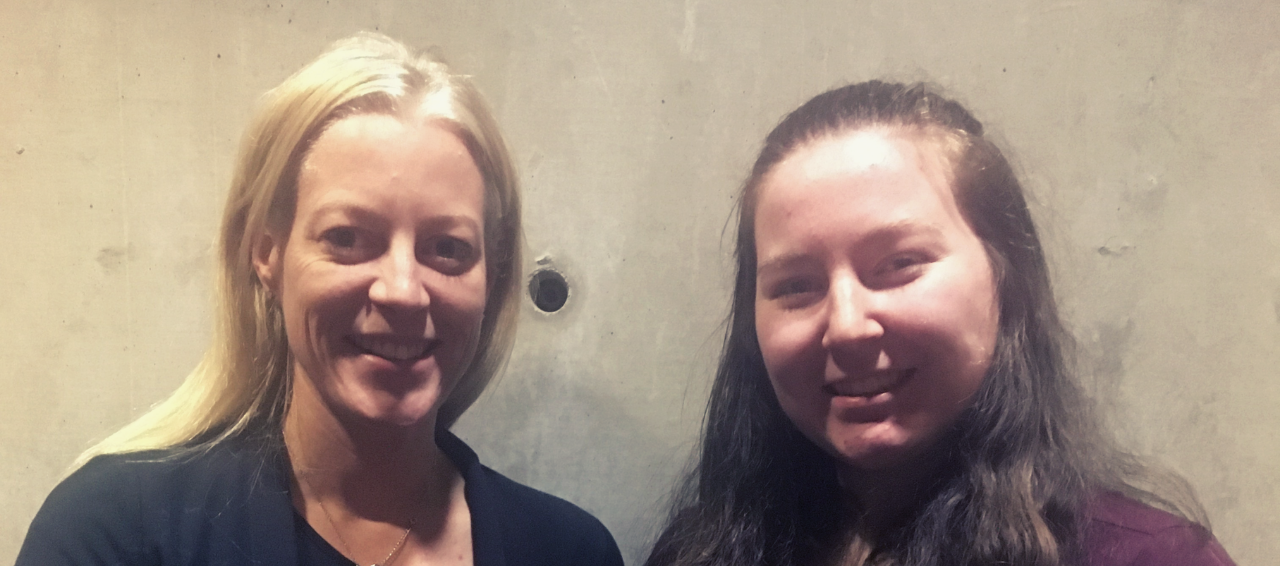 Olivia Handspiker and Jen LaPlante (DeepSense)
Executive Director of DeepSense, Jen LaPlante, is mentoring second year Bachelor of Computer Science student Olivia Handspiker on behalf of national not-for-profit Women in Communications and Technology (WCT). WCT is the only coast-to-coast, community-based organization that inspires and supports women to achieve their highest career potential in Canada's digital economy through professional development, mentorship, advocacy and research.
What is something that you've learned from your mentee?
Jen – "Olivia is the most driven, engaged and proactive undergraduate student I have met. Her active involvement in the women in tech community has shown me how far we have come since the day I sat in a programming class during the first semester of my undergrad, feeling alone without a community. Olivia is part of the evolution where we are seeing great diversity in tech and I am inspired by her strength."
What is something that you've learned from your mentor?
Olivia – "I think for me, I've learned a lot from observing Jen. She's a really outspoken person and I used to not be like that so I was following her around at conferences, following my boss around at conferences, and they were like "you're an important person here, you should be involved, you should be saying "hi, here I am, look at me"" so I've really taken that to heart.
Why do you see mentorship as a valuable relationship particularly for female identifying students in the tech industry?
Olivia – "I think for me as I've been on both sides of the mentor mentee relationship in CS or outside of it, I think it's just really growth and the opportunity for growth for both the mentor and mentee. I know that I've been asked by someone I'm mentoring if they're like "I don't know how to handle this situation" and I've been able to help them, it's just so fulfilling inside and I feel that that might be the same feeling that the mentors here feel, I think that's really important. And that for the mentees, they know that they can go to someone and trust someone."
Jen – "By engaging students with mentors early in their academic careers, the students have a sounding board outside of family, classmates and professors. It is great connecting with Olivia to hear about how classes are going and offer help and encouragement. We are also here to share our experiences and give context as the students evaluate their options about classes, areas of focus or jobs. We are simply another spoke in the network the students are building over time."  
The Faculty of Computer Science's efforts to increase gender diversity in technology continues. More than 110 female students from high schools across Nova Scotia visited campus on November 15th for the Faculty's third annual Women in Tech Day and a further fifteen incoming female students received industry-funded Women in Technology Scholarships in September 2019.