»
Go to news main
Grad Profile: An International Experience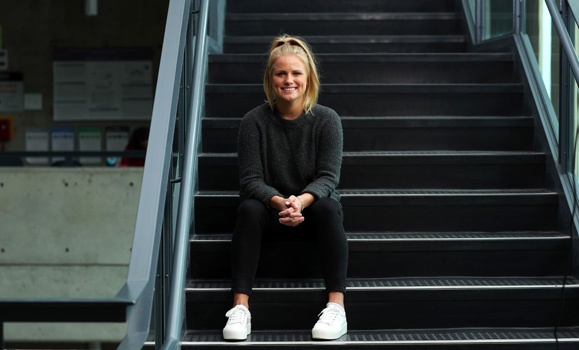 Having just returned from studying in Perth, Australia, Faye Teeuwen is reflecting on the international opportunities her degree has offered her.

Her studies in the Bachelor of Applied Computer Science (BACS) program have not only taken her to Australia, she also chose to do one of her co-op terms in Amsterdam.

"Moving here from England was one of the reasons I wanted to incorporate some international experiences into my degree as I know how exciting it is to move to a new place," Faye says. "To everyone I speak to who is contemplating studying or working internationally – yes, yes, yes! It is an amazing experience that allows you to learn about other cultures, try new foods, and make friends from around the world."'
Living overseas

Faye's co-op experience has taken her from Dartmouth to the Sobeys head office in New Glasgow to the Netherlands where she worked for game development company IJsfontein during the summer term of 2017.

Being half Dutch helped her to make the most of this international work term. She has family in the Netherlands, which was one of the reasons she chose Amsterdam for an international co-op

"IJsfontein designs and develops games to encourage digital learning for all ages, and I was there for four months as a product design co-op student," Faye explains. "It was interesting seeing how IJsfontein communicates with their clients and how that differs from companies in Canada, as well as my first real experience with game development".
This international work term combined with recommendations from friends inspired Faye to look into the Dalhousie International Centre's exchange program, through which she has recently completed her final study term at the University of Western Australia.

"Everyone I met who had gone on exchange had an amazing time, so I began applying while I was still on co-op in Amsterdam," Faye says. "Dalhousie has sister agreements with universities like UWA all over the world, which means you just pay your regular fees to Dalhousie while on exchange and just have to cover the cost of living and getting there"

Faye had a position lined up for after graduation before she jetted off to Australia to complete her studies, something which she credits with her being able to fully enjoy the experience.

"I stayed at a residential college while I was there which allowed me to meet so many great people with who I have made friendships for life. I also got to travel Western Australia and the east coast during and after the semester. It was my last semester of my undergrad, so I'm glad I got to go out with a bang!"
Getting the right experience

After moving to Nova Scotia from the UK at the age of 13, Faye was exposed to computer science through a high school computer programming class. She's now preparing to start a graduate role with Deloitte in Halifax.

Her position as a business technology analyst will enable her to apply the elements of her degree that she enjoyed the most to the real world.

"It's pretty much what the Bachelor of Applied Computer Science degree was designed for," Faye says of her role. "I will be helping develop and deploy technology solutions for clients to improve business performance, and the BACS degree has provided me with the right mix of courses for the position. I also enjoy speaking to people and client interaction, so I am looking forward to my new role."

Faye credits the opportunities provided by the BACS program to combine computer science and management, and the community outreach project courses offered that enable students to work on projects for real clients, usually in the not-for-profit space.  

Projects Faye worked on in the course included developing a website aimed at healthcare professionals for the Faculty of Dentistry, and the creation of a bio-ethics decision making tool for doctors.

"The project classes prepared me for working with, and for customers – the client isn't your professor anymore, and your final products can make a real difference," Faye says. "I've really enjoyed the mix of computer science and management classes, skills from both faculties have proven useful in my co-ops so far and will continue to as I begin my career."