Faculty of Computer Science News
»
Go to news main
New DeepSense ED focused on ocean sector success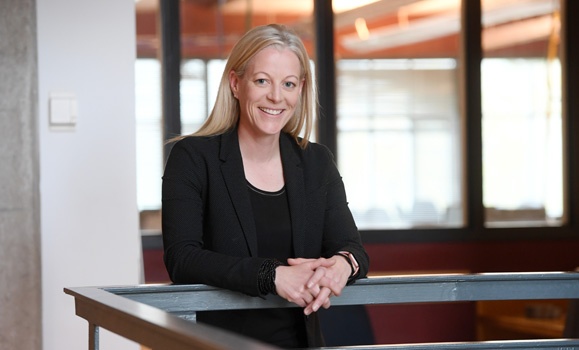 A drive to see Atlantic Canada succeed in the ocean's sector combined with a desire to help companies use their data to grow places Jennifer LaPlante in good standing to oversee DeepSense as executive director.

"DeepSense really brings this together," says LaPlante. "I'm looking forward to helping companies in this space with their decision making."

Launched in 2018 and headquartered at the Faculty of Computer Science, DeepSense offers an innovation environment that brings together industry with data and ocean scientists to develop commercially useful predictive models, analytical prototypes, and applications for use in the ocean economy.
Rich experience

LaPlante joins DeepSense from the Atlantic Lottery Corporation where she set up the first innovation outpost in Atlantic Canada.

Based at Volta, the Atlantic Lottery Outpost Lab is a startup led by tech innovators that builds minimum viable products to change how the company tackles problems.

"I had previously worked in various departments at Atlantic Lottery from research and corporate development to IT and strategy," says LaPlante. "At the Outpost Lab, we helped the company to engage with the community and individuals that we wouldn't usually attract through the development of data-driven new products."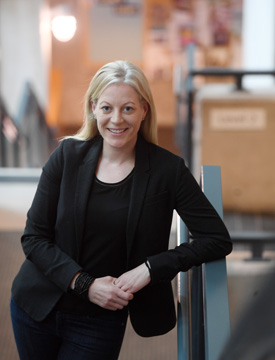 LaPlante's career began in research in research and analytics in Ontario before expanding into more technological roles after moving to Atlantic Canada. She holds an MBA and is currently working towards an MSc in Computing and Data Analytics.

She is also a co-organizer of the Halifax Chapter of Women in Machine Learning and Data Science (WiMLDS), a global organization that aims to support and promote women and gender minorities who are practicing, studying or are interested in the fields of machine learning and data science. Alongside this, LaPlante holds positions on numerous not-for-profit boards including the national board of the Arthritis Society and the locally based Victoria Hall Society, which provides financial support and housing for senior women.

Making sense of ocean data

As DeepSense becomes operationalized, LaPlante recognizes the unique opportunity facing the organization and Atlantic Canada.
"DeepSense is focused purely on private industry and analytics," explains LaPlante. "There are many ocean related groups and organizations collecting data and conducting research, and DeepSense will help them make sense of this.

"There is significant growth and investment in the ocean economy, and we have the chance to build a foundation that helps us to use data in the most useful and advantageous way for the future. I am excited to take this opportunity to focus on advancing the analytical capabilities of companies in this space."
When asked what her immediate priorities are for DeepSense, LaPlante has two in mind.

"First, I am focused on educating ocean related companies about the value DeepSense can offer in better leveraging data to optimize operations, drive product expansion, or find ways to use machine learning to solve their organizational problems. Second, I am also exploring how best to help companies not yet ready for artificial intelligence set up the framework that will allow them to move to more advanced data applications in the future."