Faculty of Computer Science News
»
Go to news main
Aurum Awards 2019: Anirudh Koul (BCS'07)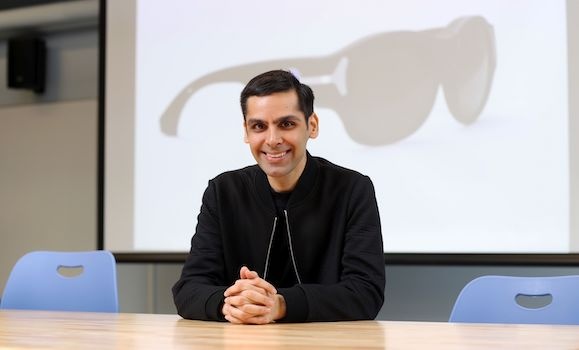 Anirudh Koul (BCS'07) recalls the moment his grandfather could no longer recognize him during one of his weekly video calls to his family in New Delhi.
"It was heartbreaking to see how his vision was declining," says Koul, who was a senior data scientist at Microsoft at the time. "I started looking for solutions that could help him but was shocked to see the state of assistive technology. It felt decades old. So when you can't find a solution, you do the next best thing. You go build it yourself."
Drawing on his computer science education, Koul, along with his team, developed Seeing AI, a talking smartphone app that helps people who are blind or low vision get descriptions of the world around them. It was an instant success when released by Microsoft in 2017, quickly becoming the defacto app used by the blind community worldwide. And the feedback from users encouraged Koul to look at other ways to use artificial intelligence to enhance accessibility and ability for everyone.
"It's something I had been thinking about for years," Koul says. "We often think people who have mobility issues, low vision, or hearing loss are disabled and I believe that's wrong. Disability is merely a mismatch between a person and the environment they are in. Armed with the right tools to fill that gap, people are limitless. And the challenge here is coming up with the right tools. Luckily, incorporating artificial intelligence presents a great opportunity for making those tools."
Koul is tapping into the potential of this technology, with groundbreaking work that has been recognized by FCC Chairman's Awards for Advancement in Accessibility as well as the American Council of the Blind. This year Koul is also receiving an Aurum Award. The awards recognize Dalhousie alumni who are making a global impact through the development of new ideas and knowledge that make a difference in the lives of others.
In addition to Seeing AI, Koul, working with a group of like-minded employees, helped develop several other accessibility-related projects during his six years at Microsoft. They include Hearing AI, which visualizes sound, speech & makes phone calls for people with profound hearing loss, and Dictate, which enables hands-free typing (now included by default in Microsoft Office). In 2018, he joined the company Aira, which provides people who are blind or low vision with instant access to real-time visual information from a team of trained agents. As its Head of Artificial Intelligence and Research, his team is enhancing the technology that makes this information available whenever and wherever users need it.
"What Aira has made possible is incredible," Koul says. "I'm hearing from people who have done things they never imagined doing, from running a marathon, painting the Eiffel Tower, taking photographs, to even driving a lap around a racetrack. Just knowing what a life-changer this technology has been for them is why I do what I do." Aira was recently named as one of the best inventions of 2018 by TIME Magazine, and Koul has been invited to showcase it at the United Nations.
There is much more Koul plans to do. He would like to develop an AI-based virtual guide dog. He wants to help reduce the unemployment rate in the blind community from 70 percent to 7 percent. But more than that, he hopes that the work he is doing will encourage others to look at what they can do to help make a difference.
"The more people I can encourage to pursue this mission in their own ways, the quicker we can make dreams come true," Koul says.
The award recipients, their guests, fellow alumni and the Dalhousie community will gather at a presentation of the awards and evening reception on Friday, May 31, 2019. 
Anirudh Koul will be in the Goldberg Computer Science Building on Friday, May 31 from 3-4pm to chat to the Faculty of Computer Science community about Deep Learning on Mobile. All are welcome to join in the Jacob Slonim Room (430).