Faculty of Computer Science News
»
Go to news main
Grad profile: Start‑up makes waves in the ocean sector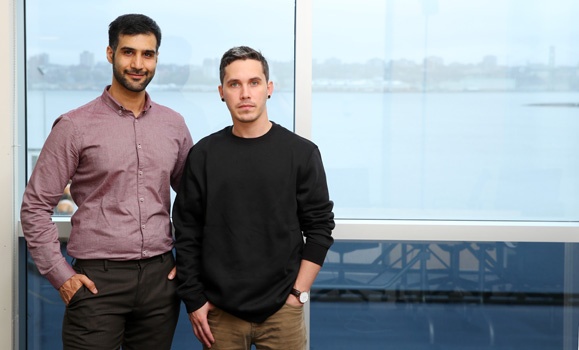 Matt Zimola and Hossein Salimian are finishing their time at Dalhousie not only with their degrees, but with an exciting new business venture.

Although enrolled in different Computer Science graduate programs, the two met through their shared interest in entrepreneurship and are now in the early stages of launching their start-up, ReelData AI.

"We were both working on individual start-up ideas that didn't get off the ground, we got on really well, so we started to think about what we could do together," says Matt (Master of Applied Computer Science), who met Hossein (PhD in Computer Science) at the technology accelerator Propel ICT.

An ocean of opportunity

After seven months of brainstorming new business ideas, Matt and Hossein were successful in entering Propel ICT, but found themselves unsatisfied with the idea they were running with. They started to look to Halifax's natural environment for inspiration.

"We wanted to take advantage of the ocean opportunity," says Matt. "So, we started to call fish farms to find out what problems they were facing." Their findings led to the beginnings of ReelData.

ReelData uses Artificial Intelligence (AI) and computer vision to collect and analyze data for fish farms. Their software remotely and non-intrusively measures biomass (weight distributions of fish), optimizes feeding and understands fish health in real time. This software helps reduce mortality, waste and other resources, promoting a more sustainable aquaculture industry.

"It allows companies to manage biomass distribution and maximize feeding in a non-invasive way using cameras," explains Matt. "Traditionally, fish would have to be sedated and removed from the tank to do this."

"Feed is the number one cost, often accounting for about 30 per cent of a fish farm's top-line revenue. Our software enables them to reduce wasted feed and has a positive impact on sustainability."

ReelData has space at the Centre for Ventures & Entrepreneurship (COVE) and innovation hub Volta, where the team say they benefit from mentorship and connections. So far, the company has received funding through Innovacorp's Sprint competition and COVE.

Discovering entrepreneurship

Both Matt and Hossein, were introduced to entrepreneurship through experiences during their time at Dalhousie.

Matt credits Grant Wells and Faculty of Computer Science-based ShiftKey Labs as his "doorway into entrepreneurship," where he took part in programs including the popular Creativity and Innovation Bootcamp.

Hossein, who completed his PhD on collaboration in mixed reality environments in the Graphics and Experiential Media (GEM) Lab, received his introduction through the Norman Newman Centre for Entrepreneurship's Starting Lean course. He later went on to take part in Launch Dal with his first idea.

Matt and Hossein have been focusing full-time on the company since early this year and are currently piloting software. They hope to be making revenue later this year and have international meetings lined up with potential clients in Scotland and Denmark.

They are also enjoying the benefits of Halifax's burgeoning start-up community. "Halifax is a good place to be for ocean start-ups," says Hossien. "With all of the incubators, sandboxes and the ideaHUB, it's a great time to be in the community."