Faculty of Computer Science News
»
Go to news main
Building Community, Leading Change: Meet This Year's Computer Science Recipient of Dal's Top Student Life Achievement Award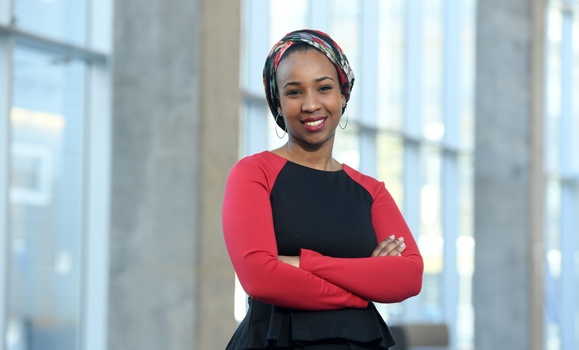 The university's top award for student life, the Board of Governors' Award is presented annually to recognize exceptional contributions or leadership in the extracurricular realm — building community on campus, service in the broader community, improving diversity and inclusion and much more. The recipients are nominated by their peers in the Dal community, and chosen by a committee consisting of the president, three Board members and the vice-provost student affairs.
Meet Computer Science's 2019 Board of Governors' Award recipient:
Aisha Abawajy, Applied Computer Science
Harnessing the power of student advocacy and community-building 
Aisha Abawajy may be a Computer Science student, but it's her experience in the Faculty of Arts and Social Sciences that inspired one of her defining contributions to student life at Dal.

Aisha, who is minoring in Political Science, was elected president of the Dalhousie Arts and Social Sciences Student Societyafter her second year, and took note of how few People of Colour were involved in the group. So she created a sub-committee of the society dubbed BIPOCUS — the Black, Indigenous and People of Colour Caucus — to create a supportive environment for racialized students to get involved and take on leadership roles.

"We just got so much love and support from folks who want to join in other faculties, and on other campuses," says Aisha. "People were really excited about a group of BIPOC folks who were able to come together and talk about our experiences as racialized students at Dalhousie. They're not always conversations people are comfortable having."

BIPOCUS is now a university-wide group, one that exists both as a social and community space, and as an avenue for advocacy and activism.

"Racial justice and racial inequalities on campus affect all of us," says Aisha of the unity between Black, Indigenous and People of Colour voices in the group. "And we also have a lot to learn from each other — taking into account the intersectionalities of race, gender, sex, socioeconomic situation."

Aisha, who grew up in Halifax as a first-generation Canadian, with Oromo parents originally from Ethiopia, has spent her time at Dal driven by the same values that inspired BIPOCUS. A devoted O-Week volunteer, she organized the Dreaming in Colour event to put BIPOC perspectives at the forefront. In October 2018, she organized the first Maritime Racialized and Indigenous Students' Experience Summit. And alongside all this, she has remained heavily involved in the Faculty of Computer Science — working as a TA, making the Dean's List and winning the Faculty's Leadership Award last year.

Now, Aisha's support for her fellow students is about to enter an exciting new chapter as incoming Dalhousie Student Union president for 2019-20.  

"My own experience has been that students, when organizing together over a common goal, are able to accomplish so much."
Read the full story and learn about all five of this year's recipients on Dal News.