Faculty of Computer Science News
»
Go to news main
Computer Science prof elected to join Digital Health Canada's Board of Directors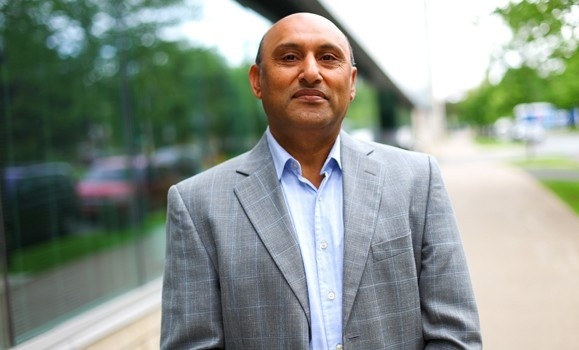 A Dalhousie Faculty of Computer Science professor will represent Atlantic Canada – and digital health education – at a national level.
Dr. Raza Syed Abidi has been elected to the Board of Directors of Digital Health Canada, where he will contribute his over twenty years of experience in the field to help advance digital health across the country.
Promoting information technology in the healthcare system

Digital Health Canada's mandate is to connect, inspire, and educate the digital health professionals creating the future of health in Canada. The board is made up of a diverse group of ten accomplished and influential professionals from across the country, all working towards advancing healthcare through the use of information technology and systems.
Dr. Abidi's passion and dedication for progressing digital health can be seen in almost every facet of his work. It's no surprise to see him elected as a board member, and now an official advocate for the Canadian digital health industry.
With over 20 years of experience in the industry, Dr. Abidi knows firsthand what the specific issues and opportunities are facing the Canadian healthcare system today. He is the current director of the Master of Health Informatics program at Dalhousie University and a professor in both computer science and medicine.
He has trained over 700 health informaticians and knows these are the future leaders who will improve the utility, efficacy, and benefits of innovative digital health solutions for the public, and for healthcare organizations.
"I believe my unique perspective as an academic with strong ties to industry makes me an asset to this board," Abidi says. "I'm keen to strengthen the ties between the digital health industry and health informatics educational programs, to design digital health technology-oriented training that will graduate a competent workforce ready to respond to the advancing technology demands of the healthcare system."
Contribution to digital health

He is also the scientific director of the NICHE (kNowledge Intensive Computing for Healthcare Enterprises) research group and leads R&D activities that have led to a range of innovative digital health solutions.
His wealth of knowledge has been recognized with six best paper awards, the Canadian Health Informatics Award for Leadership and the prestigious International award for innovation in Medical Informatics.
As a digital health innovator, he has developed and deployed a range of innovative digital health systems in healthcare organizations within Canada and globally.
"I hope to establish a digital health innovation resource, so that we can support young digital health entrepreneurs though mentorship and promotion, helping ideas and innovations come to life," says Abidi. "I hope to explore the establishment of a knowledge and technical innovation mobilization platform to extend the outreach of Digital Health Canada to a larger community of digital health researchers." With this, he hopes to engage more future leaders and innovators and further move the dial on digital health innovation across all of Canada.
"Ultimately, I hope to use my background, experiences, and passions to further broaden and enhance the contribution we can all make in developing a viable and vibrant digital health innovation eco-system in Canada."