FCS News
»
Go to news main
Computer Science prof recognized for digital leadership
Posted by
Rebecca Rawcliffe
on June 13, 2018 in
Outreach
,
Women in Tech
,
Awards
,
Community
,
CORe-CS
,
Faculty
,
News
,
Awards
,
HCI, Visualization, Graphics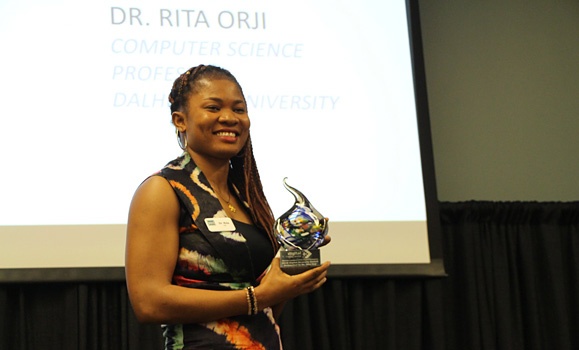 As the first woman and youngest person from her native Nigerian town to earn a PhD, Rita Orji has worked tirelessly throughout her career to remove the glass ceiling against female progression in the technology industry across the globe.

Indeed, her work in research, in academia and in her efforts outside of her day job focuses  on using technology for positive social and public good and championing diversity and inclusion issues.

Now, she's the recipient of one of the top technology awards in Nova Scotia: the 2018 Women Leaders in the Digital Economy Awards, presented by Digital Nova Scotia.

"I am honoured and humbled to receive this award," says Dr. Orji. "it means so much to be recognized by the Faculty, Dalhousie and the wider community for my efforts in this important area."
Commitment to advancing women in technology
The award recognizes an individual in a senior-level position who has made a significant contribution to Nova Scotia's ICT sector and actively championed diversity in their community or organization. This is the second year in a row a female faculty member from the Faculty of Computer Science has won this award, following Nur Zincir-Heywood's win last year.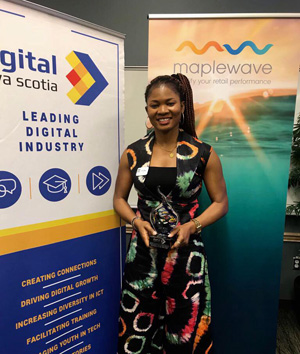 The awards, presented at a ceremony last week (June 5) at Mount Saint Vincent University, acknowledge and honour both female leadership and diversity champions in the ICT sector while also encouraging Nova Scotia's next generation of women leaders.

Dr. Orji joined the Faculty of Computer Science as an assistant professor in July 2017, bringing with her an accomplished record of making a difference to the lives of women. She founded the Education for Women and the Less Privileged to empower and encourage diversity and inclusion in her home country of Nigeria.
"Recognizing that there is a significant gap between the education levels of men and women, and different socio-economic groups in Nigeria, I set up this group," she explains. "I wanted to tackle this issue and provide opportunities for those who are often deprived to benefit from various learning and income-earning experiences."
Passion for educational outreach
The core focus of Dr. Orji's research is around using modern technologies, such as games and social media, to foster change. Within her research area of Human-Computer Interaction, she investigates how to design and evaluate technological interventions to promote health and wellness. This work draws from multiple disciplines including health, behavioral, and computer sciences.

Since joining the Faculty, Dr. Orji has proven herself as a natural diversity leader on and off campus. She has quickly become a leading advocate for the advancement of women in computer science, spending a significant amount of time outside of her teaching and research sharing her insight to educate females about the career and education opportunities in technology — visiting high schools and speaking at high-profile events across North America.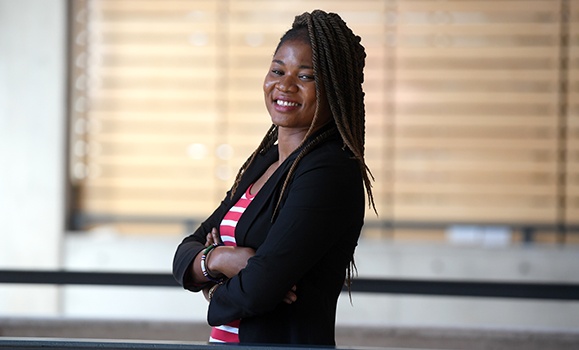 "Knowing the struggles women often face in the sector, I am committed to participate in and initiate outreach activities to advance females, in Canada and beyond," she says.

She recently returned from the UN Commission on the Status of Women in New York, where she spoke about the opportunities for women in traditionally male-dominated sectors and the work the Faculty of Computer Science is doing to attract and retain more female students.
"I feel lucky to be working for a Faculty and university that puts such an emphasis on diversity and inclusion and allows me to pursue my passion for educational outreach," she says. "I want to use my voice and influence to change the technology sector for the better."
Contributing to the ICT industry and society
On a personal level, Dr. Orji reflects on her own experiences and introduction to computer science as a motivator when speaking with young people.

"It sounds crazy, but I didn't know how to use a computer when I was first accepted into my computer science program," she explains. "I didn't have access to a computer in Nigeria, but this didn't hold me back. My own journey motivates me to dispel myths for young people about the background needed to pursue a technology degree."

Andrew Rau-Chaplin, dean of the Faculty of Computer Science notes Dr. Orji for her energy as a young faculty member, excelling in research, teaching and service.

"This is a very well-deserved award for Dr. Orji. Her passion for diversity and inclusion has been evident since day one and this aligns perfectly with the work the Faculty is doing to address gender diversity within our student population," he says.

"Within her research area of Human-Computer Interaction, her innovative and important research is creating solutions to global issues posed by risky human behaviours. Her work in and out of the Faculty is contributing to a brighter future for the ICT industry and society."