FCS News
»
Go to news main
Humanitarian Drive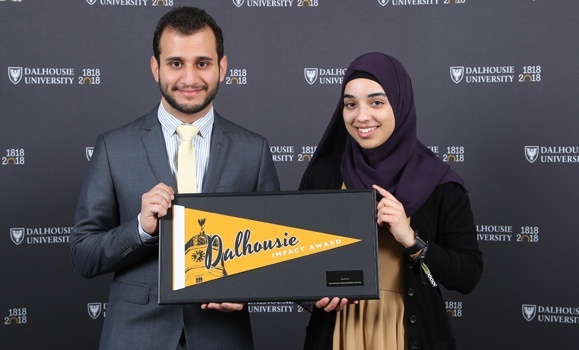 "It's rewarding to know the difference you can make," says Aisha Gattous, a third-year Computer Science student and president of the Islamic Relief Society.

Raising around $300,000 over the past four years, in March the Dalhousie student society earned the Dal Student Impact Award for the Most Impactful Charitable Society.

The Islamic Relief Society at Dalhousie is part of Islamic Relief Worldwide, an international humanitarian organization that uses Islamic principles to help people of all faiths in need. The student-run Dalhousie chapter has raised awareness and money for causes as varied as the Myanmar crisis and the wildfires in Alberta.

The bulk of the fundraising is done at the Islamic Relief Annual Charity Gala dinner and auction, now in its fourth year. This year the event (held on February 25) hosted 130 guests and raised over $100,000, including the sponsorship of 80 orphans from around the world. "It takes about $60 to feed a whole family for a month," says Aisha. "We [students] probably spend $60 a week just on lunch."
Connecting with the community
How were they able to raise this large sum of money? Aisha says they don't have specific strategies, but she's quick to acknowledge the generosity of the local Muslim community. As for leading the team, she believes in the importance of planning.

"It's important to set a timeline for myself and the team," she says. "When things need to be done, they need to know about it ahead of time."

Aisha's role as president functions as the main contact point between the main Islamic Relief Canada office in Burlington, Ont. and the Dalhousie chapter. Her duties include managing her team, creating and making sure to reach goals set by the society, long-term planning, raising members' level of involvement, and helping to come up with new ideas and raising awareness of the society. "It's about growing the next generation," she says.

Aisha initially joined the society three years ago on the recommendation of a friend. Some members of the executive team were graduating and the society needed more members. Over time she became more involved and became president of the Dalhousie chapter this year.
An inclusive space
While the society already benefits from a variety of volunteers from different backgrounds, Aisha wants to make sure it's always welcoming and inclusive, especially towards non-Muslim students.

"If they feel like they're being left out then they might not want to be a part of it," she says. With that in mind, the society held its first volunteer appreciation event on March 30, where it served pizza and handed out certificates of appreciation. "I want to get people excited about being a part of the society."

Aisha wants to focus on expanding the executive team next year, rather than relying on non-member volunteers for its large events. She wants to get old and new members involved, and raise awareness about the society and the charities it supports. This year she hopes to have the society participate in the Eid festival in the summer and Charity Week in October.

"The more people who are involved, the more we can do," she says.

As a recipient of a Joyce Family Foundation Student Success Award, Aisha says she's grateful for her own good fortune, and believes it can be applied to the society as well as all aspects of her life. "I feel like I need to help someone else because of it," she says. "Pay it forward."