FCS News
»
Go to news main
Student leadership that matters: Dal FCS Governors' Award winner
Posted by
Ryan McNutt, Delainey Wescott, Stephanie Rogers, Emily Borgal, Matt Reeder
on March 23, 2018 in
Innovation
,
Outreach
,
Students
,
News
,
Awards
,
International
,
Undergraduate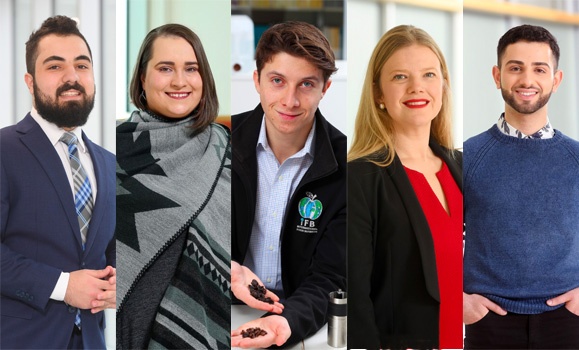 There are nearly 19,000 students at Dalhousie. And for many of them, student life is about so much more than just classes and filling the time in between.
For them, student life is a platform for pushing for change. It's a way to connect local concerns with global perspectives. It's a tool for shaping more inclusive communities. And it's a way to inspire others to build a better world.
Dalhousie's Board of Governors' Awards celebrate the most exceptional of these students. It's the university's top award for student life, presented annually to recognize exceptional contributions or leadership in the extracurricular realm — building community on campus, service in the broader community, improving diversity and inclusion and so much more.
The recipients — nominated by their peers in the Dal community, and chosen by a committee consisting of the president, three Board members and the vice-provost student affairs — were honoured at Thursday night's Student IMPACT Awards.
Learn more about this year's Governors' Award winners: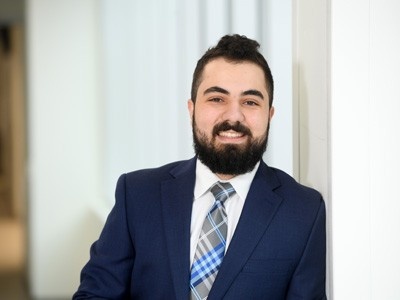 When Yaser Alkayale launched the Syrian Student Society in 2015, he hoped to showcase Syrian culture and heritage within Nova Scotia. But the country's emerging refugee crisis demanded more.

"I'm from Syria: I was born and raised there," says Yaser, a Computer Science undergrad. "And I realized the Canadian community is doing so much in trying to help, and it wouldn't be right for me to be here in Canada and not provide as much help as I can."

Wanting to use the society as a platform for Syrian newcomers to have a positive impact at Dalhousie, Yaser worked with colleagues in Computer Science and the College of Continuing Education to lead a free coding camp for Syrian refugees, giving them both computer skills and a window into the possibilities of higher education. It graduated 30 participants in its first year, and soon evolved into an organization called Maritime Labs that hosts camps annually.

It's just one example of Yaser's drive and determination to make a difference in people's lives. He led a team of students to fill a 20-foot container with clothes to be sent to Jordan as part of the Clothes for Refugees program. He worked with the Somali Relief Network of North America to raise over $100,000 for drought victims. And with Shokran Canada, the Syrian Student Society's marquee event, he helped generate extensive local media coverage and welcome hundreds of guests to explore what he calls "the real Syrian culture," beyond the headlines.

"Whatever cause I'm passionate about, I'll put as much time into it as I can," says Yaser, who received the Faculty of Computer Science Leadership Award last year. "I try to work on things where I can have the greatest impact… I like to see what's been done, learn from it and then do something better."

That spirit is inspired by his family's example. His parents immigrated to Canada in 2006, seeking a better education for Yaser and his four siblings. And it was his father, who ran a mail delivery and shipping company in Syria, who sparked Yaser's fascination in entrepreneurship when he was just six years old.

That interest led Yaser to become a University Innovation Fellow, attending and leading workshops at Stanford University and helping improve innovation and entrepreneurship offerings at Dalhousie. And while his immediate plans after graduation will take him to Washington State to work for Microsoft, his eventual goal is to use his Computer Science foundation to launch his own startup — though he hasn't settled on what, exactly, it will be.

"I'm still looking for that idea that is going to have the big impact that I can work on for the long term." (Ryan McNutt)
Check out all the other winners on Dal News.