FCS News
»
Go to news main
Computer Science prof recognized as a digital diversity leader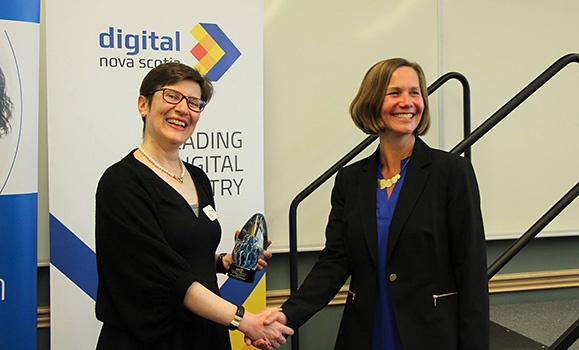 For 17 years, Nur Zincir-Heywood has championed diversity within the Faculty of Computer Science and the wider technology community.
Alongside her highly accomplished academic career, participation on national committees such as the Natural Sciences and Engineering Research Council (NSERC) and her excellent teaching record, Dr. Zincir-Heywood has worked tirelessly to make a difference to the work and study environment for students.
Recognition as a digital leader
 
Dr. Zincir-Heywood's dedication to diversity and championing of women in Computer Science earned her the 2017 Women Leaders in the Digital Economy Award. This award, presented by Digital Nova Scotia, recognizes an individual who has made a significant contribution to Nova Scotia's ICT (information and communications technology) sector and actively championed diversity in their community or organization.
She was one of three individuals to receive a top award at the second-annual Digital Diversity Awards ceremony on May 30 at Mount Saint Vincent University. The awards honour and recognize women leaders and diversity champions in Nova Scotia's growing ICT sector.
"I am honoured to have been recognized for my efforts in an area which means so much to me," says Dr. Zincir-Heywood. "I see this award as testament to the progress the Faculty has made in creating an environment where everyone is welcome and diversity is celebrated. On a personal level, this has inspired me to continue to advocate for females in computer science and go above and beyond to ensure all of our students feel respected."
Establishing a culture of respect
 
Dr. Zincir-Heywood is a founding member of the Culture of Respect in Computer Science Committee. Its role is to enhance the learning, social and working environment for everyone within the Faculty of Computer Science through a process of engagement, communication and education.
Through her leadership, the Culture of Respect Committee is a well-recognized part of life within the Faculty, for students, staff and faculty. The committee promotes diversity, respect and inclusiveness through a range of activity including workshops, panel discussions, guest speakers, focus groups and anonymous suggestion boxes.
The impact of this initiative can be seen at all levels of the Faculty, influencing strategic direction and decision making.
Championing women in technology
 
As a prominent female academic, Dr. Zincir-Heywood has empowered female students within the Faculty to thrive in a sector where they are often underrepresented.
She is an advisor to the student-led Women in Technology Society (WiTS), supporting and celebrating female students pursuing or considering a Computer Science program at Dalhousie. The society participates in events to introduce technology to females, and hosts educational and social activity for students and the wider Halifax community.
On a more personal level, Dr. Zincir-Heywood is a mentor and role model to female Computer Science students. Her research lab attracts a significantly higher than average number of female graduate students with her influence highlighting the opportunities available for them as women in the field.
"This is a very well deserved award for Dr. Zincir-Heywood, awarding significant dedication to diversity and the Faculty," said Andrew Rau-Chaplin, Dean of the Faculty of Computer Science.
"We work hard to prepare the next generation of leaders for the technology sector and both excellence and diversity is key to meeting the needs of industry and society. Her deep technical research in network and security and privacy embodies the ethos of the Faculty, being both intellectually rich and leading to important practical and social outcomes. Her work in and out of the Faculty supports our ambitious plans to double the number of female undergraduate students entering our undergraduate programs in 2018, without individuals like Dr. Zincir-Heywood this wouldn't be possible."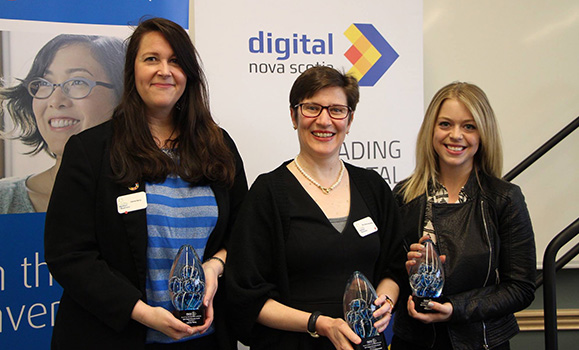 >Dr. Zincir-Heywood (centre) with fellow Digital Diversity Award winners Lianne Perry (PinPoint Virtual Solutions and Karmabuy) and Daphne North (representing REDSpace).