FCS News
»
Go to news main
Meet Lulu Huang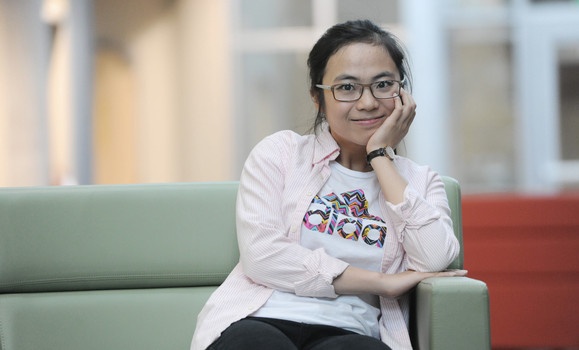 Where are you originally from?
I transferred my credits from Zheijang University of Technology (ZJUT), Hangzhou, China to Dalhousie University.
Why did you come to Dal Faculty of Computer Science?
I joined the 2+2 program between ZJUT and Dalhousie University for a new environemtn and experience of learning computer sience in a very good university from the very beginning.
What activities have you engaged in to help promote a culture of respect and diversity in the Faculty of Computer Science?
I know how difficult it was for myself to get used to a totally new environment. I was afraid when I was first here, since I didn't know anyone, the language was also entirely different, and I had no idea how to develop my studies in a right way. Of course I also really missed my friends and family. With these experiences, I try my best to help new international students by sharing my experiences. My help can be catered to their need!
What aspirations or plans do you have?
Currently, my main plan is to focus on my thesis work. My thesis work focuses on Visualization of Active Learnings for text data. This includes work for both active learning of text data and visualization for the previous step's pregresses, which I'd love to work with. 
I will also do an internship which is both what I want and what is required by my program. I'm still looking for my internship. I hope to work in Vancouver, specifically in text analytics work which is relevant to my program and interest.
With my degree, I want to find a job and gain more experience from real world problems. Location is not an issues - I can go anywhere in the world - but Canada might be my first choice. Afterall, I will graduate from Dalhousie Univeristy and I may want to consider a PhD after serveral years of work. A PhD is a great way to catch up with the latest technologies.
From your time to date within the Faculty of Computer Science, what has been your best memory or proudest moment - or what surprised you the most about being a student here?
I love FCS because of the lovely people here. But the most important thing is that everyone is here to help you whether they know you or not.
The experience from my last year of undergraduate proves this. At that time, I needed to decide the focus for my future studies. Dr. Michael McAllister, as my advisor, tried his best to guide me and help me find a great supervisor. This was not the end. He even paid a lot of attention to my studies afterwards, which was beyond my expectation. What's more: every professor would love to answer my questions whether I took their classes or not.
I'm also generally impressed by professors in FCS. All of them keep studying hard and do their best to help students. Last but not least, people in FCS, like Barbara and Menen, make me feel like I'm in a lovely family. They are some of the reasons why I continued with my master degree in Dalhousie.