FCS News
»
Go to news main
Hands‑On Security: Students Take Part in Live Case Competition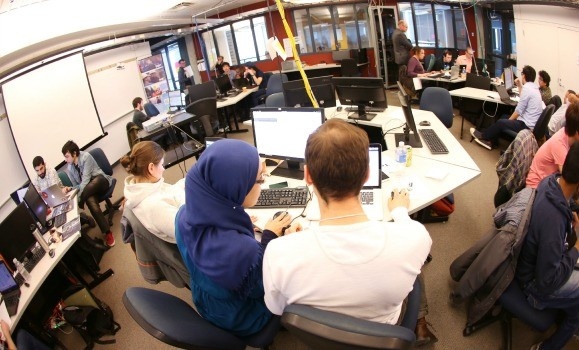 Originally posted in Dal News.
Cyber "Sherlocks" and sleuths from Dal's Faculty of Computer Science came together last month for a full day of detective work in the first ever Dal-JD Irving live case competition.
The 26 Computer Science students worked in ten different teams vying for cash prizes in two different two-hour long challenges as part of the competition, dubbed "Hands-On Security" and held at the Goldberg Computer Science Building
Ready for a challenge
Up first was the offensive challenge, where students were asked to parse data to find vulnerabilities, and document how they found them. This is an extremely important exercise with real-world applicability: many Computer Science graduates will find themselves working the front lines to defend organizations, companies and networks from hackers and other threats. To properly defend and protect, one must first find and understand their own vulnerabilities.

The afternoon challenge was a forensic one. Students were presented with a scenario where the computer system of a small business got compromised. They were told that a couple of users admitted to opening suspicious links, but what happened after that was a mystery. Students had to find the attacker, determine how the infiltration happened, and identify what has been impacted because of it. In order to protect companies — big or small – people need to learn how cyber attackers leapfrog through current defences, and very quickly see what the impacts were.
These skills allow companies and organizations to improve their defences through technology or employee training — and to understand what information or data may have been compromised.
Learning about security
Nur Zincir-Heywood teaches students concepts, techniques, systems and important skills in her Network and Design Management course. She even has a project component disguised as a game at the end of each term, providing students with a chance to practice what they've learned in a fun and friendly environment.

"My course is relaxed and fun, with an emphasis on learning," says Dr. Zincir-Heywood. "A competition like this one provides a situation where students can actually test what they've learned under the pressure of time — something that is so important as it exists in all real life cyber security situations."

Security is a huge driver in IT investment for most companies today, says Jon Smit, director of IT operations and development at JD Irving.
"PCs, networks, or even cloud technologies do not matter compared to securing and protecting personal and corporate data. Case competitions like this help build the knowledge and skills that make a real difference in the world we live in," says Smit.

Students Amr Zokari, Loai Felemban, and Tianye Wang.
Industry connections
The event was made possible thanks to support from JD Irving, which provided the "victim" machines for the morning challenge and the log files for the afternoon challenge.

The lab equipment used for both competitions was donated last fall by CISCO Systems. One of the world's leading companies in networking technologies, CISCO Systems contributed a range of equipment and technologies to Dr. Zincir-Heywood's lab. With new routers, switches, security tools and desktops, it has essentially become a new lab.

"We put together the network for the competition using the CISCO equipment," says Dr. Zincir-Heywood, "however this competition differed from our regular course challenges as physical attacks like changing wires and swapping disks were not allowed."

CISCO Systems was pleased to learn about this competition.

"We were pleased to see the donation of lab equipment being used with real life data from our customer JD Irving," says Rod Murphy, regional vice-president Atlantic of CISCO Systems Canada. "Equally important, was the engagement with the students and the learning's that were acquired from the event."

And the winner is…
Having the opportunity to take the lessons learned in class and put it to test in a simulated real-world setting gave students a rich, fun and valuable experience they would not otherwise get. To be able to do this with friends, in a fun way, was the icing on the cake.

After a long day and hard-fought battle, the team with Vahid Ahgaei Foroushani and Corrie Watt were named the offensive challenge gold winners and the team including Kyle Ramey, Jason Tait and Matthew Tetford were named the forensic challenge gold winners. Each team was awarded $700 from JD Irving. The two teams each finished as the runner-up in the other competition, also taking home a $500 silver prize.

$300 bronze awards were also given out to the two teams: Aimee Burrows, Simon Dugas and Sara Khanchi; and Loai L. Felemban, Tianye Wang and Amr Zokari.

CISCO also awarded three personal firewalls to students Vahid Ahgaei Foroushani, Matthew Tetford and Jason Tait and provided an additional five personal firewalls to Dr. Zincir-Heywood's lab.

"This type of support from both CISCO and JD Irving validates, to me, the quality of our faculty and students and all the work that has gone into making the Faculty a first-class learning environment for the students," says Mike Shepherd, dean of the Faculty of Computer Science. "With these concepts and the skills our students are learning, they are ready for the workforce so much more than they would be at any other places where such labs and courses are not available."

Gold winners for the Forensic challenge: Matthew Tetford, Jason Tait and Kyle Ramey.

Gold winners for the Offensive Security challenge: Corrie Watt and Vahid Aghaei Foroushani.