Career Development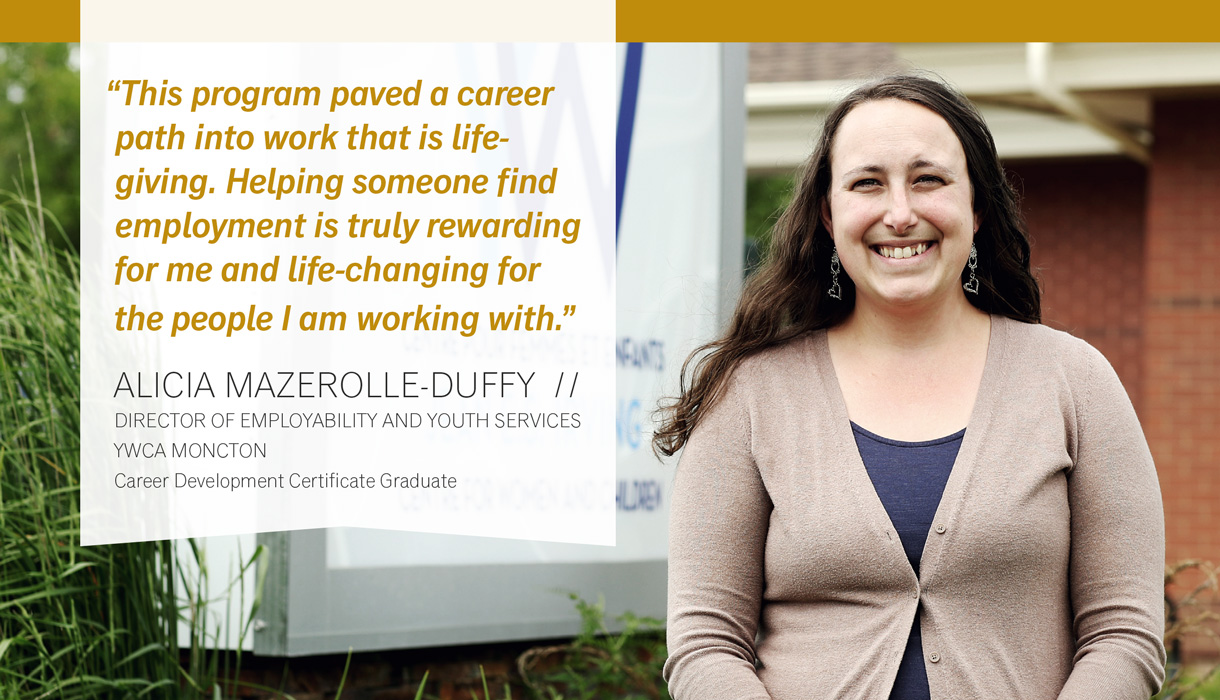 Important notice to potential and current students
Our Career Development programs are currently undergoing some exciting changes for the 2020-2021 intake! These changes will help us better meet the needs of our future career practitioners.  We will be working closely with the Nova Scotia Career Development Association to revamp some of our courses so they are in-line with industry demands. 
Please be sure to let any of your staff know that if they have started either the  Introduction to Employment Services Certificate or the Career Development Services Certificate (Level II), that these will be the final offerings of the courses.   
Introduction to Employment Services
Theories of Career Development (Last Offering:  August 28 – October 30, 2020) (Being revamped by CCE/NSCDA)
Experience of Unemployment (Last offering to complete Certificate:(Last Offering: November 6, 2020 – January 15, 2021)
Career Development Services (Level II)
Facilitating Individual and Group Learning (Last offering: October 9 – December 11, 2020)
Assessment Tools & Interventions (Last offering to complete Certificate:  Jan 29 – April 9, 2021)
For more information, and to register, please contact Program Manager Dawne Walker at dawne.walker@dal.ca or 902-494-8837.
Thank you for your patience as we update our programs.
Stay at the cutting edge of career development 
Driven by today's changing economy, the field of career development is rapidly evolving and expanding. It's imperative for those involved—from job coaches to HR professionals—to keep pace with the changing landscape. Developed in close collaboration with industry professionals, our programs are designed to help you do just that.

Our career development certificates and courses provide an opportunity for both new and experienced practitioners to deepen and refresh their knowledge. Participants emerge with improved skills and confidence in managing effective employment services for a wide range of clients.
Meet the latest standards
We'll help you build core competencies as outlined in the Canadian Standards and Guidelines for Career Development Practitioners, including:
Professional behaviour
Interpersonal competence
Career development knowledge
Assessing client employability needs
All of our career development courses are offered 100% online—designed to fit into your busy life. 
---

Career development certificates
Our certificate programs are ideal for career counsellors, career coaches, HR professionals, job developers and those interested in entering the field.
Introduction to Employment Services (IES) – 100% online
Expand your knowledge of, and appreciation for, the foundations of career development services.
Career Development Services (Level II) – 100% online 
Master core and specialized competencies in the field of career development. Designed for graduates of the IES program.
---

Career development courses
Any of our range of career development courses can be taken as part of a certificate program, or as stand-alone courses. Sharpen a particular skill or begin your exploration of the field of career development here:
Theories of Career Development
Survey the progression of career development theories and the strengths and weaknesses of various models.
Professional Ethics for Career Development Practitioners
Examine the Canadian standards, guidelines and code of ethics for those who work in career development.

Assessing Client Employability Needs
Learn to conduct an informal needs assessment and understand its vital role in effective career development.

---
How to register
1.    Go to the page for the specific certificate or course you're interested in.
2.    Click the "Add to Cart" button.
3.    Log in or create an account.
4.    Enter your payment details.
5.    Click the "Submit" button.
6.    You'll receive a confirmation by email.