Certificate in Sustainable Energy Technologies
Sustainable energy for the future
As the world fights the effects of the climate crisis, we have such an opportunity to embrace renewable energy, smart cities and the clean technologies that are shaping our future.
Along with learning about conventional energy systems, you will learn about how wind, solar, geothermal, biomass, and hydro energy systems work, where they can be successfully deployed, the economic implications, policy directions and how they will integrate with the Internet of Things (IoT).
If you are passionate about technology, innovation and climate change, our Certificate in Sustainable Energy Technologies is right for you.
Details at a glance
Format: 100% Online
Program Length: Three modules, 6 weeks each
Start Date: September 16
Fee: Register for the full certificate and save $320. For more information, please contact Program Manager, Julie Webb
Who should attend?
Individuals who want to enhance their resume and marketability in the clean technology job market.
Industry executives interested in expanding their knowledge on the rapidly growing renewable energy sector.
Project managers, developers and investors interested in expanding their career or business with renewable energy.
It is recommended that participants will have completed secondary school or equivalent, be proficient (to university level) in English. Between two to five years of work experience is preferred, but not required.
What will I learn?
Participants will gain practical knowledge and skills to be able to:
Walk through every step required to design, implement and manage a sustainable energy project.
Recognize the most common and most innovative applications of energy in electricity, transportation, heat and buildings.
Understand the mechanics of how power and heat are generated and used.
Financially evaluate and compare sustainable energy technologies.
Understand barriers and incentives to implementation of renewable energy technologies.
You will also be qualified to write the Sustainable Energy Professional (SEP) exam as part of the Foundation Technologies Institute credentialing process.
What courses will I take?
Module I: Energy Fundamentals
This is the first module in the 100% online Sustainable Energy Technologies Certificate program. Module I will introduce you to the theory and practice behind energy production, distribution and consumption.
Module II: Wind Energy Developers
This is the second module in the 100% online Sustainable Energy Technologies Certificate program. This module will provide you with a foundational understanding of wind power technologies and walk you through the planning, design and development process required to install different wind projects.
Module III: Solar Energy Developers
This is the third module in the 100% online Sustainable Energy Technologies Certificate program. This module provides an introduction to the technology behind solar power. It provides participants with a foundational understanding of the different major forms of solar power and walks them through the planning, design and development process required to install a solar project.
Certificate Details
Certificate requirements
It is highly recommended that participants complete the three modules in sequential order. The certificate is awarded after the completion of the three modules, including all quizzes and final exams. This represents approximately 108 hours of training which includes online sessions, home study, assignments and exam preparation. The participants must attain a minimum of 65% for each module and an aggregate average of at least 70% in the program.
Recommended reference books
Fundamentals and Applications of Renewable Energy, Kanoğlu et. al, 2020. Available through Amazon.
Renewable Energy Finance: Powering the Future , Donavan C., 2015. Available through Amazon.
Instructors
Cameron Jones
Cameron Jones, MSc, is an energy professional with years of experience in renewable energy and climate change policy. He has worked for the Department of Energy and supported the U.K. Government with their energy transition plans. He has published papers and co-authored a book on low-carbon energy developments and is the recipient of multiple awards for his work in the field. This includes the Premier's Public Service Award and the Gold Pinnacle Award which he received from the Minister of Energy for his work on Alberta's Renewable Energy Plan.
Cameron was Vice President of the Young Professionals in Energy (YPE) association in Alberta, before relocating to Toronto where he is an active member of Toronto's clean technology community. In addition to his energy background, Cameron is passionate about public speaking, entrepreneurship and environmental innovations. He recently helped launch the first drone-reforestation company in Canada and some of his work has been covered in Newsweek, Daily Mail, National Geographic and CBC.
Gabriel John - Guest Lecturer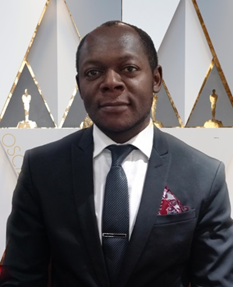 Gabriel John is a professional agrologist and holds a Master's degree in Resource Economics from the University of Alberta. He also holds a certificate in Greenhouse Gas Inventory Quantification (GHG-IQ) with the Canadian Standards Association. Gabriel has over 15 years of diverse experience working in academia, and in private and public sector policy and program development.
Gabriel's government and academic work in the past decade has focused on developing strategic policies and innovative programs in the complex energy-environment nexus. He has experiential knowledge of electricity markets, transmission and distribution policies, climate change policies, and regulatory matters pertaining to the development of power generation.
Gabriel has extensive knowledge in public policy and program design and implementation in the areas of climate change, emissions management, clean energy, and emerging technologies.
Gabriel currently works on strategic environmental and sustainable energy policies and programs, including leading the development of policies relating to renewable development and the de-carbonization of the electricity sector.