Masterclasses and Workshops
Make a Gift!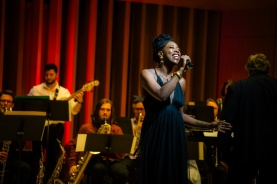 The Fountain School is proud to be part of a vibrant arts community, with organizations that bring first-class artists to our region. Special thanks to Debut Atlantic, Cecilia Concerts, Neptune Theatre, Scotia Festival of Music, Lunenburg Academy of Music Performance (LAMP), the Prismatic Festival, and Symphony Nova Scotia for their ongoing partnerships.
All are Free and open to the public!  
We respect Dalhousie University's current Covid protocols in educational spaces intended to create a safe and welcoming environment for all students.
A VOICE MASTERCLASS with Deantha Edmunds


Monday, Dec. 4 | 11:35 am - 1:35 pm
 
Dal Arts Centre - Room 121


Deantha Edmunds is Canada's first Inuk professional classical singer. An urban Inuk, creator, and mentor, Deantha aims to empower Indigenous people and share their stories.  

Deantha was longlisted for the prestigious 2023 Kenojuak Ashevak Memorial Award from the Inuit Art Foundation. Her work has international reverberation as well as community integrity. From solo and internationally broadcast performances for His Holiness, Pope Francis in Iqaluit to acting in one-woman shows about the lives and legacy of the Beothuk in Newfoundland, and from contributing to large choral gatherings to teaching one-on-one music lessons, Deantha is committed to bringing her music and skill to developing deeper understandings about reciprocal collaboration amongst Indigenous peoples, their musics and settlers. She brings a level of professional excellence to Canada's Indigenous art scene that is unique and important. 

 

Deantha has released three albums. The most recent is her 2022 Music NL award-winning solo album Connections, which also earned her a nomination for a 2023 East Coast Music Award. Her contribution to Messiah/Complex with Against the Grain Theatre and Toronto Symphony Orchestra helped garner the production a 2022 JUNO nomination. Deantha was one of the recipients of the 2020 Dora Mavor Moore Award for Outstanding Performance by an Ensemble in Opera in Two Odysseys: Pimooteewin / Gállábártnit, produced by Soundstreams/Signal Theatre/Sámi National Theatre Beaivváš. 

Actively working on creating original operatic work, contributing to other Indigenous productions, and mentoring young Indigenous artists, Deantha sings her heart out and turns heads across Canada and the world. 

 
A PERCUSSION MASTERCLASS with IAN ROSENBAUM

Friday, Feb. 9 | 12:30-2:00 pm
 
Fountain School - Joseph Strug Concert Hall

A COMPOSITION MASTERCLASS with ALKALI Collective

Friday, March 5 | 2:00-5:00 pm
 
Fountain School - Joseph Strug Concert Hall
A CHAMBER MUSIC RESIDENCY MASTERCLASS 

Thursday, March 28 | 4:30-6:30 pm
 
Fountain School - Joseph Strug Concert Hall
A CHAMBER MUSIC RESIDENCY MASTERCLASS 

Saturday, March 30 | 2:00-4:00 pm
 
Dal Arts Centre - Room 406