Virtual Open House - Saturday, November 7, 2020
If you're thinking about applying to the architecture program (Bachelor of Environmental Design Studies) at third-year level, you're invited to Dalhousie's Virtual Open House. An online booth for Architecture will be open from 10:00 a.m. to 3:00 p.m. (Atlantic time). There will also be a live presentation by the Faculty of Architecture and Planning from 1:30 to 2:00. To register for Open House, go to the Registration page.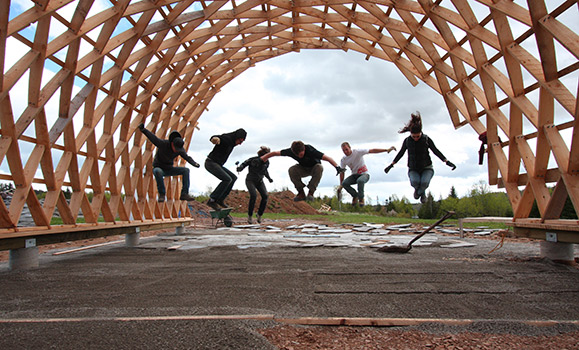 COVID-19 Update for Students

Fall 2020: All Architecture courses are online. This includes ARCH 1001, 1201, 2501, and all BEDS and MArch courses. Class times are shown in the university timetable.
Winter 2021: All winter Architecture courses will be online. Revised class times should appear in the winter timetable by October 9.
Thinking about Architecture at Dalhousie?
March 1 is the deadline to apply for admission to the BEDS program.
February 1, June 1, and October 1 are the deadlines for applications by transfer architecture students.
Canadian students:
Of the twelve architecture schools in Canada, Dalhousie may be suited best to your academic ambitions and personal interests. We're located in the centre of a historic port city on the Atlantic coast. We're also part of the largest and most diverse university in eastern Canada. Our school values hands-on experience in drawing, modeling, and building. We value the integration of design, humanities, technology, and professional practice. We also value local projects that are informed by international and historical insights.
American students:
Studying architecture at Dalhousie, then returning to the States, is a good idea. Accredited programs at Canadian and American architecture schools are professionally equivalent, so an American citizen who graduates from Dalhousie's MArch program will be on track to become an architect in the United States. You'll probably find that the international tuition fees at Dalhousie are more affordable than the domestic fees at comparable universities in the States.
International students:
Studying architecture at Dalhousie, then returning to your home country, is a good idea. Dalhousie offers an excellent architectural education with an international reputation. Our co-op work terms also enable students to live and work anywhere in the world for up to twelve months. An accredited Master of Architecture degree from Dalhousie is a major step toward architectural practice in your home country.
Your next step:
To learn more about the school and the application process, start with the first two links in the right column: "Why Study Here?" and "How to Apply for Admission." For an insider's view of the school, click on "For Current Students" at the top of this page.