Scott Read
Read earns Team Canada spot for world lumberjacking championships
Scott Read just can't stop smiling.
Who can blame him? The 34-year-old Riversdale resident recently learned he'll get to represent Canada at the 2016 STIHL Timbersports World Championships in Stuttgart, Germany Nov. 11-12. The event will be streamed live and broadcast on television at a later date.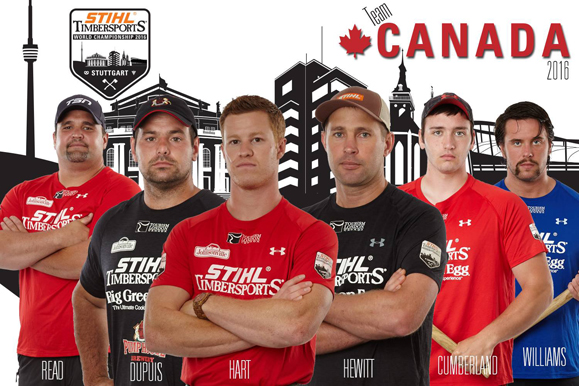 "I'm very excited. Beyond excited," Read, a senior instructor in the engineering department on the Dalhousie Agricultural Campus, said. "I have put a lot into this sport and this is the pinnacle, the furthest I know, that I can personally achieve."
Read was named as one of six members of Team Canada on Wednesday, along with Canadian champion Stirling Hart, Marcel Dupuis, Mitch Hewitt, Nathan Cumberland and George Williams. Read will compete in his specialty event, the single buck saw, in a four-man relay, which also includes the underhand chop, stock chainsaw and the standing chop in a combined-time event.
The Canadian boys will be up against 100 of the best the world has to offer from the United States, Australia, New Zealand and all over Europe.
"It means a lot," Read, who has coached the Dalhousie AC's woodsmen team for the past 13 years, said. "This is what I have been striving for and it makes me very proud to represent my country."
Read will leave the country with his teammates on Nov. 4 and will first make a stop in France for a short training camp. There, it will be decided who will be assigned each event for the relay.
Once in Stuttgart, each team will perform the relay in a first heat which will rank the countries before the elimination rounds begin.
Although Read admits he isn't an elite competitor in all lumberjacking events, it was his resume as a sawyer which made it impossible for officials to leave him home. Since first competing on the professional circuit six years ago, Read has staked his claim as one of the top sawyers in the world. Depending on the species of wood, his strong frame can typically guide his six-foot saw through an 18-inch log in 10 to 14 seconds. He's been consistently ranked in the top three sawyers in Canada, has won multiple titles both in the Maritimes and nationally in the event and has taken down some of the world's top competitors.
Read discovered he had a natural ability for sawing events at an early age when he first started competing through 4H.
"Ever since I was young, using a manual hand saw has definitely been what I am best at," he said.