Jennifer MacIsaac
By Marlo MacKay and Jennifer MacIsaac
In 2009, Jennifer MacIsaac was asked to take care of the Agricola Museum, Archives, and Special Collections at the MacRae Library on the Agricultural Campus. As a cataloguer with a diploma in Library and Information Technology, she thought it seemed like a close fit; the collections were similar to what she worked with every day, the materials were just older.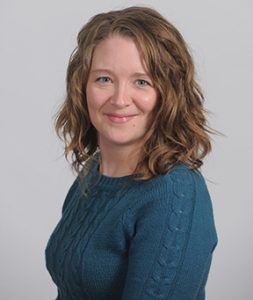 While the management of archives and museums is comparable to library practices, some aspects of the work are worlds apart. "With 30 years of accumulated artifacts, records, and book collections to sort through, policies to update and create, services and programs to develop, and a community to engage, I was soon feeling overwhelmed!" said Jennifer. Luckily, Jennifer is no longer feeling overwhelmed and library users can expect great exhibits and well cared for artifacts thanks to the training she has undergone since then.
Elaine MacInnis, Head of the MacRae Library and Associate University Librarian, Library Services, suggested that Jennifer enrol in the Council of Nova Scotia Archives (CNSA) core curriculum. CNSA is the body that promotes good archival practices throughout the province. They offer six two-day courses in archival studies; all six courses must be completed and the assignments passed to receive an Archival Certificate of Completion. Jennifer finished the program and received her certification in 2014.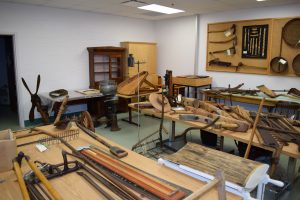 Then, a conservator suggested to Jennifer that she look into the Association of Nova Scotia Museums (ANSM) program in Museum Studies to complement her archival certification. Elaine MacInnis and University Archivist and Associate University Librarian, Research and Scholarly Communication Michael Moosberger were wholly supportive of Jennifer developing these skills to better manage the 400–500 artifacts in the MacRae Library. "Management of museums is as different to libraries as archives are, if not more. ANSM offers eight core two-day courses in Museum Studies in a three-year cycle. In 2014 I began working towards my certification and finished last year," said Jennifer.
In all, Jennifer has had training in arrangement and description, Rules for Archival Description (RAD), preservation, acquisition, appraisal and accessioning, access and reference, museums and community (engagement and responsibilities), museum management and governance, public programming, collections management and curatorship, exhibitions, facilities management, and marketing and revenue generation. "Participating in these programs has made an incredible impact on my knowledge of archival practices," said Jennifer. She has also had the opportunity to network and collaborate with new colleagues, some now mentors, in the cultural heritage sector.
In 2013, the MacRae Library underwent a renovation. The Agricola collection was moved from one small room alone to also be housed in a second larger room that could accommodate proper shelving. "This was a fantastic opportunity to work closely with Michael's staff from the Dalhousie Archives who came to help with the reorganization. We've since expanded to a third room for office and reference areas, digitization, and to house the audio visual and photograph collections," said Jennifer.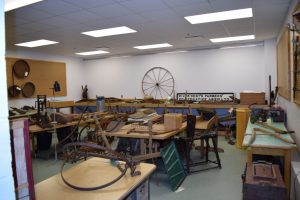 "The completion of this certificate by Jennifer is a wonderful achievement and provides her with a body of museum knowledge that will assist her greatly in preserving, managing, and making accessible the many artifacts held in the Agricola Collection. Her expertise will ensure that these museum holdings remain a lasting legacy of the Faculty of Agriculture's role in agricultural development, both in Nova Scotia and Canada, and around the world," said Michael Moosberger.
With Jennifer's archival and museum certifications now complete, the Agricola collection is more accessible than ever and under excellent care for long-term preservation. "I can now teach others archival practice and have had the privilege of training several people on archival projects. I also get to speak in the community about archival records and artifacts. One Grade 5 class that I spoke to linked my presentation to their curriculum. They were so engaged and interactive! This spring I'll be taking a course through ANSM for creating school programs for Canada's 150th anniversary. The development principals I will learn will apply to all program creation and evaluation," said Jennifer.
Congratulations, Jennifer!