Ashley Simms
By: Michelle Thompson
A strong believer in the saying, 'life is too short to not enjoy what you are doing,' passionate athlete Ashley Simms, has been gaining valuable experience working towards her dream job at Dalhousie's Faculty of Agriculture.
"I am passionate about a balanced lifestyle and having fun," Ashley explains. "I try to live life to its fullest and encourage others to do the same."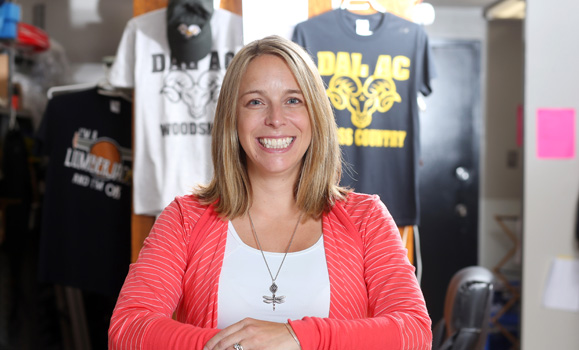 Ashley has been the Facilities Supervisor at the Langille Athletic Centre on the Agricultural Campus for the past six years and has enjoyed every day of it. "It's great to learn the students' needs and wants and then try to meet those needs while being creative and offering new programs for them," explains Ashley. "The Athletic Centre is a great place for students to get away from the stresses of student life; it is always rewarding to see everyone having a good time during recreation programming, varsity games, and individual fitness routines."
All year long, Ashley supervises the facility and student staff to ensure students and members are safe during their daily fitness and recreation routines at the Langille Athletic Centre. This includes overseeing facility booking, rentals and practice schedules. Ashley also works with the Athletic Department team to host fundraising and community events such as Rocky's Run, the Agri-Golf Classic and Sport Camps.
"Depending on the year, our department also hosts major sporting events and championships for the ACAA and CCAA leagues," she explains.
During the school year, Ashley prepares and delivers fitness, intramural and recreation programs for students. "I assist with the Varsity program by getting the athletes ready for away games and preparing the facility for home games," explains Ashley. "During home games I manage our student staff team with minor officiating and prepare game day stats."
"One of my favourite memories is working one of my first basketball games here at Langille Athletic Centre," explains Ashley. "It was House Challenge Night and the stands were packed with students dressed in the school's colours. The building was loud with students cheering on the RAMS. It was so loud the coach couldn't hear himself trying to give his team directions," she added. "That feeling of school spirit and excitement is what I treasure most. Every time we host a game, tournament or championship, I get that adrenaline rush as if I was playing and it makes me proud to be involved with an athletic program where students can be involved, as an athlete or a fan."
Most recently, in August 2014, Ashley also began as Co-Don of Fraser House at the Faculty of Agriculture. "My husband Mark and I have really enjoyed the experience," Ashley says. "It has brought me closer to the students and has provided us with a number of new experiences that we would probably never have experienced if we didn't move to campus."
Ashley's main responsibility as Co-Don of Fraser House is to support the students in the house in any way she can. "The students have taught us a lot and I really enjoy the house spirit as the students are constantly supporting and helping each other out," she says. "When it comes to Saturday night socials, house challenges, programs, study groups and working with one another, they always surprise me, they try to include everyone and get the whole house involved."
In her spare time, you can usually find Ashley outside hiking, snowshoeing, skiing, or playing a sport. "If I am not outside, I am probably spending quality time with my husband, my dog, friends and family," explains Ashley.
Ashley is originally from Fredericton, NB, but grew up in Bible Hill, NS. "I believe I chose the recreation and sport career path based on my experiences of being involved in sport and recreation my whole life," Ashley explains. "Many coaches, family, friends and teammates have taught me the importance of sport and recreation," she added. "Through my positive experiences in sport, I chose to follow my dreams and continue doing what I love and make a career out of it."
Ashley is a mentor to many, an inspiration to most and a friend to all. "For me, sport and recreation helps me fulfill my needs and I hope I can help others fulfill their own needs."