News
»
Go to news main
Where are they now? Wiebe & Samantha (Keeping) Leenstra
Posted by
stephanie Rogers
on January 30, 2023 in
News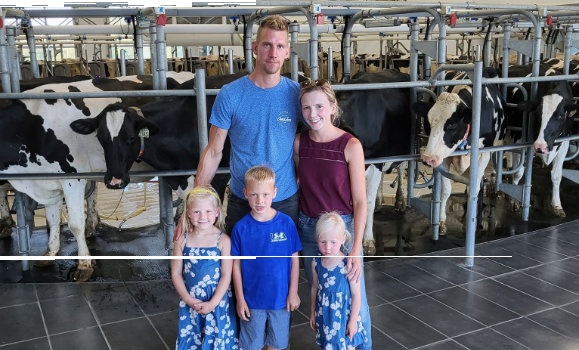 The Class of '13 was the first group of students to graduate from the new Dalhousie University Faculty of Agriculture. These students began their studies with Nova Scotia Agricultural College, continued their classes and experienced life on campus through the time of merger. For many, this was a time of unease, question, anxiety, but also excitement.
In keeping with the theme, 10 years together, we decided to check in with a number of alumni from the Class of '13 to see where they are now and how they felt about NSAC merging with Dalhousie University.
Wiebe & Samantha (Keeping) Leenstra
Her story started off familiar – city girl, with no hands-on agricultural experiences, and a life-long dream of working with small animals, becoming a veterinarian. But a student position on the campus farm, during second year at NSAC, changed her direction.
"I stated working on the campus farm, looking to gain experience with animals and seeking employment," says Samantha Leenstra. "Unpredictably, I feel in love with everything agriculture, with a passion for dairy." She also fell in love with a boy, who was earning his diploma, before returning to take over his family dairy farm.
Today, Samantha and the boy, now her husband, Wiebe, milk 250 cows at their family farm, in Salisbury, NB, alongside their three young kids (ages six, five and three). Salisdairy Farm Ltd. is a closed herd, milking only pure-bred Holsteins, raising their own young stock. The farm encompasses 650 acres, growing grass, alfalfa, clover, and corn silage.
"Since having the kids, I've had to step out of the day-to-day on the farm," says Samantha. "But I stay involved with administrative work and updating our dairy milking software with whose been bred, calved, dried-off, etc.
The youngest of four, Wiebe waited patiently for his older siblings to choose their career paths, knowing farming was in his heart. When the opportunity presented itself, he was more than willing to step-up and take the reins from his parents.
"Wiebe's parents are still involved and help out. We also employ three full-time and six part-time staff," Samantha adds. "We milk in a 40-stall internal rotary, three times a day, averaging about 40 litres, per cow, per day."
Becoming a dairy farmer may have been a shift in direction, for Samantha, but her passion remains the same.
"My passion with agriculture is truly the animals. For me, there's just something about seeing those new babies arrive and making sure they are given the best life possible."
Samantha admits that coming from no agriculture experience, the AC taught her theory, but with her lifestyle, she enjoys applying these theories, continuing to learn new ones, and comparing them with the old. She also loves educating others and sharing her knowledge of agriculture.
"I always enjoy explaining to my family and friends, "in the city", about farming, in a way they might understand and appreciate."   
When the announcement was made, that NSAC would merge with Dalhousie University, becoming the Faculty of Agriculture, what were your initial thoughts and feelings? Looking back, how do you feel now?
When they announced the merger with Dalhousie, I initially felt it was the end of the traditional AC in the ways we knew it. I thought it would be the end of the "farming" culture that has always been a huge part of the atmosphere of the school. Looking back, we were passionate about who we were as "Aggies", and this is something I still am proud to share.
How has the campus changed in the last 10 years?
I can't speak much to how the school is now, or since the Dalhousie merger, since we were the first graduating class, holding tightly to the values we had in the years prior. But I like to think that true Aggie spirit lives on!  
What is your favourite memory from your time at NSAC?
"I really enjoyed my job, working at the Ruminant Animal Centre, as well as events such as College Royal and Woodsmen. I guess meeting Wiebe was also a pretty important moment!"