News
»
Go to news main
Cultiv8 Chef
Posted by
stephanie Rogers
on September 6, 2022 in
News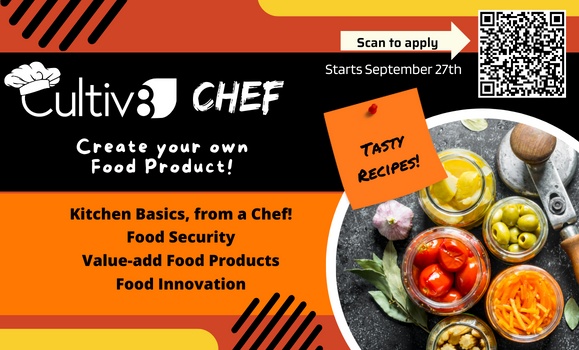 If you love to cook and get creative in the kitchen, Cultiv8 Chef is for you!

Twenty students will have the opportunity to work with Reinier Boermans - a certified European-trained chef with 20 years' experience.  While students are introduced to food security, product-development, and value-added food entrepreneurship, they will work with other students to create their own recipes!  
Chef Reinier Boermans and Cultiv8's Jason Grant are teaming-up to create this pilot program that will prepare students to learn valuable kitchen skills, food preservation basics and to have fun developing their own value-added food product.
"Food security is a massive issue," explained Jason Grant.  "The pandemic has shown us this when supply chains broke down. We want to bring back the ability to preserve products and think a little outside of that with a value-add that is exciting for today's consumer," he added.  We will focus on flavour and experience.  Food preservation makes people food secure."

After an introduction to kitchen basics, students will begin by following recipes to create products, and will proceed to build their own recipe and product, gain feedback from others, and improve their product based on feedback.

"Utilizing locally sourced foods to create sustainable food products is my passion and sharing this with agricultural students is a pleasure," said Chef Reinier who recently collaborated with Humble Potato Chips on seasonings for five flavours.
This eight-week program will culminate with a showcase where students present their Cultiv8 CHEF journey and products to a panel of enthusiastic supporters!

For more information contact Jason Grant