News
»
Go to news main
PFES graduate students bring awards from the national horticulture conference.
Posted by
stephanie Rogers
on August 24, 2022 in
News
The theme of the 2022 Annual Conference of the Canadian Society of Horticultural Science was Innovation in Canadian Horticulture.
The conference took place in the Lord Nelson Hotel of Halifax during August 18 to 20, 2022.
First place oral presentation: Madumani Amararathna (ID-PhD candidate) for the presentation on Haskap berry, is it a miracle fruit? Cancer chemopreventive properties of haskap berry anthocyanins (supervisors: Dr. Vasantha Rupasinghe and Dr. David Hoskin).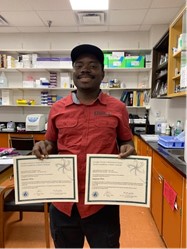 The second places of both oral and poster presentations: Raphael Ofoe (PhD candidate) for the presentations on Pyroligneous acid alleviates aluminium stress in tomato seedlings and Pyroligneous acid increases tomato yield and nutritional quality (Supervisor: Dr. Lord Abbey).