News
»
Go to news main
Look who's Talking ‑ Jeff Gunn
Posted by
stephanie Rogers
on July 19, 2022 in
News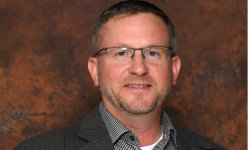 Jeff Gunn (Class of '97)
Regional Manager, Atlanctic Lactanet Canada
Jeff Gunn was born and raised on a dairy farm, in rural Nova Scotia. Initially perusing a career in human medicine, he switched paths when he realized it was agriculture that he wanted to be apart of. Jeff worked as the Ruminant Animal Centre coordinator on the Agricultural Campus farm from 1995-99, until he returned to his family farm, joining his father as they operated an award-winning, year-round agri-tourism product, Stonehame Lodge and Chalets, until they closed its doors in January 2013.
Jeff has also worked for Dalhousie University as a project manager on the Mink Aleutian Disease Project. In June 2013, Jeff was hired as regional manager, Atlantic, with Valacta.  He is also a member of the Nova Scotia Institute of Agrologists. Farming is in Jeff's blood, and he could not imagine doing anything else.
What's a typical day like?
I am not sure if there ever is a typical day…there are never two days the same which is why I love what I do! Of course, since the pandemic began, my days are somewhat different than they were before March 2020. I spend most days managing and working with the Lactanet Atlantic Team (18 employees) made up of dairy production technicians and advisors. My team travels to farms, to be there during milking's, so they have early mornings and sometimes late evenings.
We work as a team, so there are lots of meetings to deal with the day-to-day operations. I also work with colleagues across the country to ensure that the services we offer add value to the dairy industry. We work very closely with many dairy industry partners, so depending on the time of year, I attend a lot of industry meetings within Atlantic. We are also involved in a number of projects with industry groups and organizations which requires lots of communication and meetings. I also manage the sales of products and services we provide, the budget, and human resource requirements for our team throughout the year.
Why is agriculture so important?
Without it, people would not eat. I am not sure it can be said any simpler than that. Food is not only essential for life, it is an important part of our culture. Agriculture makes up the very fabric of our rural communities right across the globe, plays a critical role in our larger urban centres, as well as the overall sustainability of the planet.
What are some of the biggest challenges facing the industry today?
I believe that the rising costs of production, the increased pressures due to climate change, and changing consumer demands, are some of the biggest challenges today. Thirty or 40 years ago, most people had a connection somehow to a farm. Today, most people do not, and have never even been on a farm. This makes it much more challenging on our industry, as it means that our farmers are questioned and scrutinized on their practices. However, in difficulty lies opportunity, and we need to make sure that we make communication with the general public an important part of everything we do. As an industry, we must be "in tune" with the consumer and the concerns they have with where their food comes from and how it is raised. We need to make sure we are listening, educating, and engaging with our consumers every step of the way.
In your opinion, what role does animal agriculture have in feeding the world's growing population?
As the global population continues to increase exponentially, food security, climate change and environmental sustainability will be the greatest challenges for future generations and animal agriculture will be a critical part of the solution. Through research and advancement of technology, our industry has done very well at being innovative, proactive and providing vision and leadership to address the challenges of feeding a growing, increasingly urbanized population. Our future depends on this continuing. There are, and will be, many exciting opportunities in this industry for our young people.
Working in agriculture, what are you most proud of?
The dedicated, resilient people that I get to work with each and every day is what I am most proud of. I feel honored to work in this amazing industry. I am thankful that I was fortunate enough to be born and raised on a farm, and that I get to be a part of this important industry today.
The Agricultural Campus is a pretty special and unique place, as we hear over and over. What's your favourite characteristic of the Agricultural Campus?
The first thing that comes to mind is that AC has always been known for the strong, specialized programs they offer. In addition, I have wonderful memories of AC, and I still have strong connections to the campus and the people. I am so thankful for that. I think what makes it such a special and unique place for me is the tight-knit family that the AC is, regardless of the generation you come from. When you return to the campus today, you always feel welcome as an alumnus. I grew up hearing from my grandfather and father about all the dedicated, visionary people that were a part of AC through the years. I continue to see this today. It does not matter where you go – aggies are connected, whether you know each other or not. That is pretty special.