News
»
Go to news main
A Butcher, a Baker a Candlestick maker
Posted by
stephanie Rogers
on June 29, 2022 in
News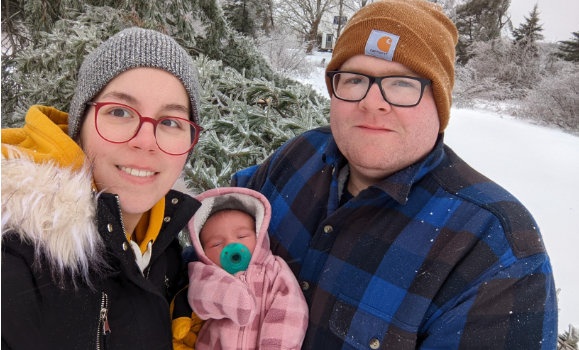 Update:  Due to the Covid-19 pandemic, the Class of '21 was unable to attend their Convocation ceremony in-person.  They have been welcomed back to campus to celebrate July 8th and Brittany will be in attendance. 

Over the past year Brittany has passed the Veterinary Technicians National Exam and has become a Registered Veterinary Technician. She was  hired full-time at the Fall River Animal Hospital as an RVT, and in January she and her husband welcomed their first child, a little boy named Henry! 
An Asphalt Technician, an award-winning pastry cook and more Brittany MacLean has tried it all but has never felt more at home than in the Veterinary Technology program at the Dalhousie Agricultural Campus and the Faculty of Agriculture.
"I decided to go back to school because I felt like I had never found where I was supposed to be," she explained.  "I had tried different jobs, very good jobs, but never really felt like they were the right fit. I have enjoyed all the different things I have done over the years because they ultimately pushed me toward where I am now!
Brittany has spent the past two years studying full-time as a Veterinary Technology student at the Faculty of Agriculture in Truro.
"My husband was a very big part of my decision to go back to school," Brittany added. "He knew I wanted something more and he helped give me the push I needed to find out what it was, I am forever grateful to him."
Brittany's passion for animals started when she was very little.  She was obsessed with any show that had animals and would spend summers outside flipping old logs looking for salamanders.
"Once I was old enough, I watched The Crocodile Hunter almost everyday, Steve Irwin truly was the most amazing human to me. But deeper than that even, I've always struggled a little bit with connecting to people, especially those my own age, but I always felt this pull towards animals," Brittany explained.   
"Even our childhood cat disliked everyone but me, my mom always used to joke that animals could 'sense me' and knew I was a safe person to go to. It's hard to explain, but I guess in the end I understand animals more than people, and I've always felt animals understood me better too."
Brittany attended the NSCC for two years and obtained a Certificate in Boulanger and Baking Arts and a Certificate in Baking and Pastry Arts.  She competed in the Skills Canada National Competition and placed third overall for the Pastry division.
"I love baking, it was another thing that always made me feel like I was in my truest form," said Brittany.   "I worked at a wonderful restaurant called Le Caveau at the Grand Pre-Winery in Wolfville after graduation absolutely loved it there, we made everything from scratch with local in-season produce. I was the Pastry Cook in a kitchen of savoury cooks and I seriously thrived there. But in the end, it wasn't where I truly belonged, but it was probably my favourite stop along the way to where I am now."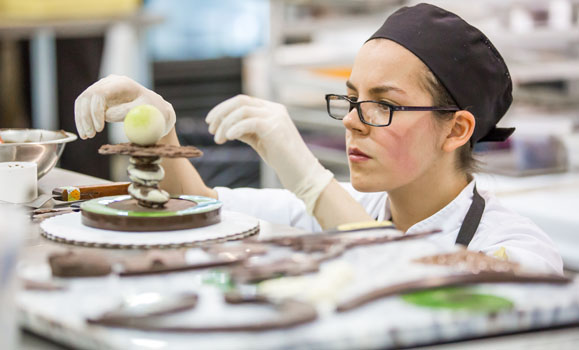 Now Brittany is set to graduate this spring from the Veterinary Technology program and is employed full-time at the Fall River Animal Hospital close to where she lives.
"I plan on writing the Veterinary Technicians National Exam to become a Registered Veterinary Technician," she said.  "I would like to continue working in a small animal practice for a while, to improve on my skills and learn as much as I can."
In the future, Brittany would like to consider working in a small and large animal mixed practice and learn large animal medicine.
"I would like to take some specialty courses within my field so I can be an even more valuable technician wherever I go. But ultimately, I would like to work at a wildlife rehabilitation center and help injured wildlife heal and return to the wild. I believe our wildlife deserve protecting and I would someday like to be a part of that."
Brittany would like to come back to the AC after graduation and help future mature students succeed.
Second year students would typically be given the opportunity to work alongside new students in the animal facility as mentors, but that wasn't possible this year due to Covid.
"I was also so excited to participate in College Royal and attend line dancing, but alas, this year had different plans for us and that's okay! I'm learning to make new plans and hopefully after I graduate, I will be able to come back to the AC in the future and help students like myself succeed!"
Brittany was the recipient of the Dr. Stewart R. Keddy Memorial Scholarship and the Noel Enman Memorial Award presented annually to a technician or technology graduate whose personality and fellowship has contributed to student life and activities thereby gaining the respect of students and faculty.
Congratulations Brittany!