News
»
Go to news main
COVID‑19 Outstanding Achievement Award
Posted by
stephanie Rogers
on June 8, 2022 in
News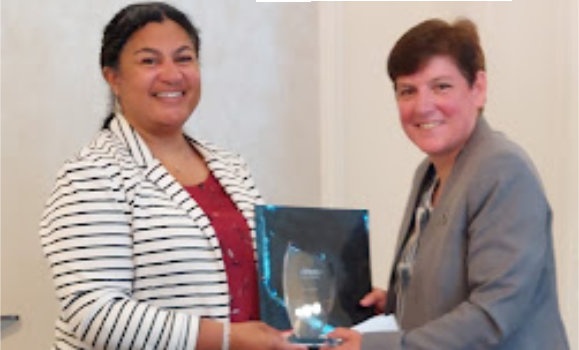 Jean Lynds, Operations Manager – Farms, Faculty of Agriculture, is the recipient of the 2022 DPMG COVID-19 Outstanding Achievement Award.
Jean was a composed leader, keeping staff safety and animal welfare a top priority throughout the pandemic.   
Jean's demonstrated leadership was witnessed when leading the Faculty of Agriculture through the many day-to-day operations during the pandemic.  
She led the FOA group through countless projects and renovations, such as the completion of the new feed facility for the Ruminant Animal Centre and the consultation process to design a new dairy facility.
She was successful in working through new internal hiring processes for essential services and on-site positions, kept staff and animals safe and kept five distinct work units informed and engaged in the day-to-day operations, linking them into the larger Farm goals.
"Jean Lynds is the personification of everything good and positive in modern agriculture and we could not ask for a better role model and example of leadership for our students and campus community," said Dean David Gray. "Jean and her team have worked tirelessly with faculty members throughout the pandemic to create videos and online teaching activities and created two separate staff teams to minimize potential cross-infection while keeping an operating farm running.  In the last ten years, I have personally lost count of the number of times Jean has been nominated for the DASA Student Appreciation Award, including during the pandemic," he added. 

"Jean has displayed exemplary leadership and resilience and I believe that the Faculty of Agriculture is coming out the end of the pandemic as a much stronger team because of it," added her nominator Mike McConkey.

Congratulations Jean on your DPMG award for demonstrating outstanding achievement at Dalhousie University!