News
»
Go to news main
Transforming cattle farming into a more carbon‑friendly industry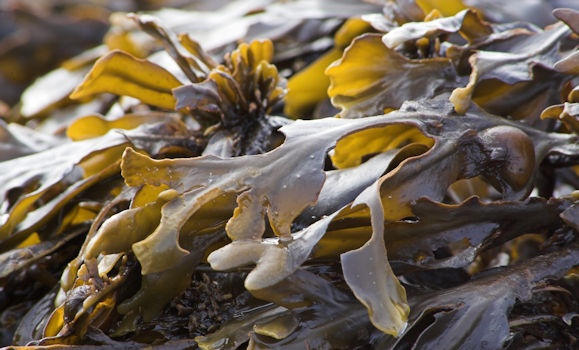 Imagine a product that can lower methane emissions, help clean polluted waters, and revitalize economies in Indigenous communities.
Would you be surprised to learn it already exists — and it's a seaweed?
By adding seaweed to feed, "we can reduce feedlot cattle to almost no emissions of methane at all," says Dr. Robert Kinley, chief scientist at Australian company FutureFeed.
The story starts in the early 2000s, when PEI dairy farmer Joe Dorgan noticed his cattle produced more milk and were in better health when they grazed on seaweed. Dorgan approached Kinley at the Dalhousie Faculty of Agriculture, and asked him to look into the properties of seaweed and their effects on cattle. While doing the research, Kinley stumbled on a discovery he says "was one of the pivot points of my career." He noticed that cattle who ate seaweed emitted 15 to 20 percent less methane. That led him to study specific seaweeds to see what results they would produce. He continued his work in the Netherlands, and then at the Australian Commonwealth Scientific and Industrial Research Organisation (CSIRO), before moving on to FutureFeed.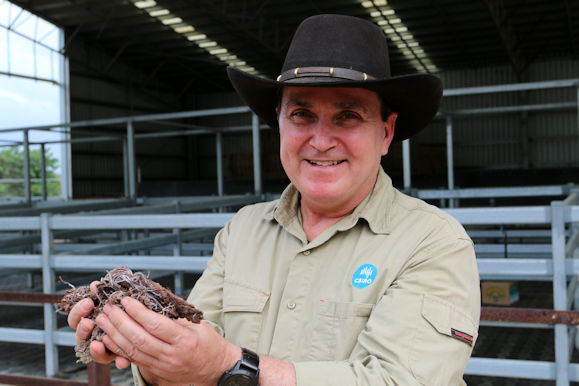 Kinley began testing a cross-section of seaweeds and micro-algae, and saw promising results. But one of them was particularly impressive in terms of its effects on cattle emissions. It's called Asparagopsis, and Kinley found that when it was included in cattle feed, it dramatically reduced the amount of methane the animals produced. He says the result "shocked me. I didn't even believe it, because I couldn't detect methane at all. It was completely gone. That was thought impossible." It was only after repeating the experiment three times that Kinley finally "admitted to myself that we had found a seaweed that was eliminating methane, virtually completely" – and in a concentration low enough to be economically viable.
Asparagopsis works by preventing carbon and hydrogen molecules from bonding and forming methane in cows' digestive systems. Kinley explains: "Methane is produced in a pathway that uses enzymes. And at the last step in that pathway, there's an enzyme we are able to intercept with the bioactives in the seaweed. The seaweed disables the enzyme so that methane is never formed."
At FutureFeed, Kinley is working to help build an industry and infrastructure that would allow Asparagopsis to become a standard part of cattle feed. The company won a US $1 million Food Planet award for its work, and is using the money to develop land-based seaweed production and involve Indigenous populations in Asparagopsis production.
FutureFeed does not grow seaweed itself, focusing instead on research and development, and licencing the intellectual property.

So far, FutureFeed has licencees in Hawaii, South Australia, New Zealand, the Philippines, and Sweden. And the company was finalizing a Canadian agreement late last year.

While it was the methane-reducing qualities of Asparagopsis that first impressed Kinley, he has come to appreciate its other benefits as well. "Let me give you this little bit of a spiel about seaweed," he says, warming up to his subject. "When you grow seaweed, you can clean the water where you're growing it. It's a bio-filter. Where you have areas of agricultural runoff or finfish and shellfish farming, you have excessive levels of nutrient, and without cleaning it up, it becomes a pollutant. So you can grow the seaweed and clean that up while getting a secondary product of value — and you can do it in areas where there are Indigenous land and water holdings."
In areas where fisheries have collapsed, Kinley says the infrastructure can be put to use growing seaweed. In fact, it's already happening.
"We're doing it here in Australia, with the Narungga Nation, in South Australia. You're using local labour and providing new economies. You then produce a product to reduce methane emissions and improve the profitability of the red meat and dairy industries. So it's a long chain of benefit."
But that long chain of benefits still rests on the key finding that Asparagopsis may be able to help transform cattle farming into a more carbon-friendly industry. "Cattle are producing large amounts of methane. It is the largest emissions contributor for the agricultural sector, and it can be controlled, so it should be," Kinley says. He recognizes that Asparagopsis alone is not going to solve the problem, since the industry is still in its infancy. But it can make an impact.
"This seaweed can bring agriculture and livestock production to the forefront of emissions reductions and can be a contributor to reduction of the carbon footprint of the wider agricultural sector," Kinley says. "Knocking down that methane is a very big deal."