News
»
Go to news main
Fert n' Fibre
Posted by
stephanie rogers
on April 11, 2022 in
News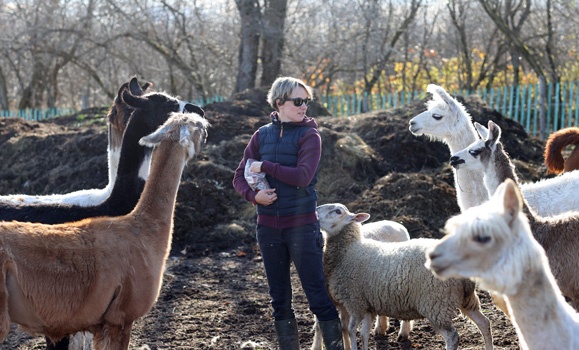 Samantha Haley, Maple River Farm
Samantha Haley (Class of '13) is passionate about two things – fertilizer and fibre. And she's very quickly found a way to turn her passion into a successful value-added business. Last spring, Sam was presented the Minister's Award of Excellence, from the NS Department of Agriculture, for Outstanding New Entrant for her work and commitment to agriculture.
"Two years ago, I brought home two llamas, for no reason other than I really wanted a llama," laughs Sam of what may have seemed like a crazy decision. "Back then, I couldn't have imagined where I would be today."
Raised on a blueberry farm in Antigonish County, NS, Samantha was involved in 4-H and had horses. But she always dreamed of having a pet llama. After graduating from the Faculty of Agriculture with her diploma and then degree, Sam secured employment, purchased a small farm property in Musquodoboit and made her dream come true.
Maple River is a small family farm that focuses on producing llama wool and value-added manure products.  It is the biggest llama farm east of Ontario and the only registered llama farm in NS. Sam is a young leader in agriculture who started her business during a global pandemic while she was five months pregnant.
Maple River Farm is home to eight llamas, three alpacas, 11 sheep, two goats, five dogs and of course, Sam's two little boys (aged four and two). The llamas and sheep are Sam's beloved pets, but they are earning their keep too.
"Like sheep, llamas are sheared once per year," says Sam.  "Llama wool is quite rare, soft, hypoallergenic and has a high market value."
When Sam is not producing her own llama (or sheep) wool, she processes for others or sources raw wool, to finish herself.
"It's not economical to dye my own llama wool, because of the extensive steps involved," says Sam. "The cost would be too high."
Producing wool is a labour-intensive feat, as is creating the bi-product, yarn. 
"Once the fibre has been extensively cleaned and dried there are still many steps to go. The wool goes through a machine that has large teeth, which open up the fibre. It is then carded, which creates a batt of wool," explains Sam. "Once there is a long and narrow bundle of fibre, called a roving, you can start the spinning process."  
Using her custom-made wheel, from New Zealand, Sam spends countless hours spinning the wool. With a spool of fibre, Sam fills custom jobs, or uses her own creativity to dye the fibre into unique colour pallets. Sam sells her llama yarn and hand-dyed products from her Etsy store and local Farmers Markets.
Depending on her workload, you can also find Sam's handmade llama shawls, hats and other goodies under her "Fert n' Fibre" brand.
It may not sound like a goodie, but the other half of Sam's "Fert n" Fibre" brand is value-added manure products.
Sam sees the value of using the manure from the llamas to raise awareness of agriculture and the importance of planting seeds.  She came up with her branding for the manure, sourced environmentally friendly and biodegradable packaging, and started advertising on social media.
She has several value-added ways to sell manure - in small bags of fresh llama beans for house plants and in two-pound bags of broken-down manure for gardening and transplants.  Premixed bags of soil and manure are sold with local seeds and terracotta pots for flowers and herbs.  Her products are now selling at five farmer's markets throughout the province.
"Llama beans, or llama droppings are such an excellent source of fertilizer," explained Sam. "They are one of the highest yielding natural nitrogen sources produced from an animal, even higher than chicken and cow - second only to rabbit.  They are also high in phosphorus and potassium."
Llama manure can be applied to plants of all stages of life as it is not a hot manure. This means, it will not burn the plants when they are young and developing.
Sam's llamas are kept on a well-maintained nutritional program to ensure all their dietary needs are met and the manure meets the guaranteed analysis.
"The fertilizer is naturally produced, from very happy llamas and is a renewable source of nutrients for your plants," adds Sam. "The beans are collected on a daily basis, from stalls and pasture to be run through an intensive cleaning and break down process."
Even though caring for her critters (children included) and creating products for Fert n' Fibre keeps Sam busy, she also splits her time working for Belchim Crop Protection and Scotian Gold.
You can find Sam and her products on Fb @mapleriverfarm.ns  on Etsy and Instagram @mapleriverfarm