News
»
Go to news main
Ashcroft Angus Farms ‑ Pasture to Plate
Posted by
stephanie rogers
on March 21, 2022 in
News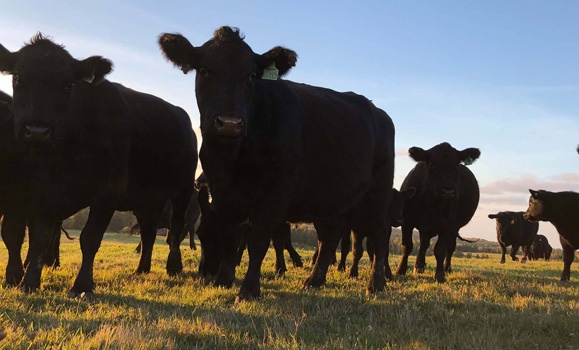 Lisa Wilkinson, Class of '93 & Scott MacEachern

Lisa and Scott MacEachern have a mission to provide Nova Scotians with plentiful quality, locally, sourced beef a problem amplified even further by the pandemic.
Since their family farm, Ashcroft Angus Farms, located in Bailey's Brook, NS, was founded in 2015, they have been doing just that.
"We naturally raise 100 percent Canadian Black Angus cattle, producing premium Black Angus beef for Nova Scotians," says Lisa. "And we stand behind our tagline – Premium. Pasture to Plate."
Naturally, consumers are conscientious about their beef consumption and want it to be from humane, sustainable, and hormone-free environments. The over 80 registered Black Angus herd, at Ashcroft Angus Farms, happily roam pastures spanning over 1,000 acres for grazing and are supplemented with oats, hemp and haylage, grown on the farm. No hormones or antibiotics are added.
"Daily, from April – November, we follow a carefully constructed plan, keeping our pastures at their highest nutritional quality for the herd," says Scott. Which Lisa admits, Scott has down to a science!
Even in the winter, the Ashcroft cattle roam in a pasture that "has it all", so to speak. "You name a possible wind direction, and the herd will be fine," says Lisa. "Black Angus are an amazing breed in the elements, knowing just where to head for shelter in the storms and when to head for hay or a drink."
During the winter months, the family feeds several bales, each weighing well over one-ton, every few days, depending on severity of weather. When the ground is not frozen, Scott and Lisa regularly move the feeders around, so the herd has good footing.  Their two youngest children, Dainelle (22) and Vaughn are on call for refilling feeders -  a one and-a-half-hour chore, each time it must be done.
In the spring, Scott and Lisa look forward to getting their herd onto the pasture as soon as possible. Similarly to knowing what to do in the winter, the cattle are equally intelligent come calving season.
"We ensure the fencing is mended.  This is a task we leave, for the most part, in the hands of our summer students; Danielle and Vaughn.  It is one of the first tasks they perform during their full time summer employment (May 1- Sept 1).  As for calving season (May- July) the Black Angus are amazing mothers, adds Lisa. "Other than finding the youngsters and tagging them, the mothers do all the work."  
Scott and Lisa admit the six horses and hens, who also call Ashcroft home, take more of their time and work, than the cattle. But being fairly self-sufficient leaves more time for Scott, Lisa and the kids to focus on the cattle's health.
"Every day, year-round, our processes are focused on the overall health of our livestock," says Scott. "From feeding and watering, to cleaning and moving."
Herd health day takes place annually, in June. "Part of the pasture is turned in to a large clinic and we perform all herd health, in the one day," adds Lisa. "This is often the only time the vet is needed."
For the past couple years the entire family and friends of the kids are onsite to help, it's one of the longest days of the year, spent entirely in the pasture with the herd from dawn to dusk.
Along with herd health, sustainable animal agriculture is a priority to the MacEachern family. They believe it is vital when considering an ethical method of meat consumption. "The term sustainable agriculture entails that the animal's life is valued by the farmer," says Lisa. "We can see this in the quality of the beef when compared to an animal that consumes a high grain, or corn diet, as opposed to a diet high in green grass."
"On our farm, an animals' life is not taken until there is a customer who requests it, and is prepared to consume the meat," adds Scott. This eliminates waste, while ensuring the meat is fresh and extremely nutrient dense in comparison to beef that is manufactured with solely profit as its purpose. "It's quality over quantity for us."
And the whole family believes in these practices.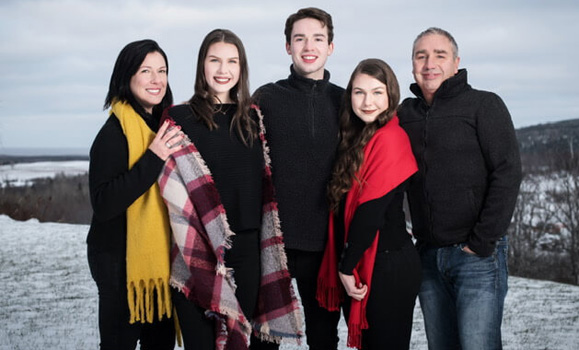 "If agriculture continues to exist, consuming beef in a sustainable way is the only method. Especially if you want to be integral about your diet and the animals you consume," says daughter, Emily. "Integrity ensures that nothing is wasted, morals are considered, and beef is of quality."
Owning and operating Ashcroft Angus Farms, alongside their children, is a dream come true for Scott and Lisa. Highschool sweethearts, the couple ran a successful aquaculture operation, growing rainbow trout, for many years. But Scott, raised on a farm and Lisa, who attended NSAC, always wanted to have a family farm.
"Family farming keeps the family in touch with their herds, crops, nature and each other," says Lisa. "The farm life puts a unique perspective on life each and every day, we wouldn't have it any other way."
Scott and Lisa are members of the Canadian Angus Association and are active in the farming community in their area. Now, and in the future, they are committed to being advocates for Nova Scotia agribusiness, providing Nova Scotians with premium quality beef and having strong relationships with their customers.  
Order Scoitt & Lisa's best selling AAA pack before the end of April, use code ALUMNI and you will be entered into the Ashcroft Angus Farms alumni giveaway ($100 value).  Winner will announced on their social media on May 1.  Prize must be picked up in New Glasgow NS. 
ashcroftbeef.ca