News
»
Go to news main
Making his community a better place to live
Posted by
stephanie rogers
on January 11, 2022 in
News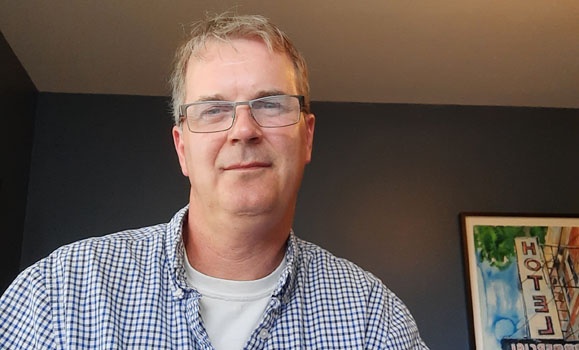 As a Research biologist with the New Brunswick Department of Environment and Local Government, Troy Lyons, Class of '95 and '05 is passionate about making his community a better place to live.
A varied career in Agriculture to the fisheries sector to environmental management within the Department of the Environment and Local Government in New Brunswick, Troy is currently working from home in Saint Andrews, NB where he and his wife Susy have lived since 2020.
Troy grew up outside of Bathurst NB, on the Bay of Chaleur. The rural lifestyle as well as an interest in science and animals drew him to the AC to attain a degree in Agriculture. Upon completion of his Bachelor of Agriculture, Troy moved to Edmonton where he worked in crop research at the University of Alberta followed by employment as an animal nutritionist for a feed company in Medicine Hat.
Troy returned to the east coast to pursue a graduate degree in science, dividing his time between the AC in Truro and the Fisheries and Oceans Canada Biological Station in Saint Andrews NB where he conducted research on the use of snow crab processing waste as a dietary ingredient for Atlantic salmon, Atlantic halibut and green sea urchins.
Upon completion of a Masters in 2005, Troy began working in Research & Development within the fisheries sector in Caraquet NB, exploring potential uses of fishery by-product waste before moving to Fredericton in 2008 to work for the New Brunswick Department of the Environment and Local Government as an environmental biologist. In this role Troy oversaw environmental management programs for freshwater and marine aquaculture operations generating numerous departmental publications, including the first provincial environmental management program for freshwater fish hatcheries in 2012.
"This was quite satisfying for me as we saw a 40 per cent reduction in effluent phosphorus concentration as well as an 87 per cent reduction at a point 100 metres downstream in 2013 when compared to 2011, a feat that was highlighted within the 2013-14 Department of Environment and Local Government Annual Report," Troy explained.
"I hope the best is yet to come but one of the highlights of my career to-date would have to be participating in the removal of plastic marine debris from New Brunswick's coastal waters," Troy explained. "Mismanagement of plastic waste is a real issue in the world today due to impacts on esthetics, habitat, terrestrial and marine life, human health and safety, as well as the incorporation of plastic into our food web.  It is estimated that the average person eats the equivalent weight of a credit card in plastic a year," he added.
In 2020, Troy was asked to join the newly formed Waste Diversion Branch of the Department to provide research support and contribute as a project team member. In this new role Troy works on numerous projects aimed at improving the management of solid waste (garbage and recyclables) within the province. He is currently in the process of managing a project to develop a renewed strategic action plan for solid waste management in New Brunswick.

"This new position is very different from what I imagined I would be doing when I attended university," said Troy. "I am grateful for the skills attained while attending the AC to enable this transition."
Although Troy is very thorough in his work, he is quite to the point when writing.  "This is a lesson I learned from Dr. Derek Anderson….'only make it as long as it takes to tell the story to the intended audience,' he would state when discussing writing papers, something I have kept with me all of this time."