News
»
Go to news main
The east coast's first aquaculture veterinarian
Posted by
stephanie rogers
on November 30, 2021 in
News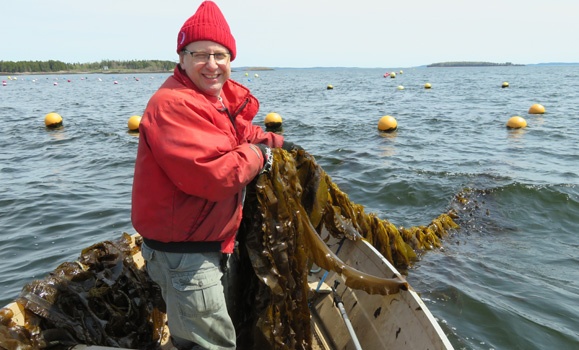 What happens when a woman from a NB dairy farm marries a man from a fishing family, on the South Shore of NS? Their son becomes the east coast's first aquaculture veterinarian, obviously.

"Growing up I was highly influenced by both sides of our family, so looking back it seems completely logical that I would end up combining both family traditions and follow a path in aquaculture," reflects Dr. Steve Backman.

A young, future Dr. Backman, decided in middle school that he wanted to be a veterinarian, in fact. "Like all aspiring veterinarians, I had a love of animals and a strong appreciation for the role of veterinarians in farming," said Steve.

He adds he also had a strong passion for the sea, fueled by French explorer, Jacques Cousteau, and his famous quote – "We must plant the sea and herd its animals using the sea as farmers instead of hunters."

"I was singularity focused on becoming the James Harriet (British veterinarian surgeon and author) of the aquatic realm," Steve adds.

With that goal in mind, Steve attended NSAC and Ontario Veterinary College where he was mentored and became employed as a graduate student. It was there that Steve's career aspirations started coming to life. 

"I became involved in a program that converted tobacco farms to land based aquaculture operations. Under this program we introduced ambulatory and diagnostic veterinary services to this very new industry. Our diagnostic lab also received case submissions from across the country and there began to be a strong nucleus of veterinarians in aquaculture practice forming."

Steve's biggest career break came when he received a phone call from a nutrition company, offering him a position on Canada's east coast to provide service to the beginning salmon aquaculture industry. "This was my absolute goal coming to fruition and I would be that aquatic James Harriett," he says.

Steve became the first specially trained aquaculture veterinarian, in private practice, working on Canada's east coast. His coverage area included all of Atlantic Canada and Northeastern USA, down to Massachusetts. Simultaneously the Atlantic Veterinary College completed construction and had introduced aquatic studies as part of their core training. With their heavy focus on aquatic medicine, they became an important resource and support for the aquaculture industry.
"I had the pleasure of being a mentor to a number of students, who have since built amazing careers of their own right within the aquaculture industry," Steve adds. "I had always found that while I was supposed to be the experienced trainer, I had most certainly learned more from them than they did from me."
With the rapid growth of the aquaculture industry and more and more specialized veterinarians there became a need for a medium to exchange information and collaboration. Steve was honoured to be the charter president of the Canadian Association of Aquatic Veterinarians and founding secretary for the Eastern Association or Aquaculture Veterinarians.
Over time, Steve's career path moved away from fish health services and more in direction of health product development and fish health research. Today, Steve is product manager (recirculating aquaculture systems) and health feed veterinarian for Skretting North America - an international feed company.
"In my current role, I am much more focused on innovation and nutrition rather than diagnostic services," Steve adds. "I coordinate product development and offerings to farmer clients, while working with our research teams to help translate the new knowledge gained to practical feed solutions."
And when Steve is not travelling for Skretting, he's operating his own business – Magellan Aqua Farms, a shellfish and seaweed farm in the Bay of Fundy. At Magellan Aqua Farms, Steve works alongside his family, including his wife, Ann.

"We started Magellan Aqua Farms in 2003 raising scallops and urchins as part of an integrated approach to farming," Steve says. "A few years later we expanded to also growing seaweeds with Chopin Costal Health Solutions, working to make the blue revolution greener, hence our motto - Turquoise Revolution."

Between company, Magellan Aqua Farms and his role with Skretting, he is truly doing what he loves.

"My work is helping to build knowledge and helping to feed our future in an innovative and sustainable way. The aquaculture is a rapidly growing and evolving industry." For Steve, becoming the aquatic James Harriet has been hard work, but most importantly, so rewarding.