News
»
Go to news main
Cooke Aquaculture scholarship advances Dalhousie students' education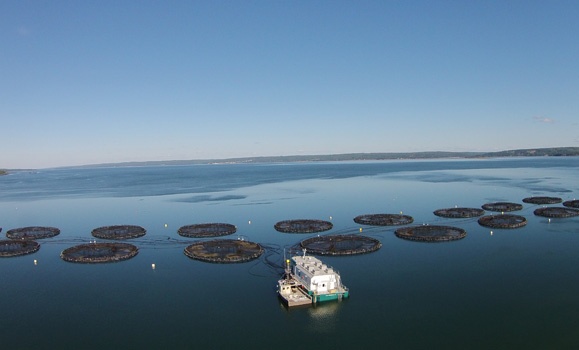 You may not immediately think about farmed food production when looking out at the ocean, but at sea sites dotted along the coastline of Atlantic Canada, salmon farmers are growing a sustainable source of protein to help feed a growing global population. According to Food and Agriculture Organization of the United Nations, aquaculture will need to supply 2/3 of the world's seafood requirements by 2030.
As the demand for healthy salmon grows, so too does the need for people with the education and expertise to support the industry and the Faculty of Agriculture's Aquaculture program plays an important role. 
For Cooke Aquaculture, a family-owned, New Brunswick-based food production company, having an aquaculture program located within Dalhousie's Faculty of Agriculture has enabled a symbiotic relationship between Cooke's research teams on R&D projects and the students who are poised to help the industry continue to sustainably grow and meet global demand.
Since 2016, the Cooke Aquaculture Scholarship has been providing support to undergraduate aquaculture students who will become the next generation of aquaculture industry expertise. Each year, a student with a passion for aquaculture has received $2,000 to support their academic journey.
"The aquaculture industry creates rewarding careers, grows the economy, helps protect fish stocks in the ocean from overfishing and provides locally raised food to the finest retailers and food service professionals," says Joel Richardson, Cooke's Vice President of Public Relations.
Salmon farming is an essential economic and social driver for Atlantic Canada, bringing prosperity and over 8,000 year-round, full-time jobs to many rural, coastal communities across the region.
"As a local company we are proud to invest in supporting students who are pursuing aquaculture studies and we ultimately aim to be an employer of choice for graduates. Cooke is hiring in every Atlantic province. We have lots of full-time positions available with good pay, health benefits, a retirement savings plan and a real opportunity to grow," says Richardson.
"It's remarkable to see how post-secondary institutions like Dalhousie are recruiting and training aquaculture students," says Richardson. The program, which averages approximately 25 full-time students a year, places importance on engaging students in the research of their professors and other faculty in the program's labs and aquatic-rearing facilities. This hands-on approach to learning is a valuable asset in the job market.
"In our experience, graduates from aquaculture programs, such as those offered at Dalhousie, are bringing practical and applicable skills to their work from day one, and this approach is what's helping to advance our entire industry."
Cooke was started in 1985 by Glenn Cooke, his father Gifford and his brother Michael with a single marine site. Cooke has since grown into a global seafood leader with salmon farming operations in Atlantic Canada, the United States, Chile, and Scotland; seabass and seabream farming operations in Spain; seafood and wild fishery divisions in North and South America; and one of the largest premium shrimp farms in Latin America. Cooke now has a global workforce of 10,000 employees in 10 countries – mainly located in rural areas. Cooke Aquaculture and all other divisions within the Cooke family of companies have mandated sustainability, environmental and biodiversity policies within their operating and reporting practices.
The company has been named as one of the Top 25 Seafood Suppliers in North America for Sustainability & Conservation and has been recognized for sixteen consecutive years as one the Canada's Best Managed Companies. Winners are amongst the best-in-class of Canadian owned and managed companies demonstrating strategy, capability, and commitment to achieve sustainable growth. In 2021, Cooke Aquaculture was named as one of Atlantic Canada's Top Employers.
Aquaculture is among the fastest growing food sectors in the world with many opportunities for new graduates looking to build their career in a modern field that relies on the latest science and technological innovations. In aquaculture today, more than half of those working in the industry globally are under the age of 40.
Cooke's workforce includes a number of people who have been part of the Faculty of Agriculture's Aquaculture program, both program graduates and those who took aquaculture courses as their minor or elective, in roles with its remote feeding operations, and as aquaculture technicians.
"As a vertically integrated, science-based marine farming company, it's very important to our company to have academic programs available for people who want to live near, and work on the water," adds Richardson.