News
»
Go to news main
A Cinderella moment – with a Barley Ring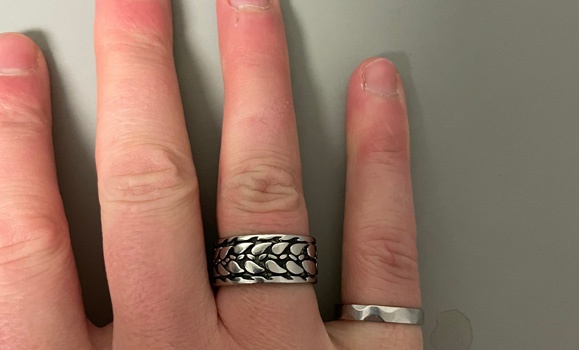 After a lost Barley Ring was turned into the Alumni office nearly three years ago, it's miraculously now back on the hand of its proud owner. And the fit couldn't be better!
On a summer day in 2018, Robert Newcombe (Class of '10) was swimming at Queensland Beach, along the Southshore of NS. At some point, his Barley Ring slipped off his finger. "I thought I would never see it again," Robert said recently. His ring had no engraving and assumed it would be swept out to sea, eventually settling on the ocean floor.
Fast forward a few months. On Boxing Day of the same year, Alisha Johnson, Faculty of Agriculture, Alumni Relations, received a random email. A Halifax, NS couple had just learned they had a Barley Ring in their posession and were hoping to track down its owner.
"While snorkeling at Queensland beach this past summer my fiancé found two rings," the email stated. "One was a cheap costume piece, the other appeared to be a stainless-steel ring. There was 100s of people on the beach and we asked those who were swimming in the same area if they lost anything. We brought the ring home and didn't think much more about it."
Until Christmas, that is.
"While visiting a friend for Christmas, she showed us a picture of the graduation ring she had ordered her daughter. We immediately recognized the pattern."
The email went on requesting the Alumni office help find the rightful owner.
Arrangements were made for the Alumni office to receive the ring. Over several months, social media posts and Agricola stories tried to find the owner. A few alumni, who had lost their ring, reached out. But the ring, in this case, did not fit.
"The ring sat in my office and I often thought how I could find its owner. I told the story of this ring whenever I could," said Alisha Johnson.
Geneve Newcombe, (Class of'86) and Robert's mother, comes from a long line of Faculty of Agriculture alumni and is a member of the Faculty of Agriculture Alumni Association Board of Directors. This past October Geneve was presented the Faculty of Agriculture Alumni Volunteer of the Year award at the annual Blue & Gold Awards. As part of the awards program, Geneve was fitted to receive her own Barley Ring.
When she returned home from the campus event, Geneve commented to her son, Robert they should take a picture together with their Barley Rings. It was then Robert told his mother, he had lost his Barley Ring several years ago swimming.
Being on the Alumni Association board, Geneve had heard Alisha talk many times about the ring found by a diver.
"After a little back and forth, it seemed pretty likely the unclaimed ring was mine," Robert said.  
Robert received the ring earlier this morning and admits he's feeling a bit like Cinderella!
"After a three-year hiatus, I'm excited to showcase the Barley next to the iron again!"