News
»
Go to news main
Dal‑AC "IM‑PULSE" team won the first place of the Atlantic food product development competition
Posted by
stephanie rogers
on October 27, 2021 in
News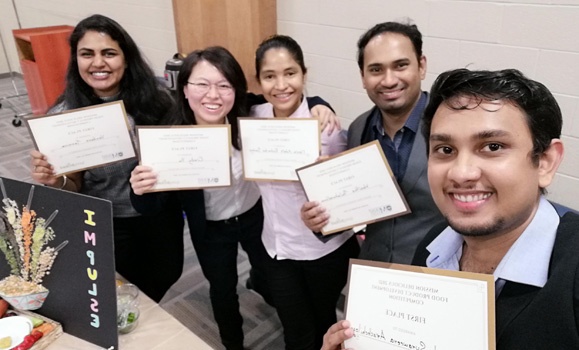 A group of six graduate students of the Food Bioactives Research Program of Dal-AC won first place at the Mission Delicious Food and Product Development Competition 2021 held at Mount Saint Vincent University (MSVU), Halifax on October 22, 2021.
The team "IM-PULSE" presented an innovative product prototype - an instant chickpea and lentil soup cube. The heartiness of the pulses combined with the crunchy vegetables, along with the authentic south Asian spices-infused broth helped the team win the competition.
The team lead Tharindu Suraweera said the new product is designed to satisfy a consumer thirst and hunger for a quick, wholesome meal.
"IM-PULSE" soup cubes target a wide consumer base, including people on a plant-based diet, those on a time crunch to cook, individuals with food allergies, health-conscious consumers and airline catering services," explained Tharindu.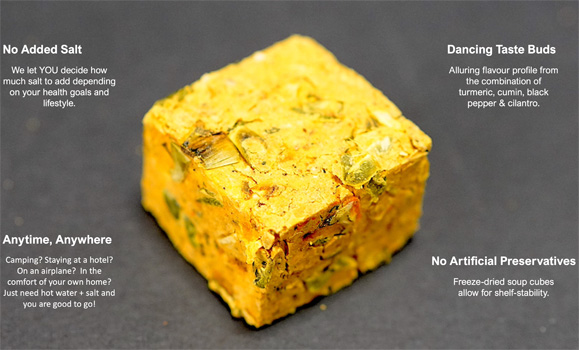 Lightweight and compact, dehydrated soup cubes can be easily carried and rehydrates into a smooth soup in two minutes; what users need is hot water and salt!
Canada is the world's leading lentils producer and exporter. The annual chickpea production in Canada is about 310,000 Metric Tonnes. Current commercial products with lentils and chickpeas are mostly focused on canned products, flours, or whole pulses. As such, opportunities exist  for product diversification.
"The concept for this healthy and convenience product prototype is an original idea of the students and I am impressed with their team-work" said Dr. Rupasinghe.  "The newly established Food Lab of the Cox Institute is a great asset for healthy food innovation, teaching and learning fundamentals of food science and technology, and supporting local agri-food industry," he added.