News
»
Go to news main
An early scientist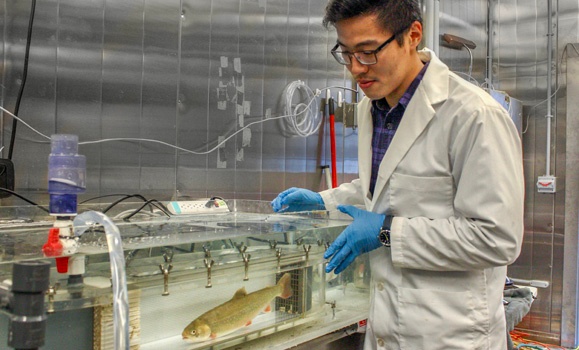 Yangfan Zhang (Class of '14)
As a young boy, growing up in a coastal city of southeast China (Fuzhou), Yangfan Zhang was never surprised when fish was served for his meals, every day. Until it wasn't.
"Suddenly fresh-caught fish would disappear from my dinner plate for a few months at a time," says Yangfan of his childhood. That's when Yangfan realized the pattern – fisheries stopped for a few months during the spawning season of the wild stocks.  His interest was peaked.
"It occurred to me we are still hunting fish when we domesticate and farm all the other terrestrial livestock. Why couldn't we domesticate and farm fish?"
It was this early interest in aquaculture and the nautical lifestyle that led Yangfan to the east coast of Canada.
"When I discovered an aquaculture program offered by (the former) NSAC, I signed up without hesitation."
Yangfan's interest in aquaculture only expanded with curiosity as he spent the next four years on the Agricultural Campus working towards his undergraduate degree in aquaculture.
"My professors and instructors sparked my interest in understanding how aquatic animals interact with their environment. The aquaculture program at the Faculty of Agriculture is so unique it also taught me about aquatic ecology," he adds. "I actually felt like a scientist before I even began graduate school."
Even though he felt like a scientist, Yangfan headed to the west coast of Canada to further his education. As a researcher in the Department of Zoology and Faculty of Land and Food System, at the University of British Columbia, he earned his M.Sc. and Ph.D.
"I am passionate about my research in comparative physiology," says Yangfan. "It is such a broad yet focused discipline that studies the mechanisms of how animals live in their environment. I am excited about discovering how the principles of physiology are at work in the broader biological disciplines: ecology, aquaculture, virology, toxicology and bio-robotics. The knowledge generated from the broader context inspires me to advance the basic science of physiology."
Conducting cutting-edge research is not the only thing Yangfan is passionate about. He also enjoys touching the lives of students (whom he mentors) in a deep and meaningful way.
"When I started graduate school, I loved to discover the unknowns and figure out the mechanisms. As I started to mentor students, I found myself also enjoying seeing the eureka moment in their eyes. When my students tell me they get a nice job or get into a graduate school they dreamed of, I feel really happy for them." 
Most likely a very similar feeling to what Yangfan's former instructors think of his success. He acknowledges many of the mentors he had while at AC and the impacts they made. "It is a little, to no, surprise that I research fish physiology," reflects Yangfan. "Dr. Jim Duston taught all the physiology courses; he was witty, and the courses were hard but fascinating!"  
Yanfan's mentors would, without a doubt, be proud of his latest endeavour – as of September, Yangan became a post-doctoral researcher at Harvard University. There, he is supported by a two-year fellowship from the Natural Sciences and Engineering Research Council of Canada.
"I now have access to all the talents and equipment needed to shed the light into the black box of the energetics of free-swimming fish. It is a gap of knowledge needed to be fulfilled when we want to improve the health and welfare of farmed fish as well as better study ecological performance and evolutionary trajectories of the wild fish species." 
Yangfan believes that great capability comes with greater responsibility. And he doesn't mean as an individual.
"For the first time in natural history, a rapid pace of environmental change is driven by one species –– Homosapiens, not even dinosaurs left such a gigantic environmental footprint as we do," Yangfan says. "If humans have such a capacity to change planet Earth, we are also capable of taking care of the Earth. As an individual of the Homo sapiens species, when I look back one day, I want to be able to say that I did my absolute best to contribute to the conservation of Mother Nature."