Dr. Terra MacDonald (Class of '16)

Agriculture today involves farming both the land and the sea and as such, aquatic veterinarians are in high demand.
An Aquatic Veterinarian is a Doctor of Veterinary Medicine that specializes in the healthcare and management of marine animals and invertebrates. They are qualified to treat a wide variety of underwater life, including fish, sea turtles, marine animals, and other wildlife.
Just ask Dr. Terra MacDonald, Class of '16 who is the sole veterinarian for the entire West coast operation of Mowi Canada West.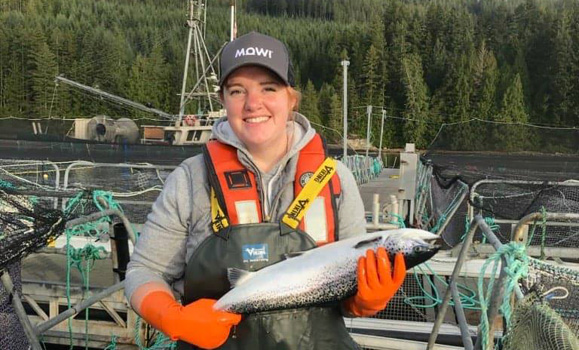 "It's my dream job, truly," said Terra.  "And I owe my whole career path to my early days at the NSAC."
Terra is a third-generation alumnus born and raised in Truro so there was no question as to where she would attend school.
"I'd wanted to be a vet since I was young," explained Terra.  "And the AC was an obvious choice to start my pre-vet journey. During my first year I was introduced to Dr. Derek Anderson who brought me on as a summer student, working with a few of his master's students in the aquaculture wing."
Terra was instantly in love with fish – especially the trout and salmon. It was her first introduction to aquaculture and she immediately thought it was a good opportunity to raise sustainable protein in a way that supports fisheries and takes pressure off wild stocks.
"I almost changed my mind about becoming a vet because I wanted to stick with fish, but Dr. Anderson said, 'You can be a fish vet' and I thought it was the perfect fit," she added.
Terra attended the Atlantic Veterinary College in 2013 after completing her third year at NSAC and continued to be fully focused on aquaculture as a career path.
"While concurrently completing her Bachelor of Science in Agriculture and her Doctor of Veterinary Medicine degrees, Terra and I worked up a fourth-year project feeding Camelina products to salmonids," explained Dr. Derek Anderson.  "I was extremely impressed with Terra's desire to fully investigate aquaculture. She has become a great addition to the fish veterinary field, and I am glad to have had an opportunity to introduce such a capable person to such an important aspect of veterinary medicine."
Terra took aquatic animal electives, had summer positions focused on aquaculture and in her fourth year attended aquaculture-focused electives in Norway and British Columbia. After graduating from AVC Terra went to a small animal general practice in Alberta for 18 months before accepting a position with Cermaq Canada in September 2018 in British Columbia and for the past two years has been with Mowi Canada West.
"My day-to-day work revolves around maintaining the health and welfare of all fish produced by the company from egg to harvest," she explained.  "I am often out in the field visiting farms or hatcheries - these visits would involve the necropsy of any fish that have died, sampling for diagnostics if needed, as well as examining live fish for health and welfare. I talk with the site staff about feeding, biosecurity, fish behaviour and training on tasks like mortality classification and sea lice counting, which is required by our regulatory body."
When Terra isn't in the field, she spends time doing data analysis, mortality trends, sea lice data, feed rates, regulatory reporting, reviewing diagnostic results, and developing and coordinating treatment plans. She is also involved in the food safety side such as ensuring all the appropriate drug withdrawal times have been observed.
"One of the most interesting parts of my job is that I actually have control over a small fleet of treatment vessels, including two well-boats and one mechanical delouser. Never as a vet did I imagine that a huge part of my job would be directing the use of a massive ship!"
She added, "It's a new challenge every single day and I know better than to ever settle into a routine, but I love that I'm always being pushed to learn more."