News
»
Go to news main
Mastering her gardening career
Posted by
stephanie rogers
on July 14, 2021 in
News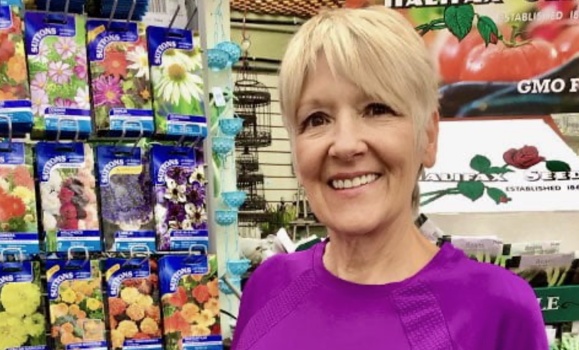 As many would agree, gardening is an enjoyable, entertaining and healthy pastime. For Master Gardener Christine Letcher, it has also been an exciting and evolving career.
"I love spending time outdoors and I have always had a curiosity about growing plants," said Christine. "I'm very passionate about gardening and I enjoy sharing information with fellow gardeners."
Passionate and curious she certainly is. A gardener for over 40 years, 15 of which have been spent working in the Masstown Market Garden Centre, Christine recently decided to further her gardening expertise and reach by enrolling in the Master Gardener program offered by the Faculty of Agriculture.
"I signed up for the Master Gardener program to learn the science behind the garden," explained Christine. "I have always wondered about the soil beneath us and how it all works. I wanted to fully understand the complexity of the gardening process and be able to share that with others."
Hopeful Master Gardeners must complete training approved by their respective Master Gardener Associations to become certified. In Atlantic Canada, the training program includes four online courses and a week-long summer school program offered on-site at the Dalhousie Agricultural Campus.
One of the common characteristics of Master Gardeners is a desire to provide gardening advice and education to others – a desire that Christine has always had.
"In my 15 years at the Garden Centre I have helped customers with their garden questions and selections," she said. "I am excited to share what I've learned through the Master Gardener program and help people understand how to prune their own plants, amend their soil, and manage their pests."
Christine is so excited, in fact, that she has started her own garden consulting business.
"I feel there is a need for my hands-on approach to help clients fulfill their garden dreams. I can help take the guesswork out of gardening," she explained. "It's very rewarding. I get a sense of pride knowing I've helped someone achieve their dream garden."
As a Master Gardener, Christine is now able to devote even more of her life to her passion. And since the requirements for maintaining certified status are continuing education and volunteer work, she'll be able to satisfy her curiosity to learn and her desire to share information with others.
To learn more about Christine Letcher's consulting business, visit https://gardenchristine.com/.
To learn more about becoming a Master Gardener in Atlantic Canada, visit https://www.atlanticmastergardeners.ca/.