News
»
Go to news main
Thian Carman proves that big dreams can be accomplished at any age
Posted by
stephanie rogers
on May 27, 2021 in
News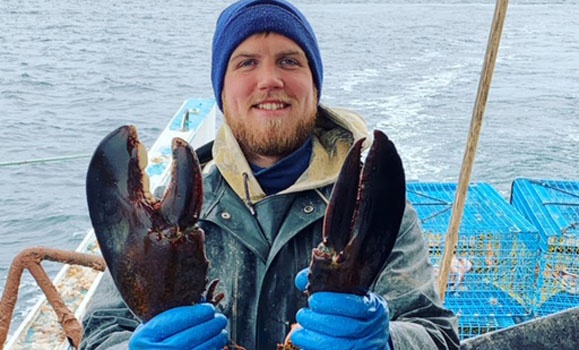 At the young age of thirteen, Dalhousie student Thian Carman was doing something most people only ever dream about – running his own business. In fact, at the age of fourteen, he became Nova Scotia's youngest registered farm owner. Inspired by his mother's love of animals and his father's career as a lobster fisher, the fourth year Faculty of Agriculture student is currently pursuing a double major in animal science and aquaculture while also working as a lobster fisher and operating his sheep farm in Digby, Nova Scotia.
Prior to starting his farm, Thian began honing his entrepreneurial talents by selling eggs produced by his family's chickens to members of his community.  When his neighbour decided to sell off his sheep heard, Thian got the ambitious idea of starting his own farm. With the support of his parents, he bought all of his neighbours' sheep and old farming equipment. Thian currently has approximately 400 acres of hay fields, 105 head of sheep and four beef cows. Most recently, he bought an old mink farm that he and his father are fixing up so that Thian can expand his herd and farmland.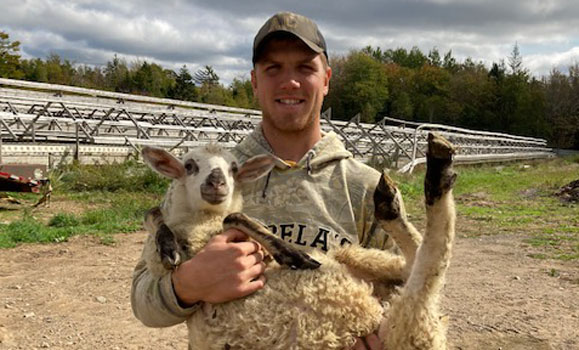 Thian is not only driven to pursue his passions outside of the classroom, he has been recognized for his academic excellence and community involvement with the 4-H Canada Leadership Excellence Awards of Distinction scholarship. The scholarship, valued at $20,000, honours the accomplishments of 4-H members who demonstrate personal values, leadership and community involvement that align with one of 4-H's Leadership Development Pillars.
Thian has also been the recipient of multiple scholarships including the Egg Farmers of NS Scholarship, the Eric Meek Scholarship from Chicken Farmers of NS and the Bill Mathewson Memorial Award.  
When the pandemic hit last year, Thian seized the opportunity to alter his course load to free up some time so that he could pursue another one of his passions. Taking up a job on a lobster fishing vessel, Thian now divides his time between the farm, the sea and his studies.
Following graduation in the Spring of 2022, Thian hopes to participate in an overseas program that will allow him to experience how sheep farmers in other countries operate so that he can incorporate some of those practices into his own farm. He also plans to continue growing the farm to include over 300 head of sheep and pursuing career opportunities in the field of aquaculture.