News
»
Go to news main
Garden Insurance
Posted by
stephanie rogers
on May 12, 2021 in
News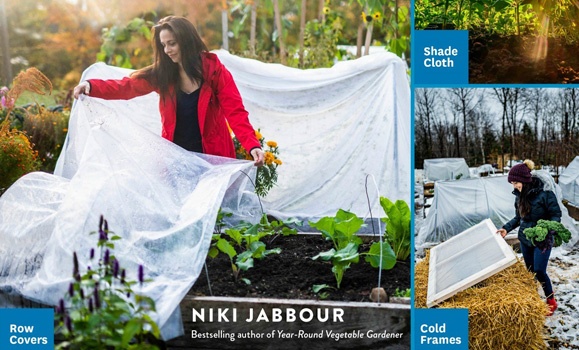 In-ground, raised beds, containers, straw bales, or vertically– which ever way you've planted and grown, you can most certainly appreciate the labour involved in nurturing precious seeds or transplants to edible. Even with the earth ready and the seed safely tucked underneath, it's truly a gamble until the day you harvest your bounty.
But what if you could have garden insurance?
According to Niki Jabbour (Class of '96), you can. Niki's new book, Growing under cover teaches backyard gardeners, of all crop sizes and skill levels, just how to insure your crop.
"Garden covers help grow healthier plants and bigger harvests," says Niki. "I think of my covers as 'garden insurance'; they reduce damage from pests like cabbage worms and deer, they prevent frost, hail, and heavy downpours from damaging crops and newly planted beds, and they create a microclimate around my tomatoes, peppers, eggplants, and melons, capturing heat and allowing me to grow a bumper crop of these vegetables."
As Niki writes about in her latest book, garden covers don't have to break the bank or be labour intensive to create.
"Basic materials are all you need," says Niki, "and simple covers are all you need." She suggests starting with simple row covers and eventually moving into mini hoop tunnels and cold frames.
"There are many benefits to using these garden covers - in spring, summer, fall and winter," says Niki. "But for me, the biggest three reasons are: to minimize or prevent pests, to create a microclimate for heat-loving vegetables, to extend the harvest by weeks or months."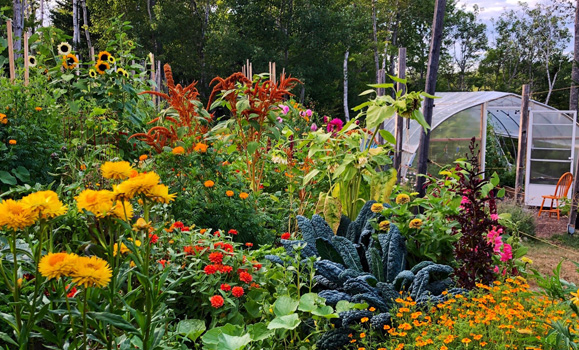 Niki, of Halifax, NS, is no stranger to providing gardening advice, especially when it comes to backyard gardening. Growing under cover, which can be purchased from local bookstores, Amazon or Indigo, is Niki's fourth publication. Niki is an in-demand speaker and has been featured in various international magazines, radio shows and newspapers.
"I was lucky to grow up with a vegetable garden," says Niki of how she developed a passion for gardening. "It wasn't big, and it wasn't all that productive, but it showed me just how good vegetables tasted when you grew them yourself. By the time I was a teenager planting and caring for the garden was one of my favourite summer tasks. Back then I had no idea that I could be succession planting and extending the season into late fall and winter."  
Niki pursued her passion and attended NSAC. She has since been harvesting, year-round, from her Halifax garden, for nearly two decades.
"I wrote about my year-round techniques in my first book, The Year-Round Vegetable Gardener," says Niki (also available for purchase online). As we enter our second gardening season, in a global pandemic, it's no secret that interest in backyard gardening has become more common.
"Food gardening has been steadily growing in popularity over the past decade, but the pandemic definitely caused a massive spike in interest," adds Niki. "We all had to be home and the first thing most of us did was re-consider our outdoor living spaces. People built decks, patios, firepits, and garden beds. We all had time to plant and tend a garden. I also think people value the physical and mental benefits of gardening, plus it's a great way to engage kids in how food is grown."

New gardeners may have noticed it doesn't take a lot of space to be able to grow your own food. Niki says the key to success is a site that offers at least eight hours of sun.
"In addition to the light, I also pay attention to soil health, feeding my soil annually with organic amendments like aged animal manures, kelp meal, compost, and organic fertilizers. New gardeners may wish to stick to easier-to-grow vegetables like cucumbers, bush beans, zucchini, cherry tomatoes, and leaf lettuce."
For first-time gardeners, Niki also stresses the importance of pulling weeds, as they appear and paying attention to soil moisture. She says plants that are water-stressed won't produce to their full potential. Once your initial crops have been harvested you can replant the garden with more seeds or seedlings for a late summer or fall crop.
"I plant carrots, broccoli, and cabbage in late July for a bounty in October through December," Niki adds.  
For more experienced gardeners, Niki suggests adding a structure to your space.
"Greenhouses, polytunnels, and geodesic domes are a great way to hone your gardening skills and produce heat-loving vegetables like peppers, tomatoes, and melons. In summer I train these crops vertically up strings in my polytunnel, but I also use this space to harvest cold hardy vegetables in winter."
We don't hesitate at insuring our most prized possessions, so regardless of your skill level or space size, if you have a structure in your garden, or are still focusing on the soil and weeds, consider insuring your hard-work and harvest. Get garden insurance -assemble a garden cover.
For more information, visit my website at SavvyGardening.com.