News
»
Go to news main
Farming – A beautiful double‑edged sword in Atlantic Canada
Posted by
stephanie rogers
on April 29, 2021 in
News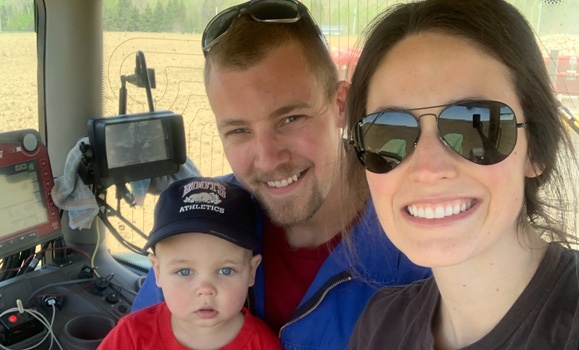 According to AC alum Harris Bakker, farming is an ever-expanding science that bridges all disciplines, cultures, and countries with a place for every young and eager mind.  But the industry, especially in Atlantic Canada, is not without its challenges.
Harris was born in the Netherlands and in 2000, immigrated to Canada with his family. They left their potato farm in the Netherlands to move to a potato farm in Killoween, New Brunswick, a rural community near Florenceville. Harris began his studies with the Nova Scotia Agricultural College in 2011, one year before the institution merged with Dalhousie University. He began his studies in plant science with the intentions of returning home to work on the family potato farm.
"I knew very young that I would be a farmer," explained Harris.  "My family has always held high value to farm-life and the freedoms and responsibilities that accompany it," he added.  "I love the reward and the constant building up of the farm, whether its painting trucks, building upgrades, or cleaning up land. I never pictured myself doing anything else."
Harris is part of a modest family potato farm in Western New Brunswick in the St. John River Valley, contracting 500 acres of Russet Burbank potatoes to McCain Foods for French-fry production. The remainder of the farm grows rotation crop mixes to build soil health for the following year's potato crop.
The cover crop usually consists of grasses, legumes, and brassicas with one or more species of each all mixed together.
Harris and his father farm full-time with his mother looking after the farm's books.  One employee is hired during spring, summer and fall with six to eight employees hired for two weeks during harvest.
"We are always looking to innovate or try new practices and technologies on the farm," explained Harris.  "We feel its very important to stay modern and efficient in agriculture. It's a very primal industry whose importance is linear with the need to eat food. With the world's growing population and changing climate, I believe the importance of efficient and environmentally conscientious food production is climbing significantly. I'm very proud to play a small role in it."    
Harris believes the challenges faced in Atlantic Canada share the same sword as most benefits.
"The 'sword' is our geography and our climate," he explained.  "On one hand, we have excellent growing seasons and fertile soils without the necessity of irrigation.  On the other hand, we have hilly fields bordered by impassible landscapes, which makes efficient field management impossible in some cases. "
"We also have extremely variable soil and long cold winters that shorten growing seasons in more Northern places," he continued.  "I know there are many more challenges we all face as farmers, whether consumer, or culture-related, although I think we can assume all farmers everywhere share these challenges.  What sets us apart is the beautiful, yet sometimes difficult geography we farm."
Harris believes farming should be important to everyone as everything depends on it.  If you are considering a career in agriculture Harris suggests "hats off to ya!  The AC is a good place to start!"