News
»
Go to news main
Empowering Atlantic Dairy Farmers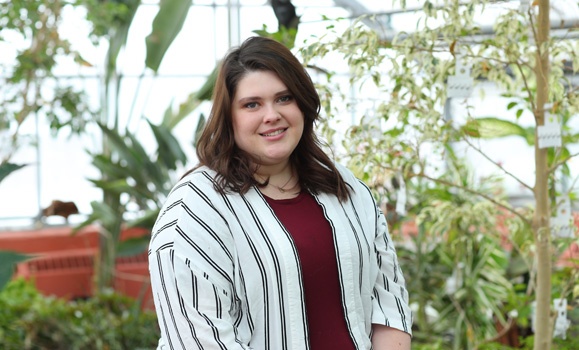 "The ultimate goal of my research is to help the Atlantic Canadian dairy industry remain successful and sustainable in the market through informed data-driven decisions." Ashley MacDonald
Ashley MacDonald is a PhD student in the newly named research centre Agricultural Sustainability Studies for Economic and Social Success under the supervision of Dr. Christopher Hartt.
For her doctoral research, Ashley is continuing her focus in agricultural business but more specifically is looking to understand how dairy producers in Atlantic Canada make their on-farm management decisions.
"Small family farms are so important to the many rural communities that are at the foundation of our Canadian identity and it is essential that farmers are engaged in the conversations that are happening regarding their industry," explained Ashley.  
There are 580 dairy farms in Atlantic Canada, of which one-third are considered small farms.  These small farms have been incredibly financially successful, environmentally sustainable, and productive. Ashley, along with her supervisor, is looking at some of the factors that contribute to this success, to pass that knowledge along to other small farmers.
The combined size of the Atlantic provinces is well below any of the prairie provinces, yet there is a larger proportion of the population living in rural areas – more than any other province! This low population density also means limited infrastructure, road quality, access to public services and more.  
These rural communities are not just home to most farmers but are the support systems for their families and sources of information, resources, and labour. The communities rely on the agricultural businesses, but the farmers also rely on the communities.
"It is a symbiotic relationship that can work harmoniously but doesn't always," added Ashley.  "While we know there are people living in these rural areas of Atlantic Canada, we also know the region has seen a lot of youth leaving the region. These are all unique challenges that farmers in the Atlantic region face, on top of all the other business and personal pressures associated with being a farmer and entrepreneur."
Ashley hopes to build connections with dairy farmers in the region and identify what influences their decisions.
"By knowing how and why producers and consumers make decisions, we can figure out how to share knowledge with them to help them make informed, sustainable and practical decisions for the future, with the goal of building a more efficient, sustainable and ethical agriculture and food industry," said Ashley.
Ashley's research will help industry support groups like Marketing boards, Milk 2020 and Lactanet  improve how they connect and share new knowledge and information with farmers with the ultimate goal of helping the Atlantic dairy industry remain successful and sustainable in the market through informed data-driven decisions.